Cop tests positive for drugs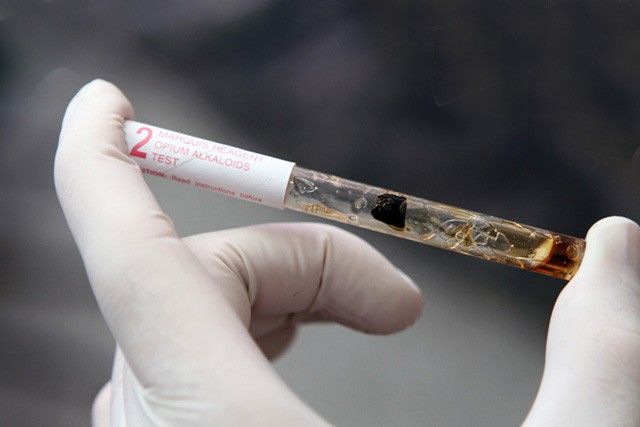 CEBU, Philippines — A policeman assigned to the tourist police unit in Badian tested positive during a drug test conducted by the Cebu Provincial Anti-Drug Abuse Office (CPADAO) last April 2.
CPADAO Chief Ivy Durano-Meca said during their screening of the personnel of the tourist police unit of the Cebu Provincial Police Office they tested the urine sample of the said policeman three times and the result remained consistent he was positive for shabu.
The CPADAO is now waiting for the result of the confirmatory test which will be released this week.
She said they are also monitoring not only the tourist police but also tour guides in the province especially that it is summer and many visitors are expected.
"Hopefully we will be able to conduct drug test to some municipalities especially mga places nga daghan turista," she said.
CPADAO has also conducted drug tests on 21 police personnel and non-uniformed personnel in Dumanjug where all of them tested negative last April 4. On the same day, 282 government employees of the municipality were also tested where one regular and one job-order employee tested positive.
Another drug test was also conducted in San Fernando on April 5, where the 36 employees of the local disaster office and waterworks division office tested negative.
On April 11, the officers of the Personnel Holding and Accounting Unit of the CPPO were screened by CPADAO, and none of them tested positive for drug use.
Meca said it is up to the PNP and the local government units what sanctions will be imposed on their personnel but CPADAO recommends the treatment and rehabilitation of those individuals.
Meanwhile, the Cebu City Office for the Substance Abuse Council (COSAP) yesterday conducted random drug test on 70 workers of Barangay Bacayan, Cebu City. At least six workers were unable to undergo the test.
Bacayan Barangay Captain Zenaida Colina said that it was already COSAP's third time to conduct a random drug test in the barangay. She said three workers were found positive for drug use during last year's random drug test.
Considering that they will be automatically terminated from service if found positive, they voluntarily resigned from work after knowing the results.
"Being the workers of the barangay kami g'yuy role model kay lisod na kaayo na sa imong barangay naay positive," Colina said, adding that they cannot effectively implement the anti-illegal drug campaign if the internal workers are using it.
COSAP head Garry Lao said Bacayan is the seventh barangay where they conducted a surprise drug test. The other barangays that already underwent drug testing were Kasambagan, Pahina Central, Poblacion Pardo, Pamutan, Guadalupe, and Sambag 1.
Records show 17 workers were found positive and terminated immediately.
Lao said that there is no place for a drug positive person to work in the government.
"Drug testing is not done for disciplinary reasons or meant to punish, but meant to prevent government employees, from using drugs in the first place," said Lao.
He added some of the barangay workers are referred to the free rehabilitation program of COSAP but a number of them prefer not to do it because they have no chance to be hired again.
"Kung dili nato ma drug-free ang atong mismong area sa trabaho, mora'g lahi kuanon nga mag-conduct ta og Barangay Anti-Drug Abuse Council about drugs unya kita mismo dili andam," said Alipio Aniño Jr., Barangay Peace and Security Officer. —Mary Kristine M. Cameros-CNU Comm intern/BRP (FREEMAN)