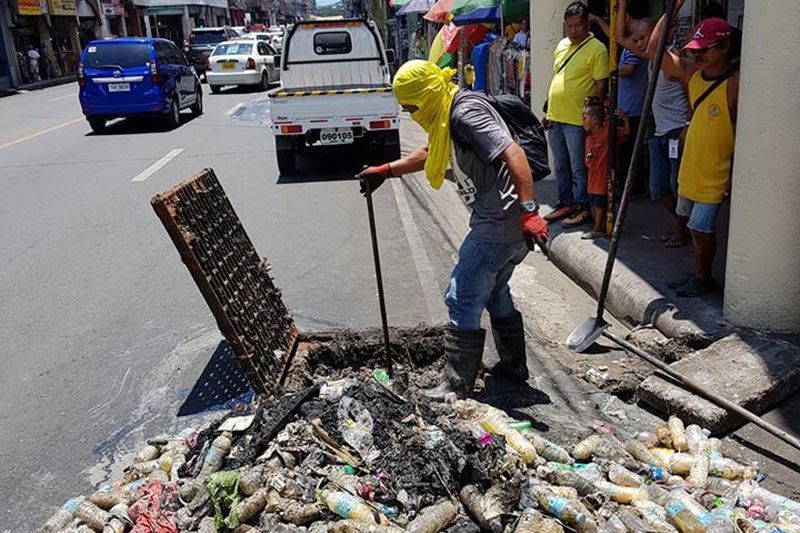 Members of the newly-created task force start de-clogging the drainage systems of Cebu City.
Photo from the Facebook page of councilor Jerry Guardo
Task force vs flooding formed
CEBU, Philippines — The Cebu City government has created a task force to regularly clean the drainage, rivers, and creeks to prevent flooding.
The creation of "Menos Baha Task Force" was upon the recommendation of Councilor Jerry Guardo, chairman of the committee on infrastructure. The Cebu City Disaster Risk Reduction and Management pushed for the creation of the task force because of the constant flooding in the city during wet season.
The task force is composed of at least 60 newly hired job order workers under the supervision of the Department of Engineering and Public Works. Its mission is to minimize the flooding problem in the identified flood-prone areas.
"If there will be heavy downpour of rain, water would easily subside because our existing canals and culvert are clean and free from debris or trash," Guardo said.
All members of the task force are obliged to report their daily activities to CCDDRRMO. The task force is also mandated to construct drainage system in flood-prone areas, repair existing drainage line and manhole, fabrication of canal and manhole concrete cover, de-clogging and de-silting of drainage system, cleaning and deepening of creeks and educating the public of proper waste disposal.
The areas identified as flood-prone include barangays Santo Niño, Kalubihan, Pahina Central, Parian, Tinago, Tejero, T. Padilla, Kamagayan, Sta. Cruz, Day-as, Sambag I, Sambag II, Ermita, Mabolo, Pasil,Sawang Calero, Duljo Fatima, Mambaling, Tisa, Pardo, Kinasang - an, Basak Pardo, Basak San Nicolas, Inayawan, Bulacao, Punta Pricesa, Labangon, Tisa, and portion of Guadalupe.
In an interview, Guardo said the city government has set aside P15 million for the salaries of the members of the task force at P340 each daily.
Mayor Tomas Osmeña has also directed Guardo to install rubbish traps in existing drainage system, specifically in depressed areas. Rubbish traps would make the drainage cleanup easy.
Guardo said they have made his Barangay Sambag I, particularly Sitio Asuncion, as pilot area for the project. (FREEMAN)