Lanao may skip Sinulog 2018
January 17, 2017 | 12:00am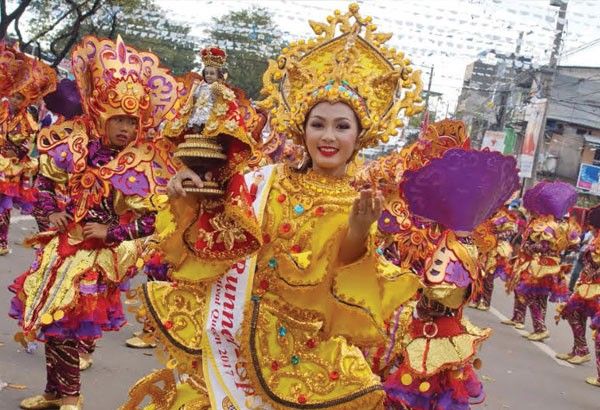 CEBU, Philippines - After Tangub City, the Sinulog might lose another favorite contingent next year.
Yesterday, the provincial tourism officer of Lanao del Norte disclosed that they are eyeing at skipping the festival next year.
"Actually, before mi ni ari diri, win or lose namo nga pag apil diri, this would be our last. Siguro, enough na kay we have already proven our culture. We have already showcased the festivals that we have in our province since we joined this contest. And at the same time, the most important thing, we're already in the map of Sinulog foundation competition in Cebu City," said Minda Regis.
Lanao has won the Sinulog twice in the Free Interpretation Category in the past 10 years. Often, too, the contingent goes home with a special award.
"Dili sure if naay possibility mobalik but nagstorya mi ni governor mo balik. But, ako man gud as an organizer, gikapoy nako," she said.
"We're spending much and mura'g naay sometimes naa mi gamay reklamo kay we're spending millions for this but we're only given limited time to practice for our rehearsals. Ang taga diri moy mahatagan priority og practice," she said.
"Wala man mi niingon nga hatagan og importansya pero hatagan pod unta mi og considerations ba nga nga gasto kaayo mag-practice mi diri, kaon sa mga bata," she added.
This year, the group spent at least P7 million, much bigger than what it got as prizes - P1 million for winning the Free Interpretation Category and P100,000 for being best in musicality.
It also received P300,000 from the Sinulog Foundation Inc. as subsidy for out-of-town contingents.
"Though wala mi ga ano sa price pero ang amoa lang, amo lang gi-promote ang kultura at the same time, gi-showcase namo ang province," Regis said.
Earlier, Tangub City Mayor Philip Tan announced the group, which won in the Sinulog-Based category ritual showdown this year, will not be participating in the grand parade next year.
Tangub has 12 championship titles in the 20 years of participating Sinulog.
SFI Executive Director Ricky Ballesteros said he has not received a final word from Lanao just yet.
"Sinulog festival is their (contingents) best avenue to showcase their local tourism, culture," he said.
He said all contingents, local or out-of-town, spend more than their prices. He said it is the Sinulog Board of Trustees that approves requests to increase the subsidy for contingents.
Meanwhile, the cities of Catbalogan and Dumaguete, runners up in the Free Interpretation Category, vowed to present better performances next year.
Catbalogan got two awards last Sunday - Best in Street Dancing and second best in the ritual showdown while Dumaguete got four - fifth in street dancing, third best in ritual showdown, fifth in musicality, and third in choreography.
Catbalogan Mayor Stephanie Uy-Tan believes the city's contingent did its best.
"The Tribu Katbalaugan did their best. Kun unsay gihatag ni Sto Niño, dawaton namo. We're happy, of course. We will still go for this next year," she said.
Dumaguete Councilor Michael Bandal, delegation head and chairperson of the City Council committee on tourism, confirmed the city will take part in the Sinulog next year.
"Definitely, we will come next year with better performance," he said. (FREEMAN)