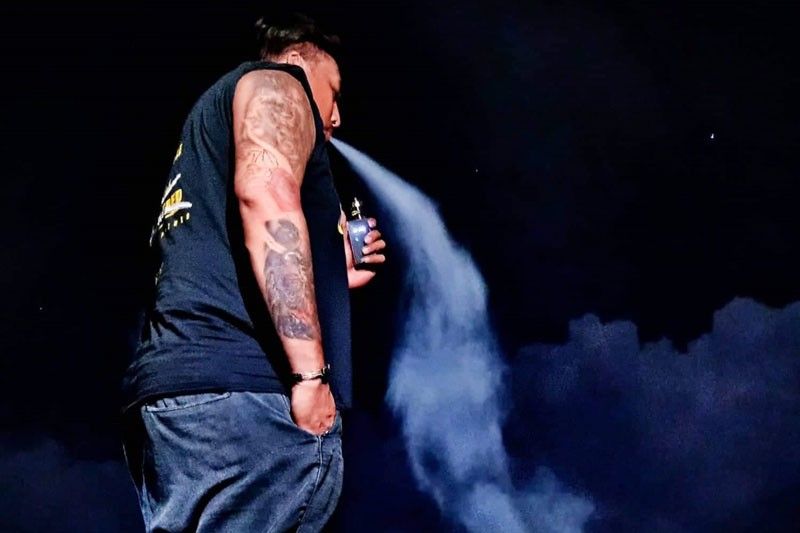 Vape smokers may now face arrest following a memorandum issued by the police in Central Visayas in compliance with the verbal order of President Rodrigo Duterte.
Joy Torrejos
Enforcement of Duterte order: Those vaping in public face arrest
CEBU, Philippines — Police Regional Office - 7 Director Valeriano de Leon has ordered the arrest of those who use e-cigarettes in public to comply with the order of President Rodrigo Duterte banning e-cigarettes in public places, as well as their importation.
"I am ordering my men to arrest those who will smoke e-cigarettes and confiscate vapes in public places in Central Visayas region. As what President Duterte said, this is an issue of public health and your police have this obligation to protect the people from the negative effects of the smoke coming from vapers," De Leon said yesterday.
He also ordered his men to intensify visibility in public places. He also ordered his commanders to coordinate with barangay captains so that barangay tanods can help enforce Duterte's order.
De Leon said what happened to the 16-year-old girl from Central Visayas who was confirmed to be the first case of illness from vaping in the Philippines, should serve as a wakeup call for the police and other government agencies to implement the ban strictly.
Meanwhile, Cebu Provincial Police Director Roderick Mariano said they will confiscate the e-cigarette from those found using it in public but they will not arrest the user just yet.
"Once na may makita sila na gumagamit ng vape publicly, it will be confiscated and that person will be given warning (The vape will be confiscated but the user will only be given a warning)," Mariano said.
"Hindi muna tayo aaresto kasi better siguro na we have to disseminate talaga until ma-receive natin ang formal (order) na pinagbabawal na sya (We will not arrest anyone for now… we will disseminate information first until we receive a formal order that it's banned)," he added.
However, he said those who sell e-cigarettes to minors will be arrested.
PRO-7 is set to coordinate with vape store owners on the matter.
Legal Basis
Asked for opinion, Atty. Regal Oliva, president of the Integrated Bar of the Philippines - Cebu City Chapter, told The Freeman that it is important for the police to have legal basis in its response to the president's order.
"From the IBP side, as a lawyer, in making arrest or making confiscation, in depriving you of your property, there should be legal basis," Oliva said.
He said it would be better if the PNP will wait for a written directive before they will execute his order by arresting anyone or confiscating the e-cigarettes.
Mariano said what they have on hand is a memorandum from PRO-7 that it will issue another memo for cops to confiscate e-cigarettes being used in public.
First Case
Just last Monday, personnel from the Department of Health (DOH) central office in Manila came to Cebu to take a look at the 16-year-old girl who was confirmed to have acquired the first case of E-Cigarette or Vape-Associated Lung Injury (EVALI) in the country.
"Confirmed na man gyud ni siya nga EVALI gyud ni pero naa lay i-test nga buhaton ug unsa pa gyud ang uban, naa bay infection nahitabo, naa bay ongoing nga mga reaction didto sa atong baga (It is confirmed EVALI but we will have to conduct some tests to see if there was infection, if there is an ongoing reaction in the lungs)," said DOH-7 Director Jaime Bernadas.
It was a private pediatric pulmonologist who reported the case to DOH.
According to the case report, the girl has been using e-cigarettes for six months while concurrently consuming combustible cigarettes.
DOH said an estimated 1 million Filipinos use e-cigarettes.
E-cigarettes are devices that vaporize a solution that users inhale. Unlike regular cigarettes, it does not use tobacco leaves.
While it is labeled as a healthier alternative for those who want to quit smoking, DOH has called for an outright ban on vaping, warning that e-cigarettes are not a proven nicotine replacement therapy and can cause lung illness. JMO (FREEMAN)