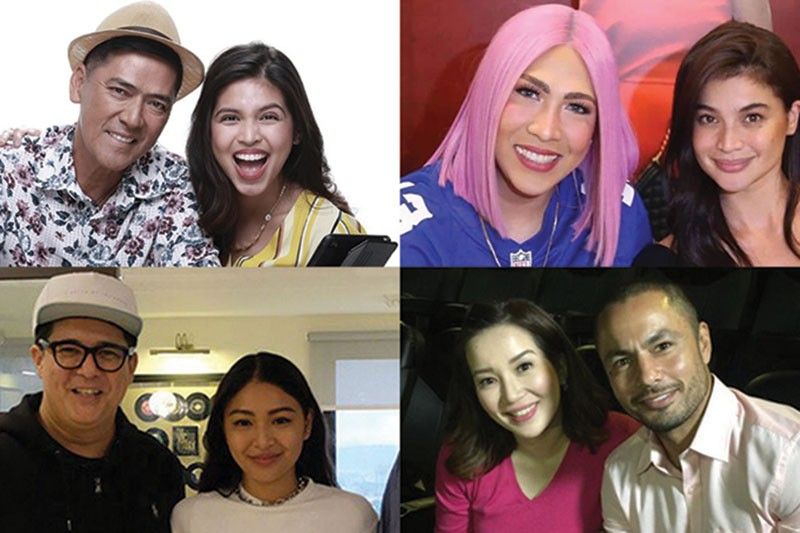 More of the same in first four MMFF 2019 entries
The usual suspects are in. We are talking about the first four Metro Manila Film Festival entries based on the script.
The usual "suspects" are the movies of Vice Ganda and Vic Sotto. From the 22 film producers who submitted scripts, the screening committee headed by National Artist Bienvenido Lumbera, announced on Wednesday that the movies of Vice Ganda and Vic Sotto made it to the Magic 4 of the 45th Metro Manila Film Festival.
The four films were selected based on the criteria namely Artistic Excellence (40 percent), Commercial Appeal (40 percent), Filipino Cultural Sensibility (10 percent) and Global Appeal (10 percent).
We wonder if the members of the Screening Committee bothered to read all the scripts submitted to them and thus decided that the scripts of the Vice Ganda film and the Vic Sotto project are that excellent to be chosen as official entries.
Judging from the title alone, it is very unlikely that said movies are artistically excellent, possess Filipino cultural sensibility and has global appeal.
Vice Ganda's film is titled "Momalland" which has Anne Curtis and Tony Labrusca in the cast. It is produced by ABS-CBN Film Productions and Viva Entertainment.
Vic Sotto's film is titled "Mission Unstapabol: The Don Identity" which is obviously a spinoff or a parody of "Mission Impossible" and Jason Bourne films. That the screening committee find these good enough as entries behooves us.
Does this mean the scripts of Vice Ganda's film and that of Vic's are that good enough to dislodge "Culion," a historical film about Palawan written by Ricky Lee, which talks about an unknown chapter in our history?
"Culion," unfortunately, was not chosen but it might have a chance when it submitted anew come September as a finished film.
The Aga Muhlach and Nadine Lustre film titled "Miracle in Cell #7" is a remake of a well-loved Korean blockbuster film which was dubbed in Filipino and aired on GMA network. How can a movie that is based on a Korean film speak of Filipino cultural sensibility?
Also making it to the top four is "(K)AMPON" starring Kris Aquino and Derek Ramsay from Quantum Films. This marks Kris' comeback to the MMFF after some absence.
Failing to make it to the Magic 4 are the movies of Coco Martin where he co-stars with Ai Ai delas Alas and Jennylyn Mercado.
We surmised that the Selection Committee gave more weight to Commercial Appeal that's why it selected the films of Vice Ganda, Vic Sotto, Kris, Derek, Aga and Nadine.
After all, the festival is a fundraising activity for the Metro Manila Development Authority and its partners in the movie industry but disguised to foster artistic excellence.
If the producers submit a script, they pay a certain fee and that is waived if the entry is not chosen based on the script. The producers, however, can resubmit their entry as a finished film but they need to pay a higher fee.
But we really wonder, does the screening committee read all the scripts submitted to them, yet each year they only choose scripts that star Vice Ganda, Vic and the like. But when you watch the finished film, you'd wonder how did it end up like trash when they are supposed to be excellent scripts?
We believe that the MMFF should not accept projects based on scripts but based on the finished product. What may look good on paper might not end up as an excellent film.
***
Lawyer-turned film producer Joji Alonso dreamt of being a film director when she was in the third grade. She loves watching movies with her sister and is fascinated with well-crafted films like Mike de Leon's "Kisapmata" and Lino Brocka's "Insiang."
From being a film producer, Atty. Joji takes another step further when she joined Cinemalaya 2019 and fielded her debut film "Belle Douleur" (Beautiful Pain) with Mylene Dizon and Keith Thompson as her lead stars.
According to her, Mylene is her first and only choice as lead actress. "I had her in mind when I was conceptualizing the project," the film producer-turned director said.
As a first time director, Keith is also her personal choice to be Mylene's partner. "Aside from the being good-looking, he should also be a good actor. He must be able to match Mylene's intensity as an actress. To be fair, Keith managed to hold his own opposite Mylene who is very, very good in the film. He was not eclipsed but matched Mylene's intensity."