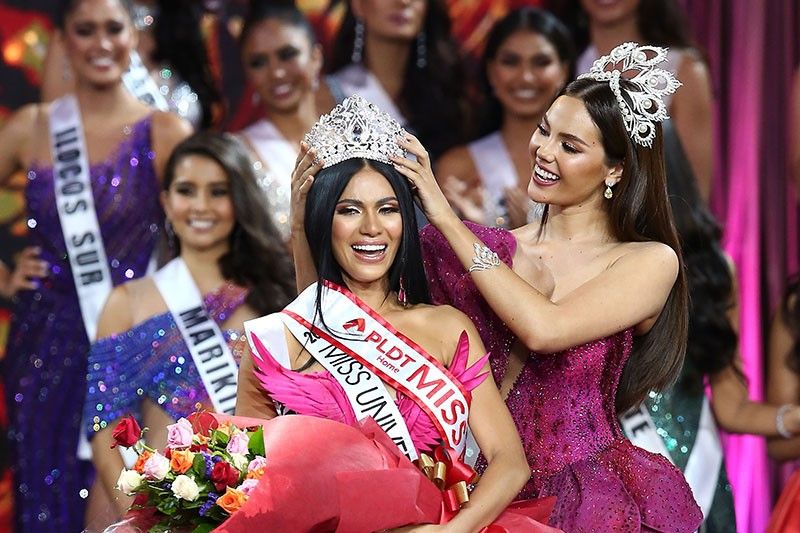 Another Cebuana is Miss Universe Philippines
52 years since Pilar Pilapil
CEBU, Philippines — The beauty of one Gazini Christiana Jordi Ganados had already been known in Cebu's thriving modeling scene, which benefited from this Filipina-Palestinian's chameleon-like features. But not so in pageantry as her early attempts at so-called minor tilts had her falling short in what handlers would bet on as a "sure win."
When a candidate of this physical caliber can't even manage to snag a Miss Bohol crown or the Reyna ng Aliwan title that so many Cebuanas before her have easily won, then the problem most probably lay in her intelligence. This was the theory going around in Cebu's pageant circle, resurrected by Binibining Pilipinas pageant fans who were impressed by her Latina looks but were wary of her record.
Turns out the pageant gods were just teaching Gazini a lesson in delayed gratification for who needs those other titles when – many would argue – what truly matters is that ONE that will be her ticket to the premiere Miss Universe stage?
Gazini, a 23-year-old from Talisay City, rose above doubts to her communication skills as she bested 39 other candidates for the plum crown of Miss Universe Philippines 2019 during the Bb. Pilipinas 2019 finals at the Smart Araneta Coliseum Sunday night.
A standout in a magenta Cary Santiago gown pleated at the bosom to mimic birds, Gazini's name was picked by ABS-CBN Integrated Events Head Bobby Barreiro who asked her how she can get more women in the workplace if she won a crown.
"If I win the crown tonight, what I will do is to promote my advocacy," the advocate for the proper care of the elderly began. "My advocacy is for us women to fight for our rights and for the elderly women and for us to know that someone is loving us, someone is pushing us to whatever ambitions that we have. We will be able to rise from our decisions, to whatever dreams that we have, the goals that we have, and we will achieve it because of those values, that wisdom that they gave us."
While some netizens think she did not answer the question pointedly, others came to her defense that she at least sounded coherent and confident, unlike another favorite who buckled at the crucial round.
Pilar Pilapil, a Liloan native who before Gazini held the sole distinction of being the only Cebuana to wear the Bb. Pilipinas crown (in 1967), told The FREEMAN in a phone interview yesterday that she is confident Gazini can polish her weakness in time for December's Miss Universe finals in Korea.
The veteran actress said she herself wasn't good in English when she competed at 16 in the nationals, but that she had "a certain command when I spoke."
With the help of BPCI, she said she worked on her communication skills through speech clinics, personality development trainings and reading English aloud and regularly.
Another Cebu representative, Samantha Ashley Lo, wearing the Cebu City sash, succeeded Eva Patalinjug for the title of Bb. Pilipinas Grand International (Patalinjug also inherited the crown last year from Mandaue City rep Elizabeth Clenci).
Also joining Gazini's court are Bea Patricia Magtanong of Bataan as Bb. Pilipinas-International (also a Bb. Megawide awardee), Resham Saeed of Maguindanao for Bb. Pilipinas-Supranational, Emma Mary Tiglao of Pampanga for Bb. Pilipinas-Intercontinental (Best in National Costume and Miss Pizza Hut), Leren Mae Bautista of Laguna for Bb. Pilipinas-Globe, Maria Andrea Abesamis of Pasig as first runner-up and Samantha Mae Bernardo of Palawan as second runner-up (a returnee who had the same placement last year).
Other awardees were Martina Turner Diaz of Muntinlupa City as Miss Philippine Airlines, Marie Sherry Ann Tormes of Polangui, Albay for Bb. Friendship and Cassandra Colleen Chan of Bacolod for Best in Talent.
Lola's girl
Gazini, also named Face of Binibini/Miss Photogenic and Best in Long Gown, told The FREEMAN before the pageant that she joined Bb. Pilipinas to fulfill her late grandmother's dream for her.
An only child who has never met her father, Gazini has mostly lived with her mother, Carmencita, and her grandma before the latter passed away last year due to health problems. Her grandma had nine children, but it was only her mom who managed to take care of the senior in her sickly years because the rest had their own families to attend to.
"That's when I realized it's really hard to be old and alone because all your kids have their own lives," she said. "It's just me, my mom and my Lola. I quit my dorm and my condo to take care of her."
The five-foot-eight Gazini's first pageant was 2012's Miss Milo Olympics, followed by Miss World Philippines 2014 where she was a Top 15 finalist, Reyna ng Aliwan in 2015 where she was second runner-up, Miss CESAFI 2017, Miss PRISAA 2017, and Miss Bohol 2017 where she was first runner-up.
She focused on modeling (under Origin Model Management) and on her studies after Miss Bohol, finally managing to earn a Tourism degree last October from the University of San Jose-Recoletos.
"I didn't want to join a pageant until I was ready. I wanted to know where I stand, my purpose, my beliefs…I wanted to represent something," Gazini said of her pageant comeback this year.
The self-described "lola's girl" found that purpose after seeing through her grandma endure old age.
"When you're dying, you want to be happy and live to the fullest. You don't want to be forgotten," said Gazini of how her advocacy to push for better facilities in homes for the aged took shape.
Born in Dapitan City, Gazini has lived in Cebu with her mother since. Her mom says her dad is from Iran, but often clams up when prodded by Gazini for more details.
One other reason she joins pageants, Gazini tells us, is in the hopes that the publicity and the connections will somehow help in the search for her father.
"I wanted to be an artista when I was young because I heard Anne Curtis found her father when she became an artista," said Gazini, who, at one point in her life, thought of requiring her would-be suitors to search for her dad.
And what would she tell him once she does find him? "Thank you, your genes are perfect!" she said laughingly.
Cebuano support
Miss Intercontinental 2014 second runner-up Kris Tiffany Janson, Gazini's fellow Cebuana who was among Sunday night's award presenters, shared that Gazini already had a lot of fans cheering on her Sunday night, especially when the Top 15 was announced.
"More so when Patch Magtanong was called as Bb. Pilipinas International," said the former Miss Cebu, "because there was no one else. Everyone knew and felt it was her."
"She was over the moon! Usually it doesn't sink in yet, but she's super happy. She cried when her name was announced. We all did actually," said Kris, and by all, she meant the whole lot of Cebuanos including Miss Earth 2008 Karla Henry, Bb. Cebu Charity 2017 Maria Gigante, and all the mentors who huddled and hugged one another despite previous conflicts and camp affiliations.
Roy Erwin Tizon, a makeup artist and designer who is part of the KF Cebu team, said Gazini's triumph made him realize something about Cebuanos: "Us from Cebu, we have differences, but when we are in Manila, magkalimtanay sa pangluod ug maglinabanay ang mga Cebuano."
Talisay City Mayor-elect Samsam Gullas, in a statement, said that he talked to Vice Mayor Alan Bucao to file a resolution commending Gazini "for bringing pride and honor to the City of Talisay and as recognition for putting the city in the limelight of beauties and intellect."
Surprises
Ilene de Vera, representing Mandaue City, surprised pageant followers for not making the Top 25 cut, as she was often included in the list of possible placers or spoilers.
"The easiest answer would be that 25 other Binibinis outscored her in the tally for the first cut," said pageant blogger Norman Tinio. "It could also be a matter of preference (or non-preference) for the organizers who collected all preliminary scores and got to see the complete lineup of the 25 Binibinis with the highest scores. If – for argument's sake – she scored a ranking between 24th to 25th, those are the most precarious positions to be in because it becomes a discretionary choice on who will be sacrificed. In the end, I would say that she was simply outscored."
Another big surprise was the non-placement of Negros Occidental's Vickie Rushton who seemed to be groomed for one of the crowns as she harvested one sponsor award after another such as the Jag Denim Queen, Miss Ever Bilena, Manila Bulletin Reader's Choice, Bb. Cream Silk and Poten Cee Gandang Palaban. Viewers, and the former PBB housemate herself, blamed her Q&A performance for the turnout, with Vickie explaining in an interview that someone in the crowd made a face which distracted her.
The judging panel, chaired by Quezon City Mayor Joy Belmonte, was also made up of actor James Reid, Zalora and Grab Taxi Philippines co-founder Brian Cu, actress Nadine Lustre, Italian Ambassador to the Philippines H.E. Giorgio Guglielmino, Gilas Pilipinas player Christian Standhardinger, President of Asia at Alorica Inc. Reinerio Borja, Miss Universe 1969 Gloria Diaz, actor Daniel Padilla, and Ambassador of Spain to the Philippines H.E. Jorge Moragas.
Asked how she will handle the inevitable comparisons to Miss Universe 2018 Catriona Gray's unprecedented preparations, Gazini said, "Let's just hope for the best. Like Catriona, she just focused on herself. When there were bashers. She told herself not to listen. Surround yourself with family and friends so that emotions will not affect your preparations. It will never be easy, but I will try my best." – With Mitchelle L. Palaubsanon