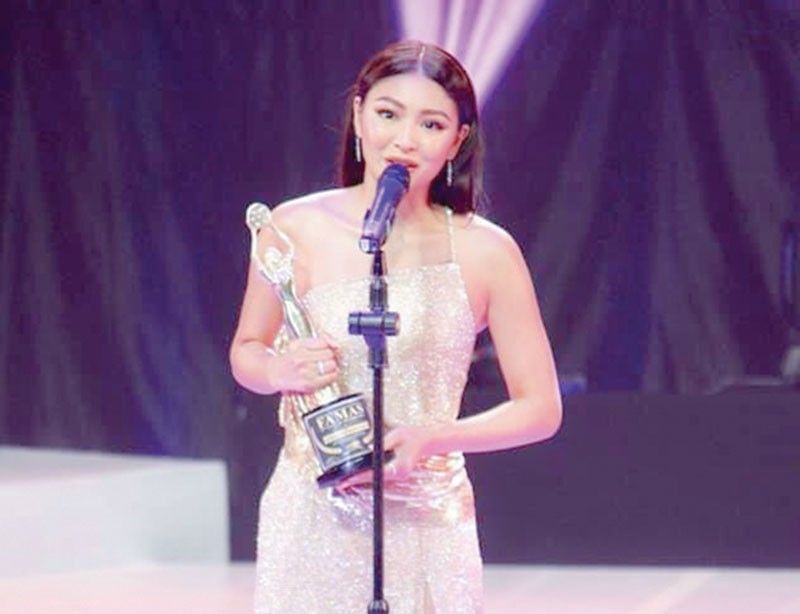 Nadine Lustre is the big winner at the 67th FAMAS Awards held Sunday night at the Meralco Theater. She was named Best Actress by the Ricky Lee-led FAMAS jury for her performance in "Never Not Love You."
The Viva talent beat an elite field which included Judy Ann Santos and Angelica Panganiban for "Ang Dalawang Mrs. Reyes," Pokwang ("Oda sa Wala"), Glaiza de Castro ("Liway"), Sarah Geronimo ("Miss Granny"), Perla Bautista ("Kung Paano Hinihintay ang Dapithapon"), Anne Curtis ("Sid & Aya:Not A Love Story"),among others.
This is Nadine's second Best Actress trophy. She was named Best Performer of 2018 by the Young Critics Circle Film Desk for the same movie.
This makes Nadine the Best Actress of her generation. This means Kathryn Bernardo has to work double time to catch up with Nadine.
As it stands now, awards-wise, Nadine has put one over Kathryn.
The fans of Nadine are rejoicing. For them it is but proper to give the coveted role of Darna to their idol because of her twin best actress win.
In her acceptance speech, Nadine mentioned she was undergoing some kind of crisis while doing the film. But she was thankful she overcame it.
Her triumph at FAMAS and YCC are very much welcome as they came after a turbulent phase in her life.
We would also like to congratulate Eddie Garcia ("ML") and Victor Neri ("A Short History of a Few Bad Things") who tied for the Best Actor Award.
The veteran actor is already enshrined in the FAMAS Hall of Fame for having won the best actor award five times. But FAMAS chose to honor him again. A good performance should never go unnoticed.
Adrienne Vergara won Best Supporting Actress for "Dog Days" while Joem Bascon was named Best Supporting Actor for "Double Twisting, Double Back."
The Best Picture was given to "Gusto Kita with All My Hypothalamus," which also won for Best Original Screenplay and Best Director awards for Dwein Baltazar.
***
Former child actress Guila Alvarez had been inactive in showbiz for 20 years but she couldn't say no to director Erik Matti when he offered her to be part of the horror movie "Kuwaresma."
Guila said Direk Erik did not stop until she said yes. Besides, her role as a medium was very good. But since she is working in the corporate world, she needed to ask permission from her boss if she can do the film.
Her schedule had to be fixed since "Kuwaresma" was shot in Baguio. She didn't want her job to be affected in case she accepts the offer.
Guila couldn't be happier that she said yes. Not only did she get the chance to work with Sharon Cuneta but there's also John Arcilla to complete the equation. What more can she ask for?
***
Solaire Resort & Casino brings you back to the era of move and groove with "Into The 80s" – a retro concert featuring Philippine 80s music icons Raymond Lauchengco, Gino Padilla, Jett Pangan, Lou Bonnevie and Jam Morales, happening on May 18 at The Theatre at Solaire.
The 80s was characterized by everything big: shoulder pads, hair, bold colors, bold fashion trends, and larger-than-life performers with their music through synthesizers, drum machines, reverb and electric guitars creating music styles and a distinctive beat.
Set the rhythm of the music of the night and recreate the beat through the memorable music of the 80s international and their very own OPM hits. From Prince to The Police, Sheena Easton to Spandau Ballet, Blondie to Kim Carnes, Bangles to Irene Cara, Whitney Houston to Wham, Billy Joel to Rick Astley, Kool and the Gang to Queen, every single song is guaranteed to make you sigh, swoon, sing along, sway, swing, and finally, to get on your feet and groove.
Get ready for some dancing and step to the beat with Gino, Raymond, Jett, Lou and Jam with Session Band, Filipinas and a whole slew of dancers because you can't do the 80s without doing the boogie.
Catch "Into The 80s" on May 18, 8 p.m. at The Theatre @ Solaire. It is directed by Toto Gentica, with script by Henry Tajero and choreographed by Butch Esperanza. For tickets, call Ticket World at 891-9999.