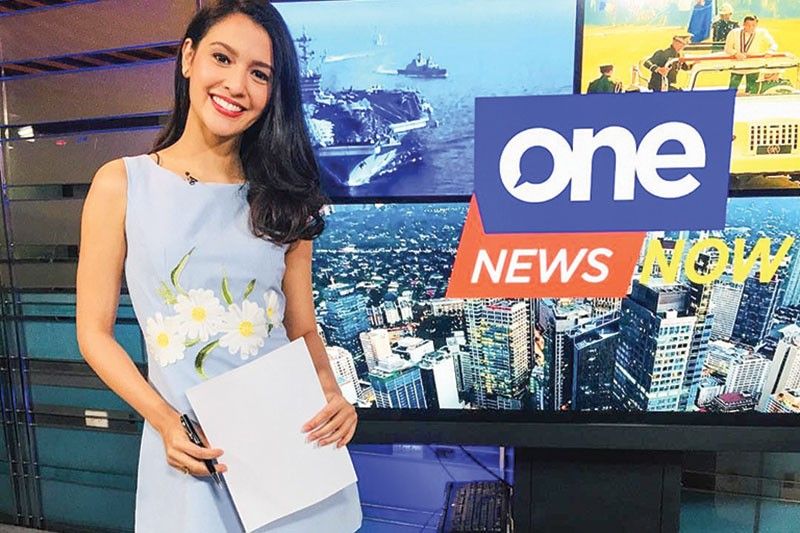 Meet Philippine television's prettiest newscaster
Karla Rule
(The Freeman) - April 24, 2019 - 12:00am
CEBU, Philippines — After putting Cebu and the Philippines on the map with her international pageant win, Miss Earth 2014 Jamie Herrell is living out another childhood dream.
Last February, the Cebuana beauty queen joined Cignal's Filipino-language cable news channel One PH.
After auditioning October last year, Jamie began her media training and began appearing in the news by February, currently doing news breaks, sharing the day's headlines with "One News" as well as appearing in a segment in the channel's flagship newscast "One Balita."
In the newscast anchored by Raffy Tulfo, Jamie handles "Paspas Balita," focusing on Bisaya news.
The 24-year-old tells The FREEMAN that her approach to this new job is simple. That is, to see herself as a student with much to learn. She took on the opportunity knowing that it will help her grow.
She added that being a newscaster is a "prominent and substantial job."
"Every time a person brings up a topic of how I am a beauty queen and I shouldn't go through the long process like everyone else is absurd in my opinion. There are many things to learn whether it's about the newsroom or anything else and if we make shortcuts then we can't hone our full potential," said Jamie.
"I condition myself that I can always grow as an individual and I need to always take every criticism in a constructive point of view to be the best that I can be and also bring positive energy in the workplace."
Before pursuing acting at the International Academy of Film and Television, Jamie was a Mass Communication student at the University of San Jose-Recoletos.
Becoming a media practitioner was among her dreams when she was younger—the reason behind her decision to study communication.
"All the Masscom subjects came in handy!" Jamie quipped. "There are some things that I learned in training that I didn't learn in school, but USJ-R was like the training wheels that I needed to pick up all of the things I needed to learn quickly."
Jamie further said that getting to experience the newsroom firsthand was another level of training.
"I've always kept watch of what was happening around me, but being in the newsroom, it really amplified drastically! I read more than before which is a good thing because it keeps your mind sharper and better. I learned good learning habits in the newsroom."
She commends her colleagues in One PH and Cignal TV, among them her One Balita co-anchor, the media personality and broadcast journalist Raffy Tulfo.
"When I found out I would be working with him I was somewhat shy and a tad conscious, but he was all smiles and gave me a few tips. He's actually a nice guy and always on the go when it comes to helping others. With him, what you see is what you get and that's a good thing to have. All of the veteran anchors in Cignal TV are just amazing! Too many of them to name. But I love how all of them have an admirable work ethic."
She added, "I just want to also put out there that I admire the whole news team behind the camera. They really make magic when it comes to what you see on an everyday basis and each one of them play an important role in the newsroom."
Apart from presenting the news, Jamie owns the flip-flops line Isla 7107 and is cooking up something for the brand. She is also heading the PR and CorpComm side of sunglass brand Viaje.
"I write some of my content. I admit I am not as fluent as most when it comes to Bisaya hence the segment that I handle, 'Paspas Balita' is in Cebuano and English. But I am consistently trying to learn the language as fast as I can and many of my friends that are in the same field are supporting me and that gets me going," the Fil-Am beauty from Lapu-Lapu City shared.
She knows there is much room for improvement.
"I already knew what I was signing up for. I have been running my business and doing events for a few years now. It's really different from what I have been doing, but I am enjoying this just as much. I am excited at the strong possibility of meeting different people from different walks of life. I always love hearing other people's stories, Jamie said.
"I have some difficulties and I have weak spots that definitely need fixing, but I think with grit and hard work, I'll be the best that I can be."