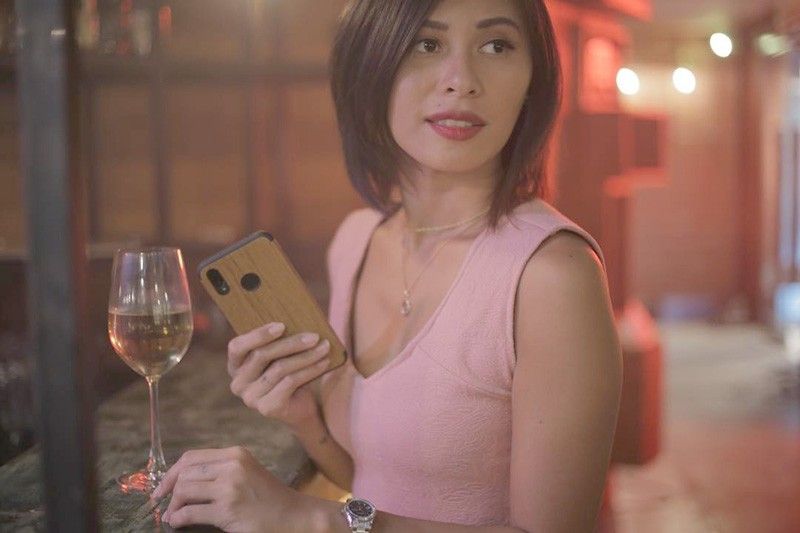 Cebuana actress Dionne Monsanto in a scene from the web series "Find Her"
Web series asks: Can there be love at first swipe?
Karla Rule
(The Freeman) - March 6, 2019 - 12:00am
CEBU, Philippines — For most of us, our lives are contained within the four corners of our phones: memories, conversations, current events, trends. In this day and age, the world is in our pockets, and everything you need is essentially a click away.
But is love online? Do our phones provide instant gratification on romance the same way it does with our food cravings, shopping and entertainment? Does it make the quest for love easier? Or is the right one just as elusive and challenging like they always were?
That's what SMART Communications Inc.'s very first web series explores. Launched last month, the seven-episode series available on Smart's YouTube channel centers on three main characters Lia (Bea Ruaro), Aika (Dionne Monsanto) and Gabe (Vance Larena) and their journey through romance in the modern dating field.
The 21st century love story is snappy and has laced humor in between the existential questions it raises. It is helmed by Cebuano director Victor Villanueva, written by Carl Chavez and Rod Marmol, and co-produced with Epicmedia (manned by Cebuana producer Bianca Balbuena) and Bent & Buzz.
In a BusinessWorld report, Villanueva shared that "Find Her" is partly inspired by 2016 Japanese animated film "Kimi No Na Wa" (Your Name) by Makoto Shinkai in which two high school students race against time to meet each other after they swap bodies.
"'Find Her' was partly inspired by 'Your Name' because I'm a bit of a fan of animé and I also wanted to do a sort of mature kind of romance about people in their 20s because that's where I'm at right now in my life," said the "Patay Na Si Hesus" director who was particular in shortening the dialogue because of the shorter running time (the longest episode is 16 minutes).
"Find Her" is eyed as the first of more "PLDT-Smart STORIES." As we wait for more of these, here are five lessons from their very first venture. Spoiler alert! He finds her. But which one?
It's a big world
In the beginning of the story, our main characters Lia and Aika sit on the rooftop to gaze at the stars after a successful catfish session (luring someone into a relationship thru a fictional online persona). Lia ponders on their situation, musing that in another universe, she would have been a different kind of person. At first Aika takes this lightly. It seems she's heard each and every one of her best friend's tirades about the universe and its plans. But deep down, Aika is also uncertain. She confides that she's considering taking an IT job in Hungary, which will mean leaving her best friend behind. However, Aika takes a leaf from Lia's book and says: "Dadalhin tayo ng universe kung saan tayo nararapat."
And in ways, this is true. Who knows what could be outside of the world we know? Often, we find ourselves in situations we don't control, or meet people we never thought of meeting. That serendipity has the potential to change us and set the gears of our own stories in motion. Bottom line, we don't control everything. If we did, then that makes us God. But we're not.
Take what is given to you
After being in the same place at the same time, but not crossing paths, the characters realize that they must have communicated with each other from their own timelines, both universes parallel to each other. As Gabe asks for Lia's help to find Aika in his universe, the two are drawn into a relationship of their own. But who's to say that this was meant to be? Surely a parallel universe love story like Gabe and Aika's would be much more interesting? The universe planned it itself, didn't it? Then they should end up together, not Gabe and Lia.
And yet, their extraordinary waiter, who witnesses this confusion, reminds them that while there are wonders bigger than us, that doesn't mean we can just sit idly waiting for things to unfold. People are sentient for a reason. We have free will, the waiter says.
While the gears of your story have been set in motion, it's your job to turn the page. Sure there are surprises along the way, but remember that our reaction to them has bearing and says a lot about who we are. If it didn't, then the universe would not give us choices in the first place. In the entire plot, there was no one big voice telling these people what to do. Aika, Lia, and Gabe tell themselves what to do as they go through the motions. You can either let these opportunities pass or take them.
Misery loves company
As the best friends continue with life, without the other (virtually), they still hold on to their promises of helping each other find the right guy. Lia is in conflict after harboring feelings for Gabe who is in search for Aika. Each time Lia indulges her fantasy, she remembers her promise and keeps her distance. Aika returns and the ladies bond over drinks. Aika quips that their misery is bad karma after all the catfishing they've done.
Lia asks if they're meant to be miserable. Aika says they're meant to be single forever.
But that's not the case for Lia. And I believe it isn't the case for the Aikas in the world either. But just because you identify with a pain for so long doesn't mean things aren't going to change for you, and it surely doesn't mean that you can't change for yourself. Be wary of these moments.
There is a difference between accepting your pain and succumbing to it. When you are given a situation, you can have it as it is, or you can make something more from it. Sometimes we settle with our misfortunes and we share it with other people without even realizing it because we don't want to be alone.
Lia once asked Aika about how they got so bitter. Aika says they were hurt, and so they should take revenge. Instead of focusing on healing themselves, they found a way to pass around the hurt. What's worse is they justify it. But Gabe has been hurt, too but he doesn't subscribe to passing the pain around. No one gets a free pass of hurting others. If you've been hurt before, you should know better than anybody else, not to give it to someone.
Radiate boundless love
"Radiate boundless love towards the entire world — above, below and across — unhindered, without ill will, without enmity." – Buddha
That is Lia's favorite quote. She says it again and again throughout the series and fortunately it rubs off on Gabe, and eventually on Aika. See how this changes their dispositions, see how love here is shown both in romance and friendships, even for one's self. Things were out of their control, then. Things are also out of control now, but because of boundless, unhindered love, things are a bit easier to bear, whereas in the past they gave off their uncertainty, enmity, and reservations and that was exactly what they got in return. What goes around, comes around, I guess.
So to answer the question. Is love online? Yes. But only because love is anywhere you want it to be.