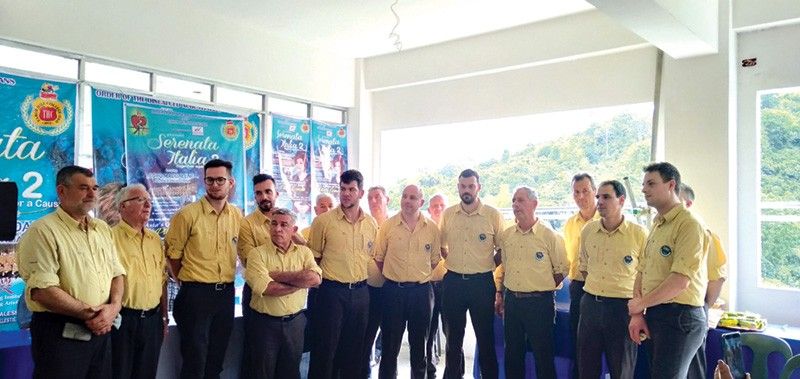 Italian choir returns to Cebu for concert-for-a-cause
Karla Rule
(The Freeman) - February 20, 2019 - 12:00am
CEBU, Philippines — After almost 20 years, the all-male Italian choir Coro Maddalene is back in Cebu.
When they arrived in February 2000, the choir helped raise funds for the construction of the Tabor Hill Building which currently houses the Chapel of Relics and the Order of the Discalced Augustinians (Ordo Augustiniensium Discalceatorum) retreat house. This time, the gentlemen return to lend their voices for another cause.
Brought by the Order of the Discalced Augustinians and Tabor Hill College-OAD in cooperation with Waterfront Cebu City Hotel and Casino, "Serenata Italia 2" will feature Coro Maddalene, with performances from the Guang Ming Institute of Performing Arts Cebu, Maestro Alessio Benvenuti, chamber orchestra Harmonia Caelestis and Sinulog Idol Season 10 finalist Jake Batiancela. It will also include the special participation of world-class Cebuano pride, Pilita Corrales, known as Asia's Queen of Songs.
The show is among the OAD's efforts to raise funds for the ongoing construction of Tabor Hill College Building and Seminary. Located at Talamban, Cebu City, Tabor Hill, also known as Mount Tabor, is a place of prayer, conversion and adoration. It is named after the mountain located in Lower Galilee, Israel, believed to be the site of the Transfiguration, where Jesus Christ appeared to speak with Moses and Elijah in front of his apostles.
In a press conference at the site of the supposed college building and seminary, Father Luigi Kerschbamer, OAD Provincial Superior, shared the growth of Tabor Hill from its humble beginnings to the place of retreat that it has become for the past two decades.
Apart from the cause, the concert is meant to highlight the spirit of collaboration among many different institutions that promote the culture and the arts, being the core mission of Tabor Hill College-OAD, hence the pool of talent gathered for the event. The show likewise marks the opening of the OAD's 25-year presence in the country, leading to a year-long celebration that will highlight their accomplishments and contributions.
Maestro Alessio Benvenuti, who arrived in the Philippines two years ago and was able to find more purpose with the OAD, shared that it is an honor and pleasure to be asked to perform for "Serenata Italia 2." He said that as a man of the arts, he wishes for Cebu to cultivate its appreciation for classical music.
"My dream is to have an opera house and concert hall in Cebu. I hope this is not the last one [concert], just the first one. We need these kinds of events. We need to promote music, we need to promote arts and culture again," said Benvenuti, founder and conductor of Harmonia Caelestis.
Established in 1969, Coro Maddalene is a band of singers who have passed on their craft to their sons, who then passed it on to their sons and so on. Hailing from the small town of Maddalene in the mountainous parts of northern Italy, the gentlemen witnessed how most of the locals left the town to migrate to greener pastures.
They have taken it upon themselves to keep their heritage, identity and way of life alive through their music as they perform songs that paint a picture of their lives in their hometown, making sure that it will not be forgotten. As they celebrate their 50th year, they did not mind travelling all the way to the Philippines to share their talent.
"In a certain way, I can say we fellas have a sense of gratitude, having the chance to come back after 20 years. A sense of curiosity, to see what has changed in the Philippines in two decades," said Daniel Pancheri, member of Coro Maddalene, who likens their sentiment of building something for the future generations to the OAD's hopes for their college.
"And for all of us, a sense of admiration for all the work Father Luigi has done and the people that have helped. To think that we come from a small town, with a lot of immigration, and for one person who comes from one of these small towns and see what they have accomplished gives us a real nice sense of admiration."
For "Serenata Italia 2," apart from the undeniable talent of Pilita Corrales, audiences can expect the Italian musical experience, from the popular folk songs from northern Italy, and with music from composers like Antonio Vilvaldi and Johann Sebastian Bach among many others.
Unfolding this Friday, Feb. 22 at the Jiemi Hall located at the fifth floor Casino Block area of the Waterfront Cebu City Hotel and Casino, "Serenata Italia 2" will have their matinee show at 2:30 p.m. and their gala show at 7:30 p.m.
Tickets are available at Tabor Hill, Talamban (contact Tabor Hill College-OAD secretary Ms. Marina at 09173180845) for P1000, P800 and P500.