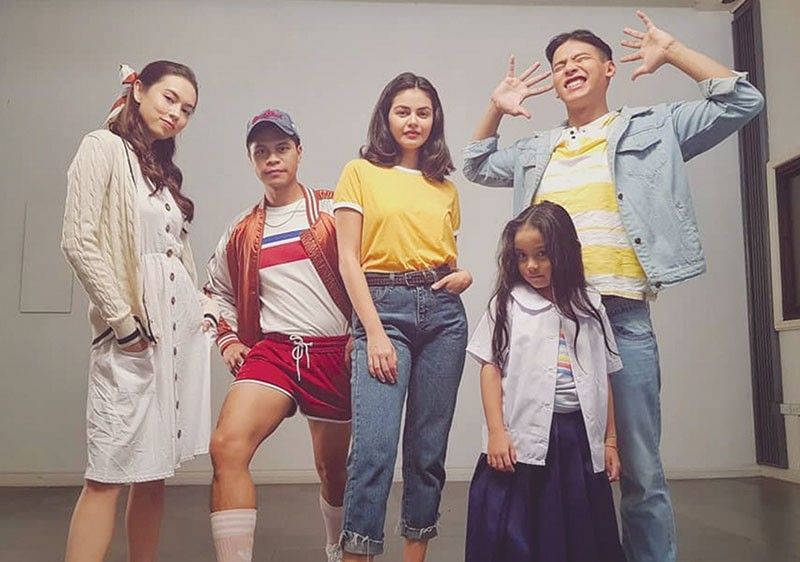 "Elise" stars Laura Lehman, Victor Anastasio, Janine Gutierrez, Miel Espinosa and Enchong Dee
A unique love story in 'Elise'
"Elise" is not your typical love story, but it touches the heart. Viewers can relate to the characters played by Enchong Dee and Janine Gutierrez in this Joel Ferrer film that was based on the director's own love story.
Direk Joel decided to make a light drama even if the story of Elise is kind of heartbreaking. It is also a story of triumph against the odds.
"I wanted to make it a little melodramatic although this is the film that I am most attached to. Marami rin akong bagay na pinalagpas before. I tend to gravitate to a certain person tapos pag nakita ko siya uli, sa kanya na naman ako," the young filmmaker related.
"Sometimes tragedy for us becomes comedy. Enchong is telling the story of Elise in the past tense. But I guess if you did something in the past na hindi maganda, few years from now, pagtatawanan mo na lang. I guess that is my take on the film. That drama doesn't have to be sad."
He said there is a challenge in trying to make a drama in a love story not sad but it can be emotional as well. "This is not a tearjerker but we know that it will touch the viewer. I guess it becomes more emotional if you can relate to the experience."
The Cinema Evaluation Board gave Elise an A rating. CEB took note of the good narration and the unique love story.
The film is an ode to those who love and want to move on with their lives. This pre-Valentine offering of Regal Entertainment is now showing in cinemas nationwide.
"Elise" also stars Miko Raval, Miel Espinosa, Krystal Brimner, Jackie Lou Blanco, Pilita Corrales, Erin Ocampo, Archie Adamos, Alan Paule, Andrea Del Rosario, Victor Anastacio and Laura Lehman.
***
Held only every two years, the country's biggest and most exciting "Bakery Fair" will be a fitting post-Valentine event at the World Trade Center in Pasay City from Feb. 15-17, with one of its many highlights being the Cakes Competition boasting of 63 talented bakers as participants. Social media hashtag is #BakeryFair2019.
Bakery Fair 2019 will be ushered in by the ceremonial cutting of a giant seven-foot high special cake celebrating the theme this year, "Chinese New Year in the Year of the Pig." The organizer of the event is the Filipino Chinese Bakery Association, Inc. (FCBAI) which believes that this theme is a fitting celebration of good luck and good life as the Chinese New Year officially began yesterday.
The cake was created meticulously by award-winning cake designer James Anton Uy of Cubcakes Bakery. Uy is a respected baking and cake decorating instructor and the 2013 Winner of the Bakery Fair Cake Display competition where he bested even some of the more established names in the local baking industry. He is a contributor for the internationally known Satin Ice (Satinice.com) for Cake Design Inspirations; as well as in various local magazines like Wedding Essentials, Wedding Digest and Real Brides Magazine.
The three-day Bakery Fair is a brainchild of FCBAI and features exhibitors, seminars and demonstrations by local and international experts. All kinds of modern baking supplies and equipment will be showcased and the public is invited to participate.
No wonder the Bakery Fair 2019 has become the destination for every baking enthusiast in the Philippines. It will not be far-fetched to see celebrities who are also baking enthusiasts like Marian Rivera, Sharon Cuneta, Judy Ann Santos, Bea Alonzo, Maricar Reyes-Poon, Bettina Carlos or Ara Mina joining the excitement come opening day.
FCBAI president Peter Fung said: "Started in 2001, the Bakery Fair is a biennial event which aims to foster awareness on the importance of updating our industry on the latest trends in baking technology and ideas, new equipment and ingredients, latest packaging concepts and materials. We at FCBAI hope the Bakery Fair can promote, strengthen and also elevate standards of the Philippine bakery industry not only as part of the country's dietary, lifestyle and culinary culture, but also to help boost economic development through expansion of small and medium-scale enterprises or SMEs."