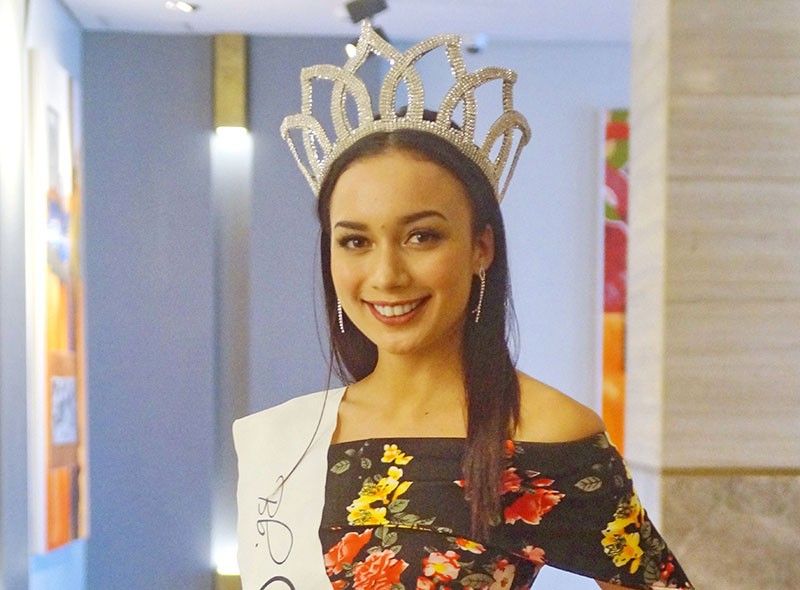 Binibining Cebu Ecology 2018 Isabela Deutsch.
Yasunari Ramon Taguchi
The Deutsch baby grows up
Karla Rule
(The Freeman) - December 23, 2018 - 12:00am
CEBU, Philippines — Isabela Deutsch was a face in the crowd watching the Binibining Cebu 2017 coronation unfold. A year after, she now bears a crown, the first lady to be given the Binibining Cebu Ecology 2018 title.
Born and raised in Cebu, Isabela is the youngest of six kids. With her German father working as general manager for various well-known hotels around Asia and the Philippines, Bela and her family had the privilege to travel and visit their dad wherever work took him. For starters, the Deutsch family have been to China and to Vietnam five times. In the Philippines, they have been to Boracay, Palawan, Bohol, and other nearby islands around Cebu. Bela also got to study in Samar, Leyte for a year. She knows how to speak Waray, since her mother is from Leyte.
Bela practically grew up by the beach while her dad worked in a hotel in Lapu-Lapu City for most of her childhood.
"I love the ocean. Every time we wake up, my sister and I would go right into the beach," Bela recounted in her first interview as Binibining Cebu Ecology. "My childhood was amazing."
The family later on moved to a subdivision where Bela played hide and seek, play kitchen or patintero in the afternoons. As the youngest, she was a darling to her siblings and the apple of her parents' eyes.
After her dad passed away this year, Bela, in some ways, had to grow up.
"Everyone adored me, I always got what I wanted. But my parents made sure not to spoil me too much and taught me things that I would always hold on to. When my Papa passed away, I felt a sense of responsibility to help my mom in any way I can. From being a baby, I kind of grew up."
At first glance, some might dismiss Bela as "suplada" or "maarte." She gets that a lot. People often tell her that she has a strong personality and they are easily intimidated by her. But the soft-spoken mestiza reassures that once you spend more time with her, these impressions change as she starts showing who she really is: a spontaneous and easy-going person.
At 19 years old, Bela's days are mostly spent in school. The senior high school STEM student from Southwestern University Phinma shared that she doesn't have one, but three favorite days in a week.
"Every Thursday, I meet up with a group of girls from church where we share everything. All the ups and the downs, and we would always encourage one another. It's a sisterhood built on a foundation of love," she began.
"Every Saturday, I go to a youth gathering in our church called 'Gravity.' It's actually one of the most fun things I have ever done. I'm still new to this but the experience is really amazing. I never really imagined that praising Jesus could be actually this fun."
"Every Sunday, I spend the whole day with my mom. Either we go to church, go to the mall, or to the beach. This is our bonding time," said Bela, who looks up to her mama for embodying strength, integrity and faith.
Before pageantry, Bela was already certain of her path. She loves to travel, read, write, model, and swim and has always wanted to become a doctor. Every year on career days in school, she would dress up in a white lab coat and had a stethoscope slung around her shoulders.
"To see people who are in dire need of medical attention, especially in hard to reach places, makes my heart burn, making me more and more geared towards my dream."
Seeing her dad need medical attention only turned Bela's desire to be a doctor more urgent. When she was younger, she started picking up medical books, amazed at the things she would learn. She plans to take up Nursing as a pre-med course.
With her older brothers and sisters pursuing their careers, Bela is now the only child left at home. Learning to take care of her parents just as how they cared for her, Bela had never wanted to become a doctor more than when she saw the struggles of her dad who passed away on the day of the Binibining Cebu 2018 screening.
"My passion became stronger and stronger, most especially that my dad had been in and out of the hospital," said Bela. "I had to be there for him and for my mom with all of my siblings doing other things. I was the only one taking care of my parents."
"I'm very close to my parents. On days where we have to stay at the hospital, I would think how badly I want to become a doctor already. Nindota na ma-doctor uy. Nindot kaayo paspasan ang oras so I can treat my dad," said Bela as she stifled tears at the memory.
Bela had asked her dad about joining Binibining Cebu, and he had told her to give it a shot. He reassured her that he would be there every step of the way. When screening day came and he breathed his last, Bela couldn't find it in herself to do anything.
"I had second thoughts. I lost motivation. It was the saddest day of my life," she confided. "I said, 'Dili nalang ko mu-join.' But my sister told me that it was okay. 'Papa loves you. Papa's watching over you.' So I'm really happy that I'm part of this. Wow. I'm so grateful."
Competing for the pageant despite her grief, Bela had to prepare herself not only physically, but mentally and emotionally too. Last year, she didn't want to join because she didn't feel ready enough. "Mura ra ko'g flower didto," she had told her handler. So they settled with preparing for next year instead. That year, Bela bought VIP tickets to see the show up close, witnessing Apriel Smith win the Binibining Cebu 2017 crown.
Bela was about to share the stage with beautiful, intelligent women, moms and national placers among them. She would also be competing with her mentor and eventual winner Steffi Aberasturi, whose modelling workshop Bela attended when she was 15 years old.
"I always looked up to Steffi when I was young because she's from Liloan and our schools were just across each other. She was so beautiful. Maybe I had it in me, so when she opened the workshop, I joined," Bela said of Steffi's modelling workshops at the Amore Modeling Institute.
"I no longer see her [Steffi] as a mentor. I see her as a friend. That she's a normal person and she has her strong points and I have mine," said Bela, who has won titles for Hiyas Nan Carrascal 2018, Miss DepEd Cebu Province 2016, Parola Festival Queen 2017 and SWU's Binibining Siglakas 2018.
She knew that while Binibining Cebu looked for an undeniably beautiful face, they also needed someone with a heart to serve.
"Maybe to some, I am somewhat a dark horse and an unexpected finalist in the competition. But to my friends and my family, I've always been their beauty queen and this encouraged me to compete with confidence. I did not pressure myself throughout the pageant. I did not push myself so much but I enjoyed every bit of it, and maybe that enjoyment in my heart was evident on stage, made an impact to the judges, and led me to become one the winners."
For the clincher question, Bela, who represented Borbon, cited compassion as the most important quality of a Binibining Cebuana.
"A Cebuana is a woman of compassion, of character, integrity, and love. But most importantly, a Cebuana is a woman of hope," she had answered. "I am a Cebuana and I love Cebu. And I will do everything I can – may it be under the sun, in the forest, near the homeless, in the kids, wherever – put me there and I will lend my hand. And I will use my voice into making Cebu a better place."
Winning P15,000 for her advocacy project, she plans to break down the task of taking care of the environment by involving the community. With her mom an artist and a designer who makes products out of indigenous materials, Bela is taking inspiration from her mom's crafts, jewellery and interiors. Apart from appreciating the beauty of nature, Bela supposes that these crafts could also provide jobs and opportunities.
"My mama makes bags out of coconuts, jewellery out of shells, bangles made from real leaves and coats them with resin. I've been exposed to this ever since I was young and it helped many people have jobs. This is what I want to do. We are rich in natural resources, so why not make these resources into marketable products?"
Since her Binibining Cebu Ecology win, a lot of doors and experiences have opened for Bela, giving her an opportunity to grow. But as she puts it, these changes come with a heavier responsibility.
"I have to be more careful with my walk and always remember that I am a vessel of light. Good time management enables me to do my Binibining Cebu duties without neglecting my studies which is top priority for me."
For Bela, the Binibining Cebu Ecology crown wasn't the only prize she'd gotten recently. She had found herself questioning the purpose of her existence and that led her to search for answers. Growing up in a Christian household, Bela's parents made it a point to teach her about Jesus. But for a while, Christ was only in Bela's head and not in her heart.
"It is only when I knew who Jesus truly was, I was given purpose, direction, peace, security and a sense of purpose that can never be replaced by anything. The moment I realized that He is not just someone who is out there, but He can actually be close to me, was the moment my life changed. Everything I am right now is because of Him and everything I will be doing is to glorify Him alone," Bela shared of her rediscovery.
For the longest time, Bela pretended that she was okay. She had masked every hurt. "All throughout the years, I knew Him as a great being watching over us but I never understood how someone could be close to Him. I then lost myself in the process and began to depend on certain people and situations to define who I was. All of these did not bring any satisfaction to the search of true happiness."
"I accepted His love for me and in that moment, all the burden, He took away. I could go on and on about how He worked in my life, but all I could say is that He rescued me from a dark past and now He has given me a new heart, new strength, and a new mission," she continued.
"There will be more challenges along the way but I have a different perspective now, if He can rescue me before, He will rescue me again, and He will never get tired of me, that's because He loves me. This is not religion, this is not practice, not even tradition. It's a relationship between me and the One who saved me."
The young lady lives by Philippians 4:8, which says: "Finally, brothers and sisters, whatever is true, whatever is noble, whatever is right, whatever is pure, whatever is lovely, whatever is admirable—if anything is excellent or praise-worthy—think about such things."
"I would want to emphasize on the last part which said 'think about such things.' I've always believed that everything I want to achieve should start with a right mind. This is where all my great endeavors begin, in my mind. This is where success begins. This is where I start the journey. Thoughts have great power and I am reminded that everything I think of should be things that are pleasing to our Creator. This will gear me and help me continue reaching the goals I have always wanted to achieve."
When asked for words that would encourage the youth to care about bigger things and make a difference, Bela once more quotes the Bible: "Teens my age tend to be very idealistic when in fact we are in a world where we meet a lot of challenges and trials. With my few years of experience, I would like to encourage my peers with the life principle: to put God first in everything. Proverbs 3:5-6, says 'Trust in the Lord with all your heart and lean not on your own understanding; in all your ways submit to Him, and He will make your paths straight."
Beyond the crown, Bela is just a normal girl. Someone who has a lot of imperfections and is completely relying on God's grace for help.
Her hope for Cebu? "Everyone has their own struggles and I want them to accept the differences. I'm still young and I have not much experience but I have met people who are really inconsiderate. I want them to be more understanding," pleads Bela.
"To put themselves in other people's shoes and look at how people see things and not just themselves. I think Cebu would be a better place if people were more understanding."