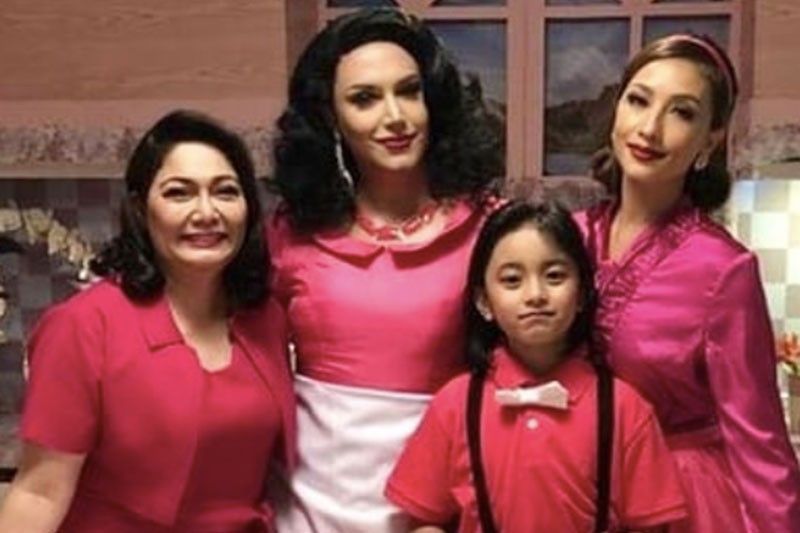 Maricel Soriano, Paolo Ballesteros, Marcus Cabais and Solenn Heussaff
Diamond Star Maricel Soriano was offered by Eric Quizon a movie which he intended to do for her. When she learned that he is doing "My 2 Mommies" for Regal Entertainment, she thought it was that project that Eric meant for her.
"When she found out that I am doing a movie for Regal with Soleen Heussaff and Paolo Ballesteros, she told me na isama mo na rin ako diyan," Direk Eric related to the media during the exclusive press conference for him and Maricel on Monday at the Van Gogh function room of the Novotel Hotel at Araneta Center.
"I told her, maliit lang ang role na iyan. She said ay okay na iyan. Gusto ko lang mag-practice," Direk Eric quoted Maricel as saying, with the Diamond Star nodding her head in approval.
"When Kaizz (Eric) told me he has a movie, I told him 'Isali mo ako riyan.' Hindi pa iyan ang ikinukwento ko sa 'yo, he told me.' Sabi ko naman, ay naku kahit na ano pa iyan, basta kasali na ako riyan," said Maricel who plays Paolo's aunt in the film that is the Mother's Day Presentation of Regal Entertainment.
Eric said there was no problem with Maria insisting that she get the role. "We had a fun set and I made sure na masaya lang kaming lahat. Our first scene was she and Paolo were talking. She was asking Paolo when he is going to continue with the legacy of their family by getting married and having a son so that the family name will live on," said Eric.
"Wala na kasing ibang pwedeng mag-asawa sa family kundi si Paolo kasi babae naman ang kapatid niya. Patay na rin ang parents ni Paolo kaya hindi na pwedeng magkaroon ng anak."
When asked if the movie would not push through had she not "insisted" she get the role, the actress said, "No naman, there are other good actresses that he can tap for the role. But I really enjoyed the shoot," said Maricel, whose fans are rejoicing because she is back at doing what she loves most, which is acting.
Eric said that the audience missed Maria (who hasn't acted for quite some time). "That's when I uploaded a teaser for 'My 2 Mommies' which showed Paolo dreaming of her at ang ganda ng feedback," said Direk Eric. "There was great interest because Maria is back."
***
When all around foodie Erwan Heusaff opened a pop-up carinderia for one day last year to promote his newest online game, the organizers of this year's "Buhay Carinderia…Redefined" immediately knew whom to tap as their Content Creator.
Being a restaurant and bar investor, an online personality, the husband of actress and TV host Anne Curtis as well as brother of actress and TV host Solenn Heusaff, he has managed to create his own food and beverage niche. After all, his blog "thefatkidinside" has been viewed by millions since 2011, his Facebook page has about one million likes, he has 1.14 million followers on Twitter, half a million subscribers on YouTube and 1.9 million more on Instagram.
But there's more to Erwan than just being popular on the internet. He has long been an advocate of healthy and affordable eating. His recent crusade where he came up with a P150/day meal plan, to prove that if you eat local, you don't need to break the bank, only endeared him to more Filipinos.
A quick look at his Youtube channel will also quickly prove that he is making a lot of shows in the Philippines, from travel to food to farming and sustainability. A true love for country resonates in his content.
He also recently produced a show called "Origins," which is all about eight provinces in the Philippines, where Erwan showcases everything from fishing for octopus with Dumagats in Isabela, to spending hours on a boat with fishermen trying to catch Dorado in Batanes, to documenting the rice harvest festivals in the Mountain Province. This show was shot for the American market and will soon be distributed by an international network.
"For us, he clearly represents the 'Buhay Carinderia…Redefined' advocacy: to focus and understand the history of local dishes; to popularize the use of natural and native ingredients; and to accentuate Filipino home-cooked flavors," explains Linda Legaspi, organizer of the annually held event.
"I may not be a Filipino food expert yet, there are so many dishes that I still need to discover, but I am curious to keep on learning and I am a staunch advocate of our culinary culture," said Erwan.
This event is supported by the Tourism Promotions Board of the Department of Tourism, as its sole presenter and is scheduled to scour the whole country in search of the best of the best in our culinary cuisine.