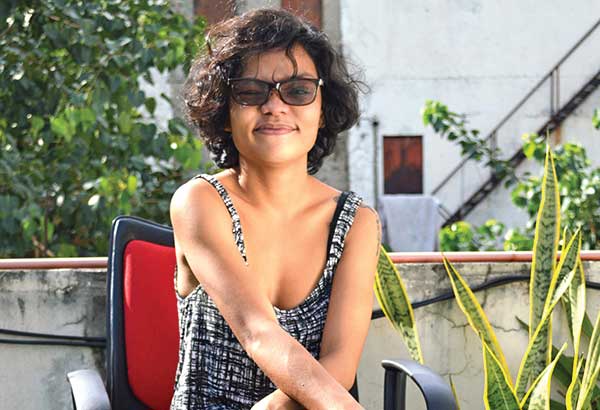 Karla Rule
(The Freeman) - August 12, 2017 - 4:00pm
CEBU, Philippines - Chai Fonacier is many things. When God created her, He must have tipped all the jars and ingredients in his workshop in a single cast.
Like many of us, Chai wanted to become a lot of things when she grew up. Today, she is a theater/film actress, a songwriter, a singer, a filmmaker, and all around "woke" citizen. She's starred in feature films, comes up with a ton of content, and has won songwriting competitions.
In 2015, she won Best Supporting Actress for her role in the Cinema One Original entry "Miss Bulalacao" and in the Sinulog Film Festival short film "Operation Prutas."
She is also one of the founders and creative directors of Sutukil Sauce, a production group best known for their viral video "Chismis sa Mga Saop ni Diniris" (in Parts 1 to 4).
If there was one thing she couldn't do, it would probably be holding herself back.
Now, in one of her most awaited performances, Chai plays the role of a trans man named Jude (formerly Judith Marie) in the critically acclaimed Cebuano film "Patay Na Si Hesus" directed by Victor Villanueva of "My Paranormal Romance" fame.
Chai stars alongside Cannes Best Actress Jaclyn Jose who portrays their single mother Iyay, along with Cebuano first time actors Melde Montañez who plays the bum brother Jay, and Vincent Viado who portrays Hubert, their sibling who has Down Syndrome.
Mailes Kanapi, Olive Nieto, and Sheenly Gener also star in the dark comedy following the adventures of a family that reluctantly embarks on a road trip to pay their last respects to their estranged and now dead father Hesus, while facing unexpected detours and characters one after the other.
Half awake
"Funny kaayo kay nag-panic gyud ko," Chai, who was supposed to play the role of college kid know-it-all Vera, begins as she explains how she got to portray Jude instead.
She had been half awake when she got the call from producers explaining how the Vera character got scrapped. Chai nodded along, half-listened to the shooting schedules, and then went back to bed only to jump right out of it from sheer panic.
"Trans man! Mag research ko uy!" the 31-year-old Mass Communication graduate from UP Cebu told herself.
Chai then prepped to give the role justice not only with how to act as a trans man in an honest, non-exploitative way, but also with the character's context and wardrobe, down to the hairstyle.
And it worked. Her portrayal won the film the Gender Sensitivity Award at the QCinema International Film Festival in Manila where it debuted in 2016, and became a crowd favorite at one of the biggest LGBT film fests in the world, the Frameline International Film Festival in San Francisco, with viewers believing that Chai was a real trans man, when really she's cis-gender.
Real life trans man Aiza Seguerra was said to have raved about Chai's "incredibly nuanced, funny and heartbreaking" performance.
"Jude is way past coming out, way past his identity crisis. He's solid, and he knows who he is. He has problems like every single one of us, human problems, it just so happens that he's a trans man," says Chai, who had to cut her hair short for the role.
Sincerity, respect
Chai's portrayal of Jude was anything but a stereotype. It was a realistic performance that put in a lot of thought. She spoke and moved like everybody else and existed with an honesty that can only be described as a regular human being. Jude wasn't a caricature. Jude was a person and Chai brought him to life without a trace of malice nor ignorance, only sincerity and respect.
Working on "Patay Na Si Hesus" was something Chai enjoyed despite the challenge of playing a trans man but that's just the tip of the ice berg.
At the time, veteran actress Jaclyn Jose had just won her Best Actress award in the celebrated Cannes Film Festival. So you couldn't blame the rest of the cast for feeling intimidated by the gravity of the project.
"A lot of times we couldn't talk to her because lagi, ma-intimidate mi," Chai shared, noting how the Cebuano habit of being calm to borderline cold-shouldered when meeting celebrities rubbed off on her despite hailing from Cagayan De Oro.
"We look at her and tell each other 'Mga liwat ra ta niya. Anak ta niya, liwat ta niya! We take after her!'" she joked.
"I admire Miss Jaclyn Jose because her role required her to say a lot of things in Bisaya, so memoryado gyud niya tanan niya linya. And it's amazing because you see nga mubabad gyud siya sa iyahang role to the extent that even off cam, she speaks Tagalog with a Bisaya accent already, and bonds with us like a mother would," Chai elaborates.
Every now and then, she would help Jaclyn with her Bisaya, even exchanging curse words with her and co-actor Melde to break the ice.
Ultimately, "Patay Na Si Hesus" is a film for the family as it depicts the reality of the kind of dysfunction that afflicts all of us (presented in the modern context) and shows how each family precariously tries to overcome these problems.
Smart comedy
However, the film also sheds light on modern Cebuano filmmaking, and breaks the mold of whatever is thought of Cebuano comedy, which has come a long way from its Goliat and Teban roots.
"People keep saying that Filipinos don't get satire, don't get sarcasm. But we do! It's just different around here. I'm very interested for people to come and watch so that you will see what modern Cebuano filmmaking is about. Bright siya nga kataw-anan," Chai explains when asked about why people should watch the film, values aside.
Since the film's debut, the term "Cebuano humor" has been thrown around a lot to describe the distinctive, yet subtle and offbeat comedy presented by "Patay Na Si Hesus" — something that director Victor Villanueva, and Chai, who both have a penchant for making people laugh, find difficult to fathom.
"I mean, what is 'Cebuano humor'? Humor raman na diri. How do you even define that?" Villanueva quips.
Chai, who has two films in the first ever Pista ng Pelikulang Pilipino ("Patay Na Si Hesus" and "Pauwi Na") and has recently worked on another film in Manila, as well as won grand prize in this year's Vispop songwriting competition for her piece "Di Pa Lang Ko Buang," is looking forward to all the possibilities that lie for Cebuano artistry. However, she feels like people still need a bit more fire and heart.
"As far as talent, as far as ideas are concerned, wa gyud ta nagkuwang diri sa Cebu. Grabe. Cebuano art still needs a lot of support. And we lack business people who are art people, to find ways to fund films, music, art, and people who write about it," Chai presses, adding that the audience also needs to realize that art is important, so as not to waste the Cebuano sensibility.
"Dili ta generic, we know who we are, we have a solid identity. Go and support local, and hold a standard as well. Don't tolerate the ones that are subpar, yet criticize constructively at the same time. Artists should also learn to be open to these opinions, because this is what keeps the quality of your work in check."
"We're getting there," she continues, "It takes a bunch of crazy people to give us that push. I mean, Vispop for example. Once upon a time we thought singing in Bisaya was baduy, but you speak that language every day! Does that mean you're baduy? No. "
More than anything, Cebu art just needs people to come through and show up.
Disappointment, divisiveness
Adamant and headstrong in her fight for homegrown quality craft, the actress also couldn't help but express her disappointment with the Metro Manila Film Festival as it comes back this year with its trademark mainstream, standard-issue lineup despite last year's fresh collection of underground films who were actually worth their salt, worth a full blown eat-all-you-can feast in fact.
Villanueva, however, isn't opposed to the idea of bringing more surprising and more out-of-the-box quality films to introduce to the Filipino audience.
"We wished somehow maging fair ang festival with all their entries and wish that they maintained the reforms that began last year," Villanueva muses, saying that last year's changes was a step in the right direction since it rallied for transparency in the selection process and quality film selection.
Chai also feels like the Filipinos are missing out on so much quality content.
"There are so many wonderful stories out there. I'm very particular about education. As entertainers, actors, musicians, filmmakers – we are part of education because we are enriching cultures, we are shaping sensibilities and values. Good stories must be told," Chai imparts.
Additionally, Chai wishes there wasn't so much divisiveness about the opinions between studio films and indie films. She stresses that a good story will make a great movie, and a bad story will make a terrible one regardless of who made it, how it was made, and who stars in it.
She also urges cinema owners to support local films because contrary to the thought that they're barely at the perimeters of filmmaking, cinemas are actually an intimate part of the entire filmmaking industry.
For now, Chai is setting her focus on acting and is planning on taking a huge leap of faith in Manila, saying that in order to help the community in Cebu she has to leave home for a bit and come back with a ton of knowledge.
She doesn't know what's going to happen next, but really, you'll never know until you get yourself out there. If anything, faring in the capital is going to be a hell of a challenge, but Chai counts on her roots to keep her steady, holding onto it for dear life before the city swallows her whole.
"Life's a beach if you know how to live like a pirate," Chai says, more to herself than anyone in the room.