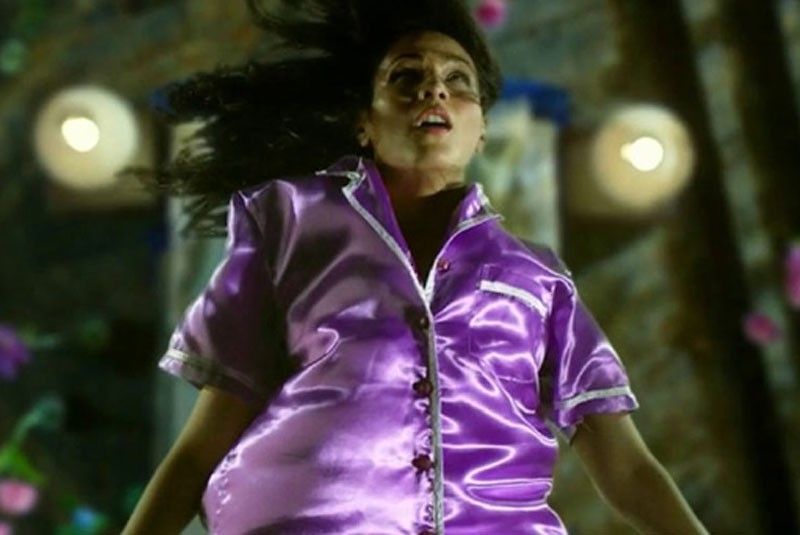 Iza Calzado in a scene from the controversial psychological thriller 'Bliss'
Jerrold Tarog film doesn't deserve X rating
Director Jerrold Tarog of "Heneral Luna" fame and now the most-talked about movie "Bliss" graduated from the University of the Philippines in 2001. Usually, whenever he visits the campus, he has this feeling of nostalgia. This is one of those instances when UP feels very much like home.
The director was in UP on Monday for the special screening of "Bliss," his latest movie under Artikulo Uno Productions, the same outfit behind the groundbreaking and award-winning "Heneral Luna."
"I should warn you that the movie has lots of nudity, sex, and violence. It is also very much a mind-f----d movie and I feel f----d now because I am X-rated," he told the huge throng who came watch "Bliss" at his alma mater.
"Thank you for choosing to come to the screening. That is the most important word tonight – choice! You made the choice to come here and see the movie. After you see the movie, you have the choice of liking it or hating it. Or you have the choice of raving about it to your friends or walking out here. That is your choice. In short, you have the choice of making up your own mind about how you feel about the movie."
The film was given an X-rating by MTRCB which prevents the movie from being shown. "Basically, with that X rating, what I am saying now is that all Filipinos from 18 to 118 years old, whether conservative or liberal, delicious or not delicious, hindi ninyo kayang panoorin yung 'Bliss.' And lahat kayo mako-corrupt ang utak pag pinanood ninyo ang 'Bliss,'" Direk Jerrold continued.
In short, Direk Jerrold says, the X rating given by MTRCB to "Bliss" insinuates that there are no adults but only children living in the Philippines. He added that there are many other things that he can say about the rating given by the MTRCB but since they are appealing the decision, he is still hopeful his film will get a renewed favorable rating from the said government body.
At the special screening on Monday, Artikulo Uno gave out survey forms to the UP audience to get their honest rating regarding the film and they will present the survey form to the MTRCB.
"What is important here is I am not fighting for my film anymore. I am fighting for other filmmakers also who might get another X-rating from the MTRCB in the future. I am not just fighting for myself anymore. Kahit na maraming klase ng MTRCB rating, there are only two choices – it is between the freedom to make up your own mind about the movie and about censorship. Hope you will enjoy the movie, assuming you want your mind f----d up."
After watching "Bliss," we believe it deserves an R-18 rating. Or even R-16. Yes, there is sex and the subject matter of many forms of abuse is quite disturbing. While Direk Jerrold pushed it to the limit, it has a very engaging story and boasts of top-caliber acting from its cast, especially Iza Calzado who was consistent with her characterization from start to finish, not missing a beat. We are hoping that MTRCB will grant the movie a favorable decision on its second review of "Bliss."
There is no truth to the rumor that former Pinoy Big Brother grand winner Ejay Falcon and his manager Benjie Alipio have parted ways.
Contrary to intrigues hounding EJ (who will next be seen in the ABS-CBN soap "The Promise of Forever" with Paulo Avelino and Ritz Azul) now, he and his manager are in good terms. "Hindi po totoo ang tsismis," said Benjie. "I still co-manage EJ with Star Magic."
The two just had a meeting recently and they talked about plans for EJ's career this year.