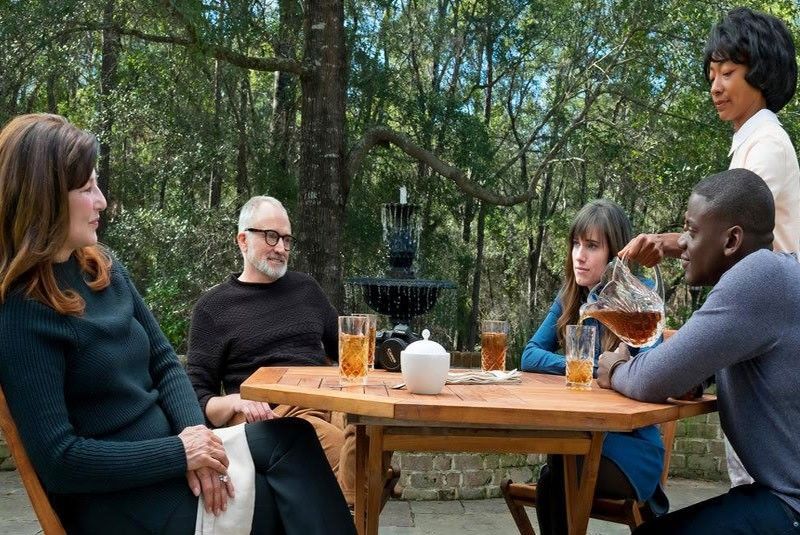 Catherine Keener, Bradley Whitford, Allison Williams, Betty Gabriel and Daniel Kaluuya
An American evil takes form
(The Freeman) - March 17, 2017 - 12:00am
CEBU, Philippines - "Get Out," the film The Hollywood Reporter raves is "one of the most satisfying thrillers in years," is currently in Philippine cinemas, coming off a smash No.1 opening in the US.
From Blumhouse and the mind of writer-director Jordan Peele, when a young African-American man visits his white girlfriend's family estate, he becomes ensnared in a sinister real reason for the invitation.
Equal parts speculative gripping thriller and provocative commentary, "Get Out" blends humor, satire and horror…and isn't afraid to tackle the current state of race relations in America head on.
"This idea came from my wanting to contribute something to the genres of thriller and horror that was unique to my voice," Peele says. "The fact that it goes to race goes to the area I've worked in a lot, which is comedy. This was a movie that reflects real fears of mine and issues I've dealt with before."
Peele imagined a protagonist named Chris (Daniel Kaluuya), an African-American photographer in New York City who is taking his relationship with his Caucasian girlfriend (Allison Williams) to the next level by meeting her parents (Catherine Keener and Bradley Whitford) over a long weekend.
As soon as Chris arrives at the family's rural, upstate home, he begins to suspect that everything is not as it seems. When he discovers that a number of black men have gone missing in that suburb, his suspicion reveals itself to be more than unfounded paranoia. What starts out as a mundane, obligatory weekend spirals and builds toward a horrific, thrilling and likewise fun, conclusion.
The filmmaker admits that he enjoys playing with the audience's expectations and upending a foregone conclusion.
"A big piece of the premise to 'Get Out' is that you have white girl bringing a black guy home, and she hasn't thought through all of the social ramifications of that," Peele gives. "She assumes her family is going to be fine with it. They turn out to be, but there are some subtler works at play that we begin to see a part of something much more sinister."
At first, the young man reads the family's overly accommodating behavior as nervous attempts to deal with their daughter's interracial relationship, but as the weekend progresses, a series of disturbing discoveries lead him to a truth that he could have never imagined.
This series of not-quite-right moments that make Chris suspicious unfold slowly. Whether it is curiosity about the odd behavior of the help—or feeling like he stepped into another world during the family's annual celebration of their departed grandpa—Chris realizes that he isn't the one who is going insane.
"The trick was to make sure that nothing so crazy happened so fast that we wouldn't believe the characters would stay in this situation," Peele reveals. "The element that starts to alarm Chris is meeting the help, and finding that they're a little off."
Still, the writer/director says that it was of utmost importance for the hero to never do anything the audience wouldn't.
"I hate that in a movie," laughs Peele. "Especially in a thriller, when you want somebody to just pick up the phone, call the damn cops and get out of the house. That's what I allowed Chris to be—a smart, logical human being—because it is so satisfying."
As do the most provocative of horror offerings, "Get Out" greets audiences with a provocation that is much more than simple entertainment.
"This movie is about a lot of things," says Peele. "It's about the way America deals with race and the idea that racism itself is a demon. It's also about the notion of neglect and the idea that, if we allow ourselves to do so, humans can stand by while atrocities happen."
The year's surprise smash hit (propelling Peele atop Hollywood's A-list), with a current US box-office gross of $111-million – "Get Out" is also shaping up as 2017's best-reviewed film to date.
The film currently boasts a "99 percent Fresh" rating on the review aggregator Rotten Tomatoes, which is higher than any movie released so far this year.
Manohla Dargis of The New York Times raves, "Part of what makes 'Get Out' exciting and genuinely unsettling is how real life keeps asserting itself, scene after scene."
Joe Morgensern of The Wall Street Journal says "'Get Out' starts with a great title and a promising idea — a black man's fear as he walks at night down a street in an affluent white suburb. Then it delivers on that promise with explosive brilliance."
"There's so much here that Peele gets right," commends Justin Chang of the Los Angeles Times, "and he delights in turning familiar thriller tropes on their head: In this racially charged context, he knows exactly how to exploit the sight of an approaching police car for maximum stomach drop."
Peter Travers of Rollingstone, describes the film as "A jolt-a-minute horror show laced with racial tension and stinging satirical wit. How is one movie all that? See 'Get Out.'"
Peter Debruge of Variety applauds, "Blending race-savvy satire with horror to especially potent effect, this bombshell social critique from first-time director Jordan Peele proves fearless – which is not at all the same thing as scareless."
With "Get Out," box office sages argue that Blumhouse is becoming synonymous with the horror genre in a way that is resonating with consumers. Its other lineup of hits includes "Split," "Sinister," "Insidious" and "Paranormal Activity." They also praise the company's fiscal conservatism (most of its movies carry budgets that are less than $10 million) and its emphasis on storytelling.
"The best special effect is a great script," said Paul Dergarabedian, senior media analyst with comScore. "It proves a great movie and a well-executed story doesn't have to cost a ton of money." (FREEMAN)