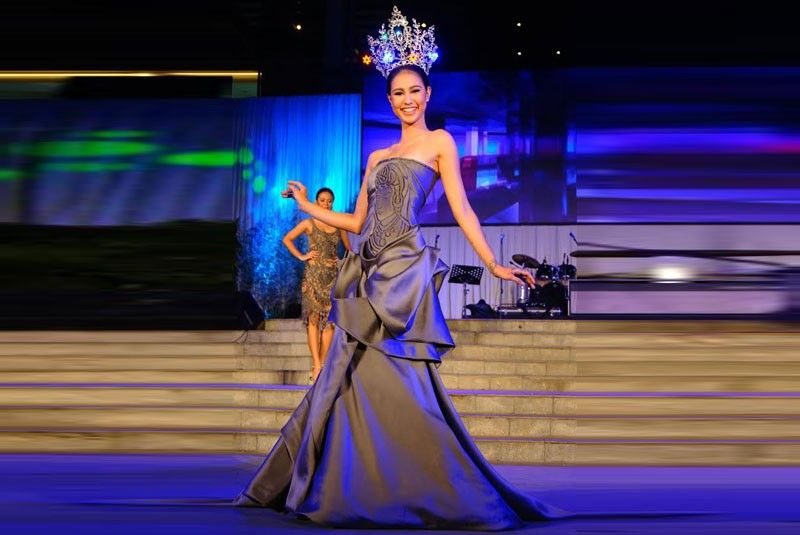 Miss Cebu 2016 Gabriele Raine Baljak
Photo by Yasunari Ramon Taguchi
Raine Baljak's meaningful reign
CEBU, Philippines - On the second Wednesday of January 2017 – if tradition had been followed – Miss Cebu 2016 Gabriele Raine Baljak would have passed on her crown to yet another deserving Cebuana.
But as announced early last year, Cebu City Mayor Tomas Osmeña scrapped the pageant for the time being, unless measures can be arrived at to mount the beauty tilt without the Cebu City government spending a single cent.
Officially, Raine's contract with the Cebu City Tourism Commission (CCTC) ended January 31st, but the 20-year-old beauty queen is likely to extend her reign since nobody had been appointed to assume her duties and responsibilities as the city's tourism ambassadress.
A similar scenario happened 31 years ago to her mother, Miss Cebu Tourism 1986 Merce Abellana, when her reign was extended for another year due to a change in political administration.
Asked what she thought about the Cebu City mayor's pronouncements to focus on Sinulog Festival Queen, Raine offers: "I hope there is no such thing as replacement. I consider these pageants the two fruits Cebu is known for: mango and coconut. They may have different tastes but they both give us nourishment and show to the world how worthwhile it is being in the island. Likewise, Miss Cebu and Sinulog Festival Queen are two different pageants, but they all serve its purposes equally well."
"Miss Cebu covers a wider scope from our heritage, history, tourism, and an embodiment of our island's grace and beauty, to name a few. The titlist is an ambassador of the island. The Sinulog Festival Queen, on the other hand, is more specific to the Sinulog competition for dance and costume."
More than a crown
Like any other pageant enthusiast, Raine considers the absence of Miss Cebu last month as a great loss not only for those who worked hard to make it an institution but also to every Cebuana who dreams of wearing the prestigious Miss Cebu sash and crown.
"Miss Cebu is actually more than just the sash or crown. It builds communities and promotes Cebuano identity by working closely with CCTC. Through its concerted efforts, we were able to promote Cebu's best talents, designers and artists," says the Filipina-Croatian beauty, who is determined to pursue either education, journalism, or psychology next school year.
"I am sad because Miss Cebu goes beyond physical beauty," adds Raine. "The winner is a symbol of our island's pride. She becomes knowledgeable about our heritage, history and culture after being immersed into the role. It provides an opportunity for her to connect, make alliances and bring together the different sectors or groups in our community."
"There is every opportunity to learn, develop and mature into the role as an ambassador of Cebu. I am thankful and most appreciative to be given this life-changing opportunity. I am sad that this opportunity is no longer available in the future for other younger women."
During her reign, she found the real meaning of being Miss Cebu via her immersion work with farmers, NGOs, youth, street children, young mothers, LGBTs, as well as during her travels abroad.
Among other things, she was able to speak before a Cebuano youth gathering through the "TEDTalk" event held at the University of San Jose–Recoletos late last year, where she talked about how to make Cebu more liveable.
Next Miss Philippines Earth?
A champion of organic farming, she also shared her natural farming skills and the importance of environmental concern (which would definitely make her an effective Miss Earth) during the "Global Shaper's Dream Festival" last November.
Raine said that she is being convinced to compete in this year's Miss Philippines Earth representing Cebu City, but she is more inclined to go back to school.
She is urging everyone to give her more time to grow and assured them that after three or four years, she will set her eyes on national pageants.
Songwriter
Unknown to many, Raine is also musically-inclined, having been raised in a family of musicians. She learned how to play guitar when she was six years old. She is also a DJ and used to work in Monster Radio.
As an artist, she has performed at the Politics Café, Handuraw Gorordo and Gibbs at Streetscape.
Every time she feels stressed with the many things that needs her attention, Raine says she releases tension by composing a song. All these compositions, she plans to release in the future via an album.
"When I had downtime during my reign, I'd sit and compose a song. Around September last year, I enrolled at the Brown Music of Academy to develop my abilities. Music has always been an extension of myself," she declares.
Ultimate advocacy
Of all her experiences, Raine considers working with children the most challenging yet the most rewarding. Her ultimate advocacy is to provide opportunities for children to grow and be nurtured in a caring and safe environment.
With the help of Rise Above Foundation, she had the chance last year to cook meals and distributed them to more than a hundred children in Guadalupe.
"I have been touched by these young souls. They will become the future of our city. If we do not help them find the right direction, imagine how our city will look like 10 to 15 years from now," says Raine.
"As simple as providing spaces like parks and playgrounds where schools and the community work together, will eventually help these children develop their well-beings. Over time, it became apparent that it is very difficult to achieve and acquire this space because of business modernization. I am still hopeful that the city will help us provide these safe places for the kids to play and meet," she adds.
On her 20th birthday last month, Raine celebrated with 350 children. Together with family and friends, she organized the "My Love Cebu Kids Day" project held at the Cebu City Children's Park in Barangay Suba near the Pasil Fish Market.
She treated the kids with Zumba, book reading, literary and thinking games, singing and parlor games.
"I consider it my best birthday ever. I am happier looking at the kids indescribably happy. So I couldn't thank more those who helped me realize it like Jollibee, Nature's Spring, Red Carpet Catering Services, Valentus Team Cebu, Lovett International Inc., and Pandoo Foundation," she says.
"I was also fortunate to have the support of the Kythe Foundation and the young ladies of the Blessed Maria Droste Training Centre of the Good Shepherd Convent who were also present. I wanted to share to these kids the experience of building connections, so they become more confident and look forward to a brighter future, something that I value and cherish from being Miss Cebu 2016," she adds.
Best version of herself
Since Miss Cebu wasn't officially part of the Sinulog 2017 festivities, Raine found time for festival endorsement projects with companies like Islands Souvenirs, as well as time to bond with family during the grand parade.
"I was with my family. We walked from Central Nautical Highway to P. Del Rosario to watch the floats and Sinulog performances. Then we went to the grand stand of the sports complex and watched the colorful performances of the many local talents. I was surprised when the ABS-CBN anchors invited me for an ambush interview in their live coverage," says Raine.
As a title-holder, Raine finds it necessary to be updated on current events, including the women's group Gabriela's strong opposition on beauty pageants.
"I commend Gabriela for such a strong concern on women's rights. But I see pageants different from what they believe in. In my case, it has helped me become the best version of myself and empowered me to become a role model for young girls. Exploitation and violation of women would not prosper if you yourself are firm to refuse any exploitative or violating act. I always believe that respect begins in one self," says the young advocate for women's rights.
Raine – confidently lovely Cebuana that she is – does not want to be remembered as the Miss Cebu with the longest reign, but the Miss Cebu who was most determined to use her crown for the betterment of her community. (FREEMAN)