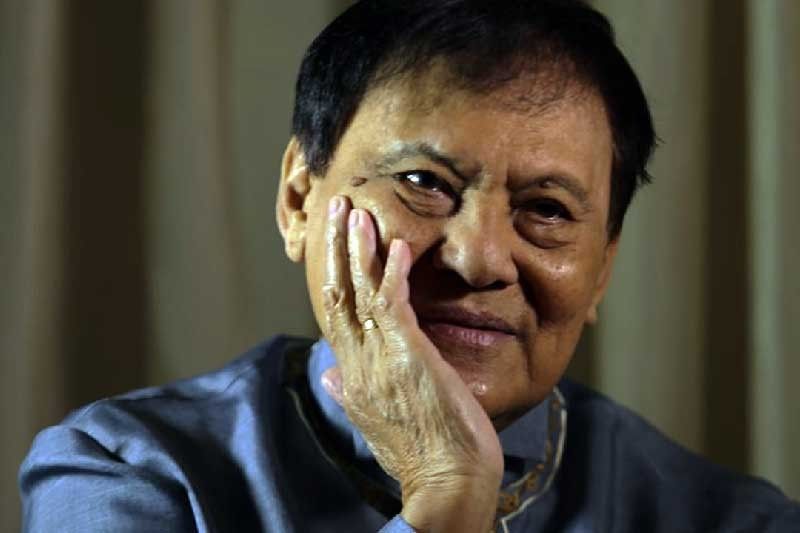 Scholars pay tribute to Dodong Gullas
CEBU, Philippines — If there is a group of people in the University of the Visayas community that will remain thankful to the late Dr. Jose Gullas, it will be the university's scholars who got a chance at an education and at a better life.
"A king who never wears a crown but royal just the same" was how Judy Faith Vender, one of the scholars of the University of Visayas, described Gullas.
The chairman of The Freeman, Gullas was also the university's former executive vice president. He passed away on February 25 after a brief battle with cancer. He was 87.
Vender was a working scholar at the university and graduated with a degree in AB- English Literature last March 2015.
"Dako nga pribilihiyo gyud nga usa ko's mga nahatagan og chance nga mahimong working scholar ni Sir Dodong. Dako kaayo'g natabang sa akong mga ginikanan nga walang-wala gyud nga di ka-afford magpaeskwela nako. Dako kaayo kong pasalamat ni Sir Dodong nga gihatagan niya og bili ang mga nagkinahanglan," she said.
"Mao nang proud kaayo ko nga usa ko's empleyado sa UV. Sakit man pamalandungon nga nitaliwan na si Sir Dodong pero di gyud mawala sa akong dughan ug huna-huna ang kamaayo niya," Vender said.
Claire Tagalog-Sabio finished a management degree also as a working scholar at UV. She is now a corporate human resource manager at Cebu Ocean Park.
She described Gullas as a man "who has the heart for the poor and less fortunate".
"During exam time, those who couldn't afford to pay for their tuition fee, mag-fall in line sa office ni Sir Dodong just to ask for a promissory note. He is also a very down to earth person," Tagalog-Sabio said.
Jeson Molins said he would not have achieved his dream of being a seaman had he not gotten into the UV Drum, Lyre, and Bugle Corps as a scholar. He finished a degree in marine engineering in 2018.
"First year, first sem nako sa UV, wala pa na-scholar sa UV DLBC. Naa koy balance sa akong tuition kay lagi galisud ang among pamilya sa pagpa-eskwela sa amoa. Mao to, ni-apply ko sa UV DLBC og nadawat. Tungod sa UV DLBC, naka-graduate gyud ko og karon wala na kaayo mi maglisud sa among panginabuhi. Dako kaayo ko/UV DLBC pasalamat nimo sir Dodong Gullas sa imong kaayo ug sa imong mapinanggaon," Molins said.
Another UV DLBC scholar, John Ampong, graduated from UV with a course in information technology in 2009. He was a university scholar since third year high school.
"Dako kaayo siya natabang namong mga gitagaa'g scholarship… dili lang namong mga drum corps, hasta sa ubang nakakuha og scholarship. Dakong tabang labi na kay free tuition," Ampong said.
Jenny Pacana also enjoyed a full scholarship in her last two years in high school. She was a majorette of the university band.
"Mapasalamaton kaayo ko ni sir Dodong sa oppurtunity nga iyang gihatag nako kay tungod sa iyang gihatag nga scholarship, nakahuman ko'g high school unya na-save nako ang pang tuition nga gastohan sa akong mama kay wala naman koy papa," Pacana said.
Floralin Bohol, a full scholar for her commerce degree and units in graduate school, described Gullas as a man with integrity and generosity "in the sense that many of us working scholars have finished our courses with full tuition free."
Lessons
A reporter for The Freeman for 18 years, Garry Lao was a Gullas scholar from third year high school until he completed his degree in journalism in 2002.
Now the executive director of the City of Lapu-Lapu Office for Substance Abuse Prevention, Lao said the value of education was an important lesson he learned from Gullas.
"Sir Dodong always told me and emphasized nga magtarong gyud og eskwela kay ang edukasyon importante kaayo sa usa ka tawo ug sa atong kinabuhi," Lao said.
Lao recalled the time he was in third year high school when the Boy Scout group that he led impressed Gullas with their speech performance of "I am a Visayanian". Gullas granted them a 50 percent discount in tuition that year and another 50 percent the following year.
Except on his first year in college, he went on to finish his degree as a scholar, paying only P800 every semester.
"Since second year college up to fifth year college kay P800 per semester ra gyud akong mabayran sa miscellaneous na which is dako na kaayo tabang nga mao ra na ang bayranan," Lao added.
Lao said his brother and cousin also enjoyed a 50 percent and 25 percent scholarship, respectively, while at UV.
For Lorenzo dela Cerna, now a program handler at a radio station, kindness was a virtue Gullas always reminded them of.
At UV, Dela Cerna was a scholar while working as operation chief of the school's Security and Safety Group. He finished his law degree on full scholarship.
"Si Sir Dodong kay buotan gyud nga pagkatawo. Ang instruction niya namo nga dili lisod-lisoron ang mga estudyante sa UV. Kung naa mga estudyanteng badlongon kay tarongon lang gyud og badlong," he said. — JMO (FREEMAN)