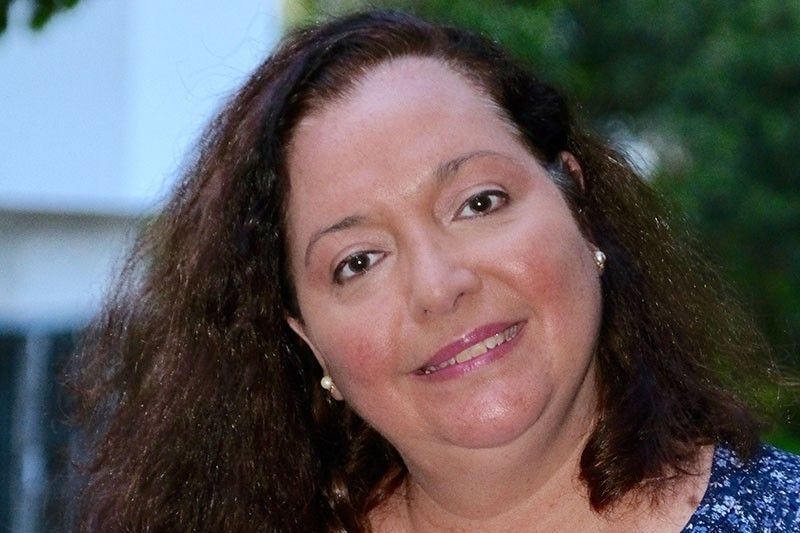 Anne Marie "Anna" Herrera-Davila Conejero's acumen in professionalism, ethics make her an all-time favorite "party-maker", and pillar in advertising and promotions in Cebu.
Contributed Photo
Anna Conejero: Cebu's fave 'party maker'
CEBU, Philippines — Long before event organizing became a fad and profitable venture in Cebu, Anne Marie "Anna" Herrera-Davila Conejero was already doing it, and she has been part of many momentous milestones of a handful of Cebuano families, corporations, and even to every Cebuano who witnessed grand events, and celebrations.
Three decades after, her company, Graphic Fx Advertising and Promotions continues to stand strong despite the presence of new players making the industry of events organizing, promotions and advertising more competitive.
Anna's acumen in professionalism, ethics make her an all-time favorite "party-maker", and pillar in advertising and promotions in Cebu.
Home parties
Raised in a family where hosting parties are just but a norm, Anna learned social graces, and connecting people with warmth and friendliness at an early age.
In school, she naturally makes a simple gathering, to a grand and memorable celebration. She never thought that by doing so, she was already building her future.
"Even when I was in college at UP, I did events. I was exposed to parties in the house. My parents loved socializing and hosting," she recalled.
With degree of Business Management major in Hotel and Restaurant Management (HRM) from University of the Philippines Cebu, Anna was supposed to make a career in hospitality industry or own a restaurant.
But she discovered later on that life for her is a "party" and that celebrations either trivial or significant, should be grand and memorable.
From enjoying the parties frequently hosted by her parents at home as a child, Anna became Cebu's maverick of events.
Summer jobs
From acquiring grace in party hosting in her household, Anna was also well-exposed to corporate jobs since her high school days.
She said her parents did an excellent job in encouraging her to work during summer vacations.
There, Anna valued the importance of hardwork.
Summer jobs were part of Anna's lifestyle, as if it was part of her growing up out-of-school activities
These series of jobs after every school year sharpened Anna's understanding how to do business, be an excellent worker or employee, and most of all build her self-esteem.
This beautiful, mestiza with her English twang, worked for a travel agency, as bartender and other part time jobs she could find in her teens.
After college, Anna was hired by the company Gaw Trading Inc., where her mom, a former child actress Consuelo Herrera-Davila worked.
"I was in-charge of the fastfood operations and assistant to the vice president. But I was also doing multiple tasks, in marketing, purchasing, basically the whole operations of Gaw Trading," she related.
Fresh from college, Anna was already at the helm of then Cebu's most famous retail company, Gaw Trading Inc. She managed Gaw Central Square.
She attributed her early exposure to corporate culture in her summer jobs.
Raising a brand
Amid her multi-tasking job at Gaw Trading, Anna developed an affair with brand building.
She conceptualized and made the celebrated "Gaw Glamour Girl" in the 80s.
"When you are working in retail, you've got to think of creative ways to make your products stand out," the "Gaw Glamour Girl" became Cebu's talk-of-the-town retail hype.
Her journey to brand raising led Anna to then the only five-star hotel in Cebu—the Cebu Plaza Hotel.
In the 1980s and early 90s, Bai Disco was hub of elite party-buff in Cebu. Anna was behind the success of Cebu Plaza's Bai Disco, as the hotel's entertainment and promotions director.
When Bai Disco was already at the top of its success, Anna was hand-picked by the Lhuillier's to manage a party place called "Ball's Disco" as the entertainment and promotions consultant.
Since then, Anna's name became known not only in Cebu, but to big multinational corporations and labels.
Events to remember
After helping businesses make money and making their brands known, Anna decided to be on her own and capitalize her proven talent in events and promotions in making a business.
Anna, through her company Graphic Fx made several consultancy contracts with hotels, and other companies, while she was also doing her own daily television show dubbed "Kinderland-2" in ABS-CBN.
But what makes Anna stand out in the pinnacle of events, was her success of bringing and organizing iconic events to Cebu including MTV events, big concerts of international music artists like Chicago, Lettermen (original), Patty Austin, Don Moen, "and a lot more".
Anna's company has been the lead organizer of Cebu's Sinulog Festival for 16 years (2001-2017).
She was the force behind the two Ad Congress events held in Cebu. The jam-packed Motorcyle Convention, and the 2004's longest barbeque in Osmeña Blvd.
These are just few of the iconic events managed by this Cebuana mestiza, whose confidence and wit are too powerful.
Over the years, Anna made big and small events happen—with class, grandeur—surely an event to remember.
With too many players in the same industry now, Anna thrives not because she gets the quantity of clients, but she is indignant when it comes to efficiency of her service.
Her experience and clout in the industry made her the premium choice in the fields of events, promotions and advertising.