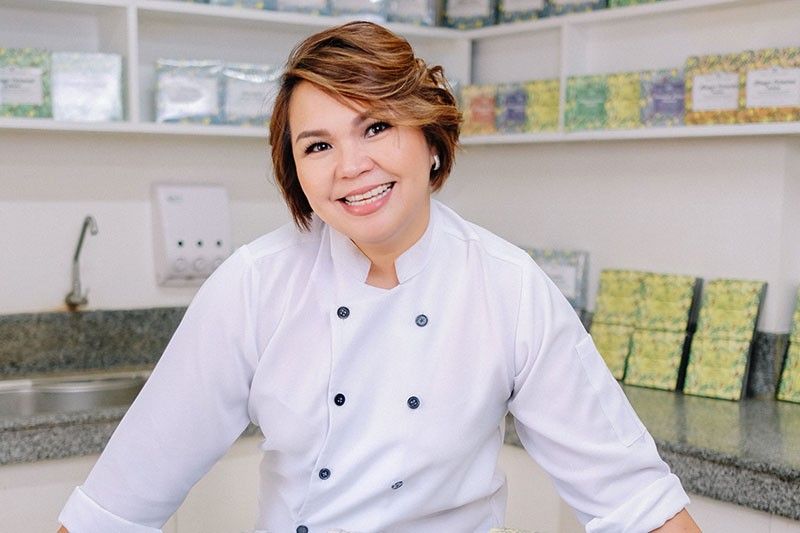 In 2013, Audrey Regis, 48, started a business that Cebu is known for: dried mangoes. But she introduced her own caramel-flavored dried mangoes to be different. Today, her products are sold by big retailers such as Rustan's and SM, and are also displayed at the country's airport pasalubong centers.
Contributed Photo
Audrey Regis: Banker turned entrepreneur
CEBU, Philippines — Audrey Regis spent 22 years of her life working in the banking industry.
In 2011, she gave birth to her first son, which significantly changed her outlook in life.
At that time, she wanted to give more time for her son and she thought setting up her own business could allow her that.
So, she started a business that Cebu is known for: Dried Mangoes.
But the 48-year-old entrepreneur saw that she needed to introduce something new in the market. She added a twist to dried mangoes.
Dried mangoes with a twist
Saying she loves caramel since she was a child, she made her own line of Mango Caramel products.
So, Audrey's Confectioneries was born, the maker of caramel-flavored dried mangoes.
During that time, Audrey didn't resign yet from her job as she was still testing the market.
In late 2013, she started selling her products through a friend who had a paslalubong store at the Mactan-Cebu International Airport.
Weeks after she sold her first few boxes, she was surprised to get a lot of inquiries from well-known retailers such as Rustan's, SM as well as some stores in other airports.
The overwhelming response finally pushed Audrey to quit her job and focus on her business.
She left her job in January 2014, a few months after she launched her products.
Using what she earned from her previous job as capital, she purchased boxes for packaging, some equipment, raw materials and ingredients for her products.
From employee to entrepreneur
"It was hard at first transitioning from employee to entrepreneur. I suddenly had so much freedom," the Cebuana entrepreneur shared to The FREEMAN. "The temptation to sleep late is so real. It can be a struggle. Good thing I was disciplined and there was a need because I was the bread winner in the family."
There were times she wanted to go back to her corporate job given the challenge of having to start from scratch.
"But orders were piling up and the positive customer feedbacks were my constant motivation. I was on a roll and later on was able to come up with a total of four variants of mango caramel," she said. These include Mango Caramel Classic, Chocolate Mango Caramel, Mango Caramel Cashew and Mango Caramel Pistachio.
"Challenges as an entrepreneur are more difficult compared to my 22 years of being an employee," Audrey said.
Audrey's more than two-decade experience in banking has taught her perseverance and hard work.
Now six years in the business, Audrey doesn't want to be an employee again.
"There are just so many opportunities. The market is so huge and there's still so much to do, make and sell," she said.
Today, her products can already be bought at the passenger terminals of the Ninoy Aquino International Airport (NAIA) and other airports in the country.
They're also being sold in stores in cities of Baguio and General Santos.
Audrey banks on the sales from the various distributors of her products. She also wanted to export her products.
She's not securing certifications needed to export to the United Arab Emirates. Her first export experience was in 2016 and 2017 when she easy able to sell her goods to Japan under a consolidator.
Starting only at her kitchen, Audrey now has a separate production building and kitchen beside their house in Barangay Kasambagan, Cebu City. But now, she already has a
From only two, she now has about nine people in her growing enterprise.
Audrey's parents hail from Cebu but she was born and raised in Manila. It was in 2005 when she relocated back in Cebu in 2005 when she was assigned here for her banking job.
TF: Being a small enterprise, what challenges have you encountered and how did you overcome them?
Audrey: FDA (Food and Drug Administration) certifications are one of the major challenges every food manufacturer encounters. FDA needs to visit and assess our processes, factory space, raw ingredients and storage facilities including personnel hygiene. We need to pass all of their requirements or else we don't get to operate. The application process is not that easy. We encounter so many delays.
Other food certifications are also difficult to apply for but are really required so we can export our products. These are GMP, Halal, HCCP and Kosher just to name a few. Business loans with low rates are not readily available. It takes too long to process too. Just be patient and follow the rules of FDA. After all, they are there to make sure our consumers are safe. We are all after the same result that what we make mango caramel products, are safe for consumption.
TF: How did you grow the business and what are your plans for the future?
Audrey: One establishment at a time. I started with pasalubong centers in airports. Then later on SM Kultura, SM snack exchange then Metro Gaisano, SM grocery stores and now Waltermart. I made sure my production capacity can meet the demands of new customers before I agree to supplying them.
TF: What has managing your own business taught you?
Audrey: There's no better business than your own. I get to decide how far I go at the right time. (FREEMAN)