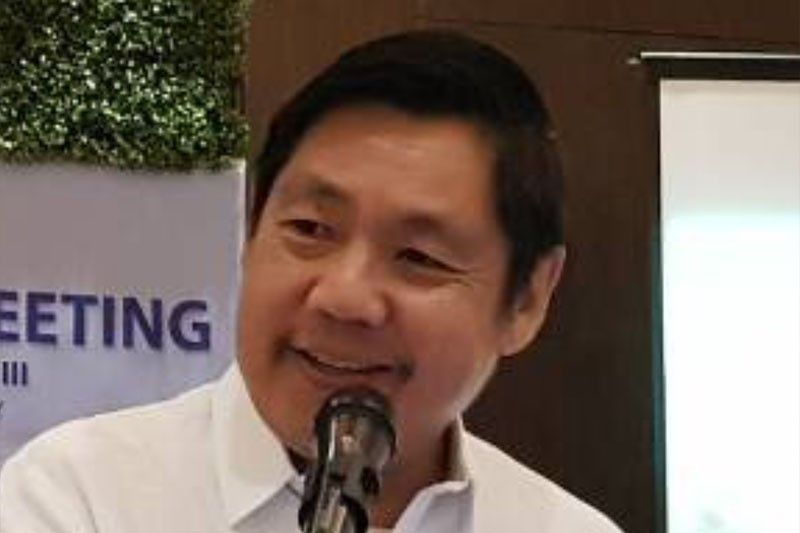 Robert Go, who started the Prince Hypermart chain of department and supermarket stores around the country, is casually regarded as the "Sari-Sari Store King."
Contributed Photo
Robert Go: King of sari-sari stores
CEBU, Philippines — Making a fortune in the retail business maybe something that is predictable for a child growing up with Carbon Market as his playground. But Robert Go's success is more than just the number of stores he built and profits he makes, it is rather through winning the hearts of close to million sari-sari store entrepreneurs around the country.
Robert, who started the Prince Hypermart chain of department and supermarket stores around the country, is casually regarded as the "Sari-Sari Store King."
An activist in helping, protecting the turf of the small neighborhood stores for years now.
In Cebu, Robert is known as a passionate business leader, elected as President of the Cebu Chamber of Commerce and Industry (CCCI) in 2004 to 2006. Currently, he serves as the president of Philippine Retailers Association (PRA-Cebu), and also active in other civic organizations.
In the outskirts, Robert is the "King" of Sari-Sari Store owners, a "throne" people insisted on him, which he'd rather not be mentioned.
King in the Making
Growing up, Robert, just like any Filipino-Chinese kids, was exposed by his father Segundino Go to the real world of hard-work in business.
His family ran a wholesale business selling plastics, household and kitchen wares. These items were delivered to retail stores around Visayas and Mindanao.
Robert was assigned in the delivery in his teen years.
It was in this real-life training that he saw and was immersed to the plight of small entrepreneurs in rural towns.
Together with a driver and trusted employee of his father, Robert was able to blend in with provincial way of life, easily made friends and connections with retailers in the public markets of Negros Island, Panay Province, Leyte and the provinces of Surigao and some parts in Mindanao. His job was to book their orders, and collect for payments.
"Sometimes we walked carrying dry goods under a scorching heat, or in rainy and muddy sidewalks," Robert recalled his early training as a businessman in the making, when instead of staying in their warehouse in home, he found enjoyment the adventure outdoor, not to mention the frequent out-of-town sales expeditions.
His flair of connecting with the small vendors, sari-sari store operators, sidewalk merchants was deeply developed in his formative years. This "King in the making" easily made friends and somehow understood the life, otherwise not relatable for a city boy like him.
The Pursuit
After completing his degree of BS Economics, with minor in business administration at the University of the Philippines Diliman, Robert was ready to pursue his dream of becoming the next John Gokongwei who happens to be his relative.
"I admired him [John] for his persistence and strong conviction in not giving up," he became a fanatic fan of his distant uncle.
He thought, to start his own business apart from his family, is a good door to start. But, fate brought him home after his father suffered from heart ailment.
With solid ground-training from childhood, and professional know-how in running and advancing a business, Robert made the family's business his pursuit, instead of starting off from scratch.
In 1990, Robert introduced something that hasn't been done in the retail trading in Cebu then — the warehouse type of retailing.
From a strictly wholesale business, the Prince Marketing founded by his father was changed into a retail type, practically dressing up the warehouse facility into a retail style. Thus, the birth of Prince Warehouse department store in North Reclamation Area. Although, the family is still keeping the home-store in Carbon Market.
The Economics degree holder is running a business no one knew existed.
His first few days was spent distributing leaflets in parking areas and high traffic locations in Cebu, informing everyone that a new department store has opened.
Before the entry of warehouse retail stores in the Philippines, Robert's then named Prince Warehouse Club was ahead of them all.
The Knight
After establishing branches in Cebu, Mandaue, and now 45 Prince Hypermart stores and supermarket around the country, Robert went back to reach out his first love — the small vendors.
In 1993, he formed a group of Sari-Sari store owners, initially in Cebu and Mandaue and called it "Sari-Sari Store Society."
This platform allows small vendors to network, and avail of loans or credit line from Prince Hypermart outlets. He said he thought of creating the group to protect small vendors as they are the constant prey of loan sharks. At the same time, the group can also serve as a mouthpiece of this least prioritized segment in retail trade.
He understood that these group of entrepreneurs hardly can source small capital from banks. Their lifeline is to borrow money from lenders who charge them even more than what they make as profits.
Today, the society has become a solid organization of Sari-Sari Store owners around the country, with a growing 850,000 members, making him the "King" in the hearts of these home-based and sometimes helpless entrepreneurs.
He becomes the "knight" with fearless voice to these defenseless entrepreneurs—small, but their businesses sustain the daily needs of farmers, fisherfolk, laborers and daily wage earners.
Leading the Fight
While the opportunity to grow in retail trade is still wide in the Philippines, Robert's business is also challenged by the entry of giant names and global retail brands eating up the smaller players.
As if the issues confronting the retail industry is not enough for him and his business, Robert still find time and energy to lead the fight of sari-sari store businesses which are now facing a war against the entry of neighborhood convenient stores, like 7 Eleven, among others.
He is not just facing the challenge to save his own business, but his fight is "larger than life," protecting the turf of local entrepreneurs in the neighborhood communities who have been doing the trade for years.
As a PRA-Cebu president, Robert also champions in making the local retailers' voice be heard, by consistently making advocacies to keep the local retail fabric, otherwise "predators" will eat them alive, through buy-out or simply market dominance.
His heart is already captured by the allure, thrill and of bitter-sweet adventure of retail industry. After all he grew up in this culture and somehow came to know his ultimate purpose.
Likewise, the future of hundreds of thousands sari-sari store owners largely depend on his commitment to lead the fight.
For most, if not all, the profits and the size of the business might be seen as a trophy for success, but for those who are already there—these are just the "icing of the cake."
In his case, real success is being able to share and make use of (his) business and influence to empower and help small players to fight their right to grow in their own yard. (FREEMAN)