Vista Estates' new micro-city in Bataan steers the focus onto living green
November 24, 2022 | 8:00am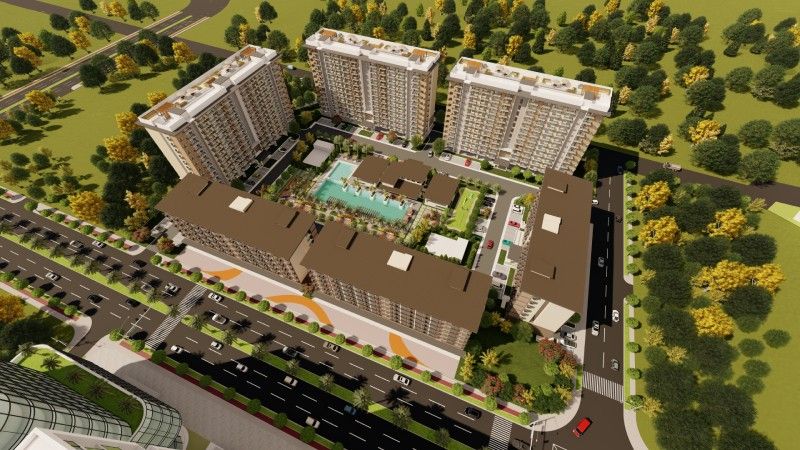 MANILA, Philippines — Vista Land, the country's largest integrated property developer, has been on the sustainability bandwagon for years. The company's "sustainability" mind-shift is not just a department with a set of programs, but a way of thinking, operating and more importantly — building.
This green mindset is deeply integrated into the master planning and development of a residential, business and commercial complex that makes full use of the advantages the province offers, in this case, Bataan.
Welcome to Verida by Vista Estates.
Balanga: The site of an economic and ecological uprising
Exactly 31.3 nautical miles from Manila, the provincial promontory that is Bataan juts out of west Central Luzon garrisoning the entrances to both Manila Bay and Subic Bay, at the confluence where each becomes the West Philippine Sea.
The site of the infamous World War II Death March, Bataan is currently one of the most progressive provinces in Central Luzon and the Manila Bay expanse. The province is nestled within the country's growth triad corridor, comprising the Subic Special Economic and Freeport Zone, Clark Freeport and Special Economic Zone, and Metro Manila.
It has therefore become a critical industrial zone boasting anchor industries, two freeport zones and several manufacturing zones. In 2021, the Philippine Chamber of Commerce named Bataan the country's most business-friendly province. Balanga, its capital, has been known primarily as a residential-cum-agricultural city. It is, however, seeing rapid growth in its commercial sector as well. To date, it is Bataan's prime commercial hub.
The City of Balanga, perched in eastern Bataan with a coastline that opens into Manila Bay, is bordered by the municipality of Abucay in the north, Pilar to the south and the municipalities of Bagac and Morong in the west. It is the center for trade and services in Bataan with businesses mostly in wholesale and retail, construction, finance, tourism and manufacturing. While its eastern section is highly urbanized; offering a myriad of commercial, residential and institutional establishments; its western side —blessed with farmland, pasture, grassland and forests — is mostly agricultural.
Balanga is also dubbed the "Education Center of the Province," owing to a large number of learning institutions including a state university. The city is working towards its vision of becoming a "Smart University Town" by 2030 and a center for global technology businesses by focusing on ICT and AI courses. As such, Balanga is fast becoming a "highly livable family-oriented city with a strong learning atmosphere that will ensure sustainable development and participatory governance."
Balanga is an ideal place to live, work and raise a family. It also makes it the perfect place to raise a premier eco-estate — which is exactly what Verida by Vista Estates is masterplanned to become.
Verida: Inspired by the garden city of Singapore
With the dream to create the country's foremost green nexus, Verida is taking its cues from Singapore — ranked the most sustainable city in Asia and the fourth in the world according to the 2018 Sustainable Cities Index.
Today, the "Lion City" is recognized as a "City in a Garden," with nearly 50 percent green cover and 72 hectares of rooftop gardens and green walls. It is also among the 20 most carbon-efficient countries in the world.
A portmanteau of the Spanish words "verde" and "vida" — meaning green and life — Verida sits on a wide expanse of about 50 hectares segregated into three key nodes spawned by the development's sustainability goals.
First is The Square, a smart metropolis that includes VistaMall, hotels and a convention center. Second is The Garden Promenade, featuring lush green places for eco-tourism, vertical estate living, retail and dining enterprises, and The Galerie — a shared street dotted with lush pocket gardens, play areas and eco-reading pods. And third is The Park District, a socio-cultural hub, including a church and a plaza, designed to ignite passion for community and preservation of cultural heritage.
Master planned to be pro-planet and pro-people
With the vision to become Bataan's premier eco-estate, Verida will be given over to wide open spaces, eco-tourism opportunities and renewable energy advocacies.
Verida will be a collection of edifices cloaked in green walls, roof gardens and green spaces strewn across the roadways and buildings. The estate is composed of living spaces designed to meet the needs of modern-day urban dwellers and integrated and surrounded by green environs like the passive parks Singapore is loved for.
These features include the cultural plaza, a business nexus, a retail district, a tourism district, medical centers, a technology hub and of course, vertical residences. Verida's masterplan allows for easy movement within the estate and quick access to whatever the residents need. It is designed to create an over-all feeling of space, openness and a refreshing cleanness. Verida is built to be a sanctuary.
Access to the estate is also easy. The North Luzon Expressway (NLEX), the Subic-Clark-Tarlac Expressway (SCTEX) and the Bataan Provincial Highway allow one to reach Verida easily from anywhere in western and central Luzon. Reaching it is a breeze, but once you get there, you may never want to leave.
An investment into a better way of living
Vista Land is investing in these master-planned developments, making good on its promise to its homebuyers and investors to continue to create superior offerings and more importantly, deliver excellent long-term investment growth.
Ready to aspire for amazing? Explore Verida by Vista Estates.
Visit vistaestates.vistaland.com.ph. Follow us on social media @VistalandAndLifescapesOfficial