Toktok launches 4-wheels delivery service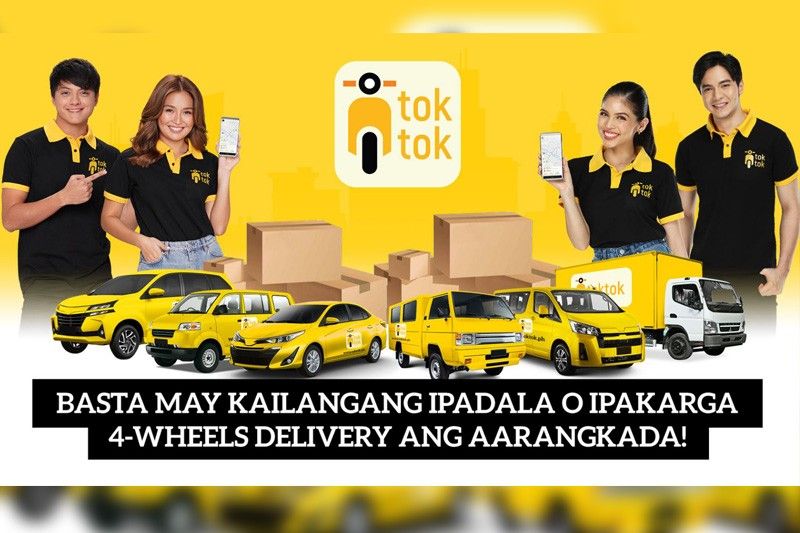 MANILA, Philippines — Barely seven months after its launch, toktok has already managed to expand its services which now includes a 'Pabili Service' and partnerships with two of the country's leading malls.
Apart from these developments, toktok has launched its 4-wheels delivery service, with vehicles ranging from sedans to MPVs (up to 300- and 600kg), to vans (up to 1000kg) and trucks (up to 1000- and 2000kg).
Now, you can send bigger and heavier parcels, pieces of furniture and appliances or even rely on them for lipat bahay services at affordable delivery rates.
Interested drivers may apply through toktok operators with the following requirements:
owned vehicle
Professional Driver's License
OR/CR
2x2 photo
photos of the vehicle (front, side and back, with visible license plate)
valid NBI Clearance
For L300 vehicles and above, a Provisional Authority trucking permit is required to operate as truck-for-hire. Meanwhile, those who do not own their vehicles may present an authorization letter signed by the owner with any government-issued ID attached.
Customers may start using this service starting July 26 via the app or website. Once there, they can click 'Delivery' and choose from the array of services.
Founded by the country's youngest tycoons, Jonathan So and Carlito Macadangdang, the company is committed to providing convenience for customers, and an extra source of income for drivers and operators.
Toktok has also recently launched its own online mall where customers can shop for their favorite items from the comfort of their homes. Whether you're looking for clothes, grocery items, beauty products or gadgets, you can find everything you need on the toktok online mall.
Toktok is powered by its sister company, Cloud Panda PH.
For more information, visit www.toktok.ph or download the app via Android or iOS.