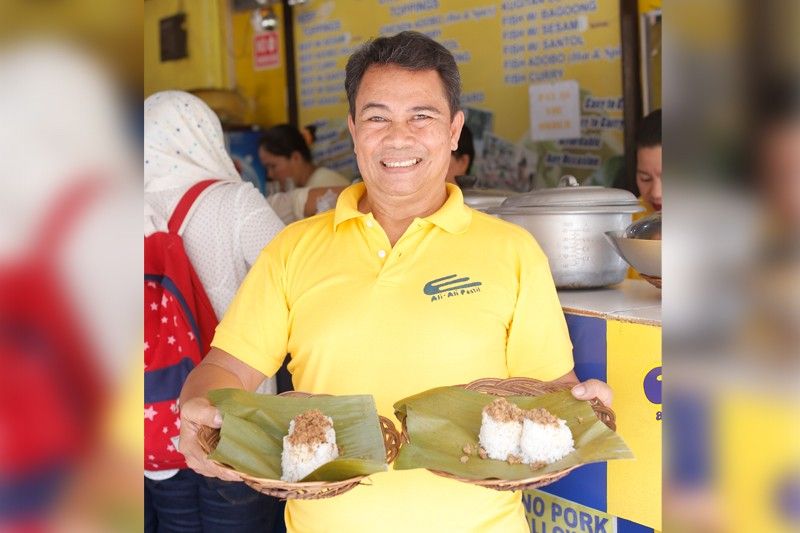 Eduardo Azores of Koronadal City dishes out his award-winning strategy for making pastil the go-to meal down south.
Photo Release
Restaurant owner from Mindanao discovers recipe for business success
(Philstar.com) - March 11, 2020 - 12:00am
MANILA, Philippines — On any given day, Ali-Ali Pastil restaurant in Koronodal City, South Cotabato would start entertaining customers, mostly from the nearby schools and dormitories, as early as 10 a.m. What keeps them coming back is a local delicacy called "pastil," steamed rice wrapped in banana leaves with dry shredded beef, chicken, or fish, plus other toppings.
Restaurant owner Eduardo Azores explains why he chose to offer this delicacy instead of the usual fare: "Napili ko ang pastil kasi mas madaling i-apply sa masa. Mura na, masarap pa (I chose to offer pastil because it appeals to the mass market. It's delicious and affordable at the same time)." Pastil is also a staple food of Maguindanaoans.
At P10 order, pastil has indeed become the go-to meal "anytime, anywhere"—just as the restaurant slogan says.
Gaining recognition
The story of how Eduardo's restaurant business has grown since its inception in 2013 is too good to go unnoticed. His efforts in growing his business led to him bagging the main prize as National Winner of the Citi Microentrepreneurship Awards (CMA) for 2019.
The CMA is a signature initiative of the Citi Foundation aimed at generating economic opportunities for low-income people, including youth, around the globe. The awards program provides entrepreneurs with resources to strengthen their business, including access to networks, capital, tools and training; and enables individuals to create economic sustainability for themselves, their families, and their communities.
The CMA program highlights the combined efforts of the Bangko Sentral ng Pilipinas (BSP), Citi Philippines, and the Microfinance Council of the Philippines Inc. (MCPI) to strengthen microfinance and enterprise development and financial inclusion in the country.
Humble beginnings
Eduardo's entrepreneurial streak started almost a decade ago, when he sold barbecue outside his apartment. He also put up a small eatery, and then decided to make pastil the main item on his menu. By this time, he was residing in a different location, and his landlord had offered to lease additional space for the business.
Using three kilos of rice and meat he obtained from a vendor through a special arrangement, Eduardo started making pastil. He would only pay for the meat after he had sold the pastil, under an arrangement locally called "alsada." At all times, he made good on his promise.
But he only sold 30 to 50 pieces daily, and inevitably, Eduardo encountered financial challenges. The untimely passing of his wife due to cancer was also a big blow to Eduardo. "Di ko alam kung saan ako magsisimula (I did not know where to start)," he recalls.
To honor his wife's memory, Eduardo renamed his business Ali-Ali's Pastil.
A better life
In 2017, Eduardo obtained his first loan from Rizal MicroBank. He used this to infuse more capital into his existing business and to fund other ventures. Within the next two years, he was able to open a mini-mart, and another restaurant branch in Polomolok. He is also in the process of completing the construction of his 18-room lodging inn.
Ali-Ali's Pastil restaurant operates 24/7, consumes about four sacks of rice daily, plus 200 kilos of other ingredients. It has a workforce of 45 employees, mostly senior citizens whom he believes deserve the opportunity to become self-sufficient. Eduardo also offers catering services for special events, such as campaign rallies during elections.
"Ang plan ko mag-focus sa expansion ng pastil. Magbubukas ako ng tatlong outlet sa Polomolok at sa Gen. Santos City. Plus, ang lahat ng toppings ko gagawin kong online business. Ipa-packaging ko na siya (I plan to focus on the expansion of pastil by opening three outlets in Polomolok and Gen. Santos City. I also intend to package the toppings and sell them online)," shares Eduardo.
More than offering food to satisfy people's hunger, Eduardo's business has become a venue for unifying brothers from different beliefs as they share tables and enjoy meals together at Ali-Ali Pastil Restaurant.
Eduardo is a shining example of how a strong entrepreneurial spirit can uplift a person and a community's life.
Microentrepreneurs in the spotlight
As CMA National Winner, Eduardo received a cash prize of P200,000 as well as a laptop, life and health insurance coverage for one year, and access to grassroots entrepreneurship training at the Citi Microenterprise Development Center, another Citi Foundation program in partnership with Bayan Academy.
Eduardo also celebrated his victory with his employees and members of the community through a town hall held in his hometown.
Eduardo and seven other winners were chosen by a National Selection Committee co-chaired by Bangko Sentral ng PIlipinas Gov. Dr. Benjamin Diokno, Ph.D., and Citi Philippines CEO Aftab Ahmed.
The committee members are: Jose Ma. Concepcion III, president and CEO, RFM Corporation; Teresita Sy-Coson, vice chairperson, SM Investments Corporation; Secretary Ramon Lopez, Department of Trade and Industry; Imelda Nicolas, president, Samahan ng mga Pilipina para sa Reporma at Kaunlaran; Marixi Rufino-Prieto, former chairperson, The Philippine Daily Inquirer; Dr. Michael Tan, former chancellor, University of the Philippines; and Fernando Zobel de Ayala, president, Ayala Corporation.