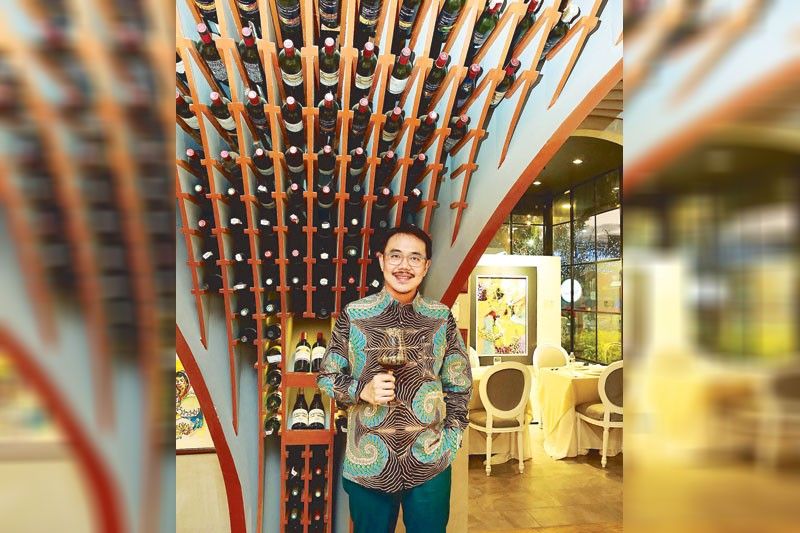 Lester Yu enjoys the Fruitas of his labors
Iris Gonzales
(The Philippine Star) - February 16, 2020 - 12:00am
He grew up in a two-bedroom apartment in the bustling dragon-shaped district of Binondo, said to be the world's oldest Chinatown.
Touted as one of the country's next tycoons, Lester Yu, 45, founder of the newly listed Fruitas Holdings Inc., was born into an entrepreneurial family of Chinese descent.
His parents are self-made Chinese-Filipino traders who were always selling something and doing side businesses here and there after they left their jobs in La Suerte Cigar, one of the first cigarette companies in the country, where they met each other.
It runs in the blood, this entrepreneurial spirit.
For instance, his maternal grandmother, soon turning 100 years old, owns – and still runs – a jewelry shop in Ongpin.
Lester spent childhood summers there stringing together pieces of gold into bracelets, earrings, necklaces or what-have-you.
"We put together those tiny loops one by one with our bare hands," Lester tells STARweek, explaining how to make a necklace.
His mother eventually set up her own jewelry shop, also in Binondo, and Lester and his younger brother also spent a lot of time helping out in that store.
As if all these weren't enough, Lester's parents also operated a small sari-sari store from their home, selling household items and other consumer goods to other residents in their building.
"When I was growing up, my mother was doing so many things to make a living. She was even selling snacks. We had a sari-sari store in our house," he recalls.
In fact, Lester recalls that during the early years, the Yu family of four – his parents, his brother and himself – squeezed into one of the two bedrooms in their apartment because the other bedroom was for the sellers and the helpers.
Growing up in this typical Tsinoy entrepreneurial family, Lester imbibed the values of hard work, honesty and perseverance.
It was therefore no surprise that at a young age, Lester was already doing his own hustle.
Soon after he graduated from De La Salle University where he finished Industrial Engineering, he tried to look for opportunities to earn extra income.
"I really like doing business. I sold jewelry, insurance, even encyclopedia," he said.
He did this on weekends even while he was employed. He started in 1995 as a management trainee of Westmont Bank, which later became United Overseas Bank Philippines and where he eventually became the youngest branch manager. He later quit his job in the bank to put up his own business.
"I was exposed to business so I wanted to put up my own business," he says.
Compared to being an employee, he says in business, you have a sense of ownership and that is important.
?A cup of fresh juice
?One hot day at home in Binondo, Lester thought of making fresh orange juice. He was thirsty and having embraced a healthy lifestyle, he wanted to drink something good for his body.
He liked the juice he made and actually enjoyed the process of squeezing fruits to make juice. It became a habit.
In Binondo, a lot of vendors peddled fresh fruits and vegetables. It was very convenient to just buy fruits and make the juice at home, Lester says.
Little did he know that day would change his life forever.
From squeezing that orange into a healthy drink, Lester was also able to squeeze out a simple yet brilliant idea for a business – fresh fruit juices. He made fresh fruit juices and shakes and people loved it.
It became an inspiration for his food and beverage business, originally Lush Enterprises Corp. which eventually evolved into Fruitas Holdings. Inc.
And the rest, as they say, is history.
In 2002, Lester opened his first Fruitas Fresh from Babot's Farm kiosk in SM City Manila. It became a hit and Fruitas began to open more branches and introduce brands that have grown to be loved by Filipinos.
With 30 years of experience in sales and business, Lester was able to grow the food and beverage kiosks business from a single store to a thousand more.
As of Nov. 26, 2019, Fruitas already has 1,036 stores across the country after opening new kiosks in Metro Manila and key provinces like Cavite, Laguna, Rizal, Bulacan, Tarlac, Zambales, Cebu, Iloilo, Aklan, Davao and Cagayan de Oro.
Fruitas also strengthened its coffee and tea presence with the re-launching of Coffee Talk as part of efforts to continuously make new brands to meet the growing demand of Filipino consumers.
Just recently, Fruitas also started selling some of its bottled fruit juices on open refrigerator shelves inside the supermarkets of Landmark.
Today, Fruitas' brands have become household food and beverage names – Fruitas Fresh From Babot's Farm, Buko Ni Fruitas, Fruitas Ice Candy, De Original Jamaican Pattie and Juice Bar, Juice Avenue, The Mango Farm, Buko Loco, Johnn Lemon, Black Pearl, Shou, Friends Fries and Halo-Halo Islands.
All these brands are under Fruitas Holdings, which has three operating companies. These are Fruitas Group Inc., which holds most of the brands; Buko ni Fruitas and Negril trading which house the Old Jamaican Pattie Shop.
?IPO: Braving the market
On Nov. 29, 2019, Lester braved the Philippine stock market and listed his company at a time when many IPO hopefuls decided to postpone their plans because of market volatility.
Lester's courage was rewarded. Investors gobbled up the IPO, fortifying the company's financial position.
Estimated net proceeds from the sale of new shares of approximately P820 million are seen boosting Fruitas' cash balances and cutting its debt levels.
"On a pro forma basis and based on its latest audited financial statements as of June 30, 2019, consolidated cash balance exceeded P1 billion immediately post-IPO," Fruitas said.
For many businessmen, being able to join the roster of listed companies in the stock market is a dream come true.
But Lester says that in the case of Fruitas, "it's only the beginning."
"We're just starting.There is still so much room to grow," he says.
Fruitas Holdings director and chief financial adviser Calvin Chua highlighted the growth momentum the company has generated in the past years.
"While we have nearly quadrupled our store network from 260 as of end-2015 to 1,036 just before our listing, we believe there is still significant potential for expansion for both our leader and challenger brands," Chua says.
Indeed, Lester says Fruitas' business model is highly scalable.
In all, proceeds from the IPO will finance the company's store network expansion and the improvement of existing stores. Raised funds will also pave the way for the introduction of new concepts and the acquisition of future brands, commissary expansion and debt repayment.
The ultimate dream
Aside from food kiosks, Fruitas also has lifestyle parks, which carry the company's own brands as well as other new brands in the market.
One of these food parks is in Maginhawa, another in Cordillera corner E. Rodriguez called Le Village Lifestyle Park and yet another is Cascades along Tomas Morato.
Today, Fruitas' brands are seen in many food places around the country, in malls and even just around the corner if you happen to live in a densely populated neighborhood.
But the ultimate dream, Lester says, is for his brands to be present in every Filipino home.
"What we want to see is that in every Filipino household, there is at least one Fruitas product," he says, adding, "That is very doable."
For a man like Lester, molded by his parents with the values of honesty, hard work, integrity, improvization and a sense of ownership, such a dream isn't at all farfetched.
And soon enough, that dream – just like one's favorite fruit – will be ripe for the picking.