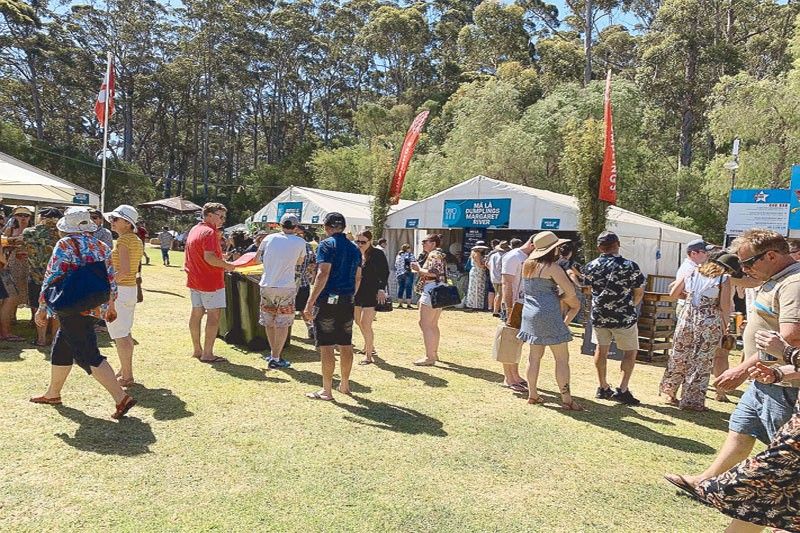 The Gourmet Village showcases the best of what Margaret River and Western Australia have to offer.
The great Australian escape
Iris Gonzales
(The Philippine Star) - December 22, 2019 - 12:00am
It's a Woodstock of sorts minus the angst, the bell bottom jeans and Flower Power vibe, just sumptuous food and the finest wines. Model-turned master chef Sarah Todd, the event's host, dubbed it as the Glastonbury of food. Others called it the Disneyland of Gourmet.
To me, a first timer at the event, it is what it is – a multi-sensory gourmet and wine feast. Indeed, the 2019 Western Australia Gourmet Escape is a feast for the senses. Held last November, this extraordinary annual festival of wine and food took place from Swan Valley to Perth and finally to Margaret River. It is essentially a magical showcase of Western Australia's premium produce with celebrated international and Australian culinary talent.
I came for the Margaret River leg of the festival, which was a bespoke three-day wine and dine experience organized by Japanese luxury vehicle brand Lexus exclusively for its guests.
The escape for our group of journalists from all over the world started from Perth, the capital of Western Australia and the gateway to Margaret River, considered one of the world's most famous wine regions.
Margaret River boasts of over 200 vineyards and 187 wineries, and is home to some of the finest produce in Australia. ?
Experience amazing
"Lexus is dedicated to curating amazing experiences beyond luxury automobiles. Experiences that are designed with intent, offer a heightened attention to detail and ones that anticipate the guest's desires," David Nordstrom, vice president of Lexus Asia Pacific says.
We snaked through lush green forests and rolling vineyards to wine and dine in secret gardens, Palladium-style estates and vintage cellars. First night of the three-day bespoke journey started in Vasse Felix, Margaret River's pioneering winery established in 1967.
Vasse Felix is set in a stunning backdrop of sprawling vineyards as far as the eye can see.At our exclusive dinner, we were treated to a special feast designed by chef Brendan Pratt and curated by chief winemaker Virginia Willcock.
We had four courses starting with beef, bone marrow, fenugreek, mushroom and maesil. This is a beef dish served room temperature but heavily seared and rare with king oyster mushrooms cooked in fermented mushroom juice, thinly sliced and layered over the top, dressed with fenugreek oil, tuna soy and maesil vinegar. This was partnered with the 2015 Tom Cullity Cabernet Sauvignon Malbec. Dessert came in the form of an apple curd, fruit toast ice cream, fresh mandarin and grated rind with three milk cake and milk crumble with honeycomb partnered with 2017 Cane Cut Semillon wine.
Indeed, here at Vasse Felix, we learned of the winery's brave winemaking techniques and unconventional approach of pairing food to its wines.
Second night of our escape brought us to the private rustic barrel room at Larry Cherubino.
The barrel room is filled with towering rows of handcrafted wine barrels set against a breath-taking Margaret River backdrop.
Famed chef Palisa Anderson crafted a truly sustainable and extraordinary dinner experience, transforming regionally sourced ingredients into a Thai master feast.
Anderson, who is proudly raised by a single mother, grows her own Asian produce without the use of chemicals for an authentic farm-to-table experience.
The experience here started with an arrival cocktail, a concoction of Haiver Pandan Spirit, dry vermouth, fermented Thai basil, lime and soda served in a long highball. For dinner, we had tom yum soup, grilled scallops, stir fry of eggplants, wild ginger and chilli curry paste – a truly Asian feast.
At the center of the festival is the Gourmet Village, where the best of Western Australia and the Margaret River converge. We were treated to a private art tour, cooking competitions and front-row seats to demonstrations by world-renowned chefs. While all this was happening, there was food and wine galore.
Capping our three-day epicurean journey was a dinner at Fraser Gallop Estate, one of Margaret River's most prestigious wine estates.
It was an evening that will not be forgotten. Occupying over 160 acres of land, Fraser Gallop Estate houses a private residence resembling a magical French chateau.
Celebrity chef Nelly Robinson of Sydney restaurant nel created an exceptional dinner, which brought together innovation and imagination for a truly theatrical dining experience. Through his menu, Robinson proved that a state-of-the-art approach to molecular gastronomy can allow technology and cooking to intersect. Robinson brought together innovation and imagination; for instance an entree of tomatoes in a fish tank with bubbles or tin can bread on fire with eucalyptus and charcoal – for a truly theatrical dining experience. It was a fitting finale to our three-day escape.
Some moments are still very much alive in my memories: my first sip of Vasse Felix's 2015 Cabernet Sauvignon Malbec – bold, rich and intense; the view of the setting sun glistening on the sprawling vineyards at Larry Cherubino; that moment chef Brendan Pratt's apple fruit toast slipped in my mouth and the first time the magical French chateau of Fraser Gallop estate appeared before my eyes, seemingly straight out of Jane Austen's Pride and Prejudice.
It truly was an amazing experience, one which I am sure will linger deep in my memory for a long time.