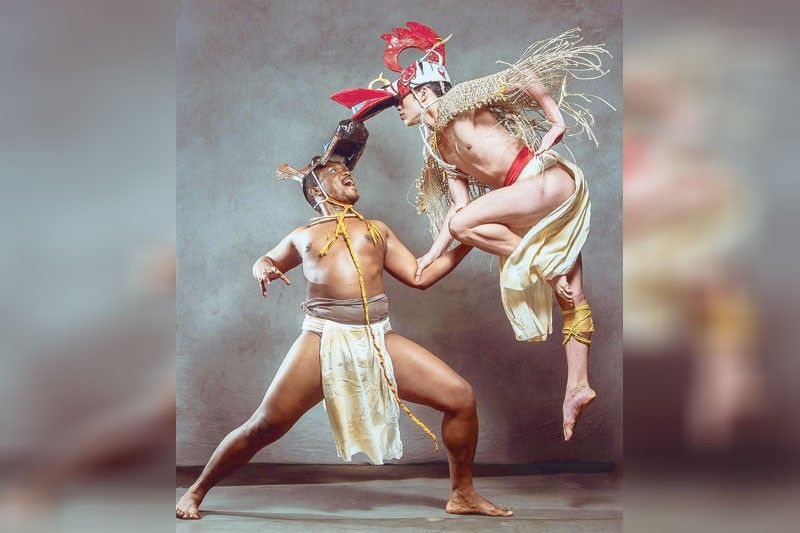 Lam-ang brings ethno-epic musical to millennials
Tanghalang Pilipino's third play in the current season is the Ilocano epic 'Lam-ang' set to music, which seeks to introduce a pre-Hispanic ethnological hero from the north to a generation more familiar with the Marvel universe, K-pop wonders, the usual run of the west.
It tries to reach back, through indie folk rock and much research on multiple versions of the epic, to a time when a young man named Lam-ang searched the world for his father, fell in love with the shapely Kannoyan, did battle with giants and assorted malevolent creatures, dived the dark sea for a rare fish rarang to serve at a feast's table.
"There are at least 20 versions of the epic," says director Fitz Bitana during a press briefing at a Quezon City restaurant in November, noting that plot lines seem to diverge from Ilocos Sur, the stories having similarities from there to points south, as compared with those found extant north of Vigan.
The media launch is held little more than two weeks before the ethno-musical starts its run at CCP's Little Theater. The cast as well as directors, composers, librettists, sound designers are in full force, including the leads JC Santos and Anna Luna, comebacking Tex Ordonez, co-director and set designer Marco Viana, rewrite man Eljay Castro, composer Jen Torres, whose UP thesis presented late last year inspired this present gestation, and musical director and sound designer TJ Ramos.
Their spirited, convivial group gave the lowdown on the remaking of an epic the senior and near senior generation barely remember as excerpts taken up in high school, where dialogue was required to be memorized and delivered complete with booming voice, accompanying gesticulations the better to get high marks in recitation.
"It's like getting back to the discipline of theater," remarks Santos, a UP theater arts graduate who recalls how the late Tony Mabesa brought him souvenir programs in Pampanga. Aside from back to basics the play provided, Santos, who has rung up credits in both big and small screen (100 Tula para kay Stella, Open, Mr and Mrs Cruz, The Day after Valentine's), says he has the opportunity to brush up on pronunciation of his consonants.
Luna, no slouch herself when it comes to film exposure (Paglipay, Hamog, Changing Partners, Maestra), could not quite recall the epic being taken up in high school. During one blocking rehearsal at the Bulwagan Amado Hernandez at the CCP, she was given a refresher on how to say "gulok" by TP artistic director Nanding Josef.
Viana admits that during readings and auditions only a handful said they were familiar with the Ilocano epic. So naturally a lot of catching up had to be done by the millennial and generation z actors and singers, most of them UP theater arts majors.
In the rewrite of Torres' original thesis, Iyas workshop fellow Castro Deldoc did additional research and consciously highlighted the lesser known sections, and took care not to antagonize other tribes of the north with whom Lam-ang had run-ins. Extant historical texts were also referenced, with a leaning toward the Tingguian, while costume designer Igorota Bonsai Cielo made inputs.
Musicologist Ramos grounded the music to situate the hero in his rightful environment and not be too indie rock a-go-go, though Torres' rhythms and chord progressions are from the same school as that of Popong Landero, Buklod, Yano – a rooted folk sensibility in fact befitting Lam-ang.
Of the many versions of the epic, there were notable corruptions that the theater group had to weed out, as these usually contained subliminal vested interests, whether from the colonizer or martial law implementors – according to Josef, in one rendition a character named Marcos saves Lam-ang after the hero is vanquished in battle with a sea monster.
Rehearsals are done piecemeal – songs, spoken dialogue, choreography, complete with meticulous blocking from early afternoon till late in the evening practically seven days a week – until they all come together in the final run-through less than a week before opening night.
During the QC press con, the theater group sings excerpts from the musical, including one rousing number about going wherever your feet takes you, an obvious traveling song that suggests Lam-ang was the first Filipino nomad.
It goes: Heyo, heyo, heyo, heyo, saan ka man dadalhin, ng iyong mga paa. Wherever it takes our hero, including sweeping Kannoyan off her feet.
The spirited ensemble should put to rest any fears that too many cooks could spoil the broth, as the directors Viana and Bitana had worked together in other productions before, although as actors.
On the sidelines of rehearsals for blocking of Act 2, Josef says the idea of hiring a live band was no longer considered because of the difficulty coordinating schedules between actors and musicians. And though there is yet no word if the soundtrack will eventually be released on analog, at least the ever efficient YouTube is bound to give access to excerpts, including the aforementioned QC press con from where we culled these notes.
With Lam-ang, Josef says Tanghalang Pilipino's mission to instill nationalism among the youth remains on course, not the fist-waving kind, but with the more persuasive song and dance.
For Santos and Luna, the ethno musical affords them a return to the old school, as both started out in theater, but this is their first time with Tanghalan. Ordonez de Leon, who replaced Angeli Bayani reeled in by a film project, also gets back to the group where she was resident actor for two years.
Santos, who wanted to stop the auditions after he had finished his own, is particularly excited about the epic. Unlike in film where camera can focus above shoulder, on stage the whole body can be seen by the naked eye, he says: difficult to cheat or cure.
And Luna's reciting some lines in Ilocano while waiting for the hero to emerge from the dark and turbulent sea may be one to watch out for; we may not know what it means but certainly comes across like an oracion from time past and redeemed, wen manong, through music breathing back life into the holy bones.
Lam-Ang is onstage at the CCP Tanghalang Aurelio Tolentino (Little Theater) until Dec. 15 with shows at 3 and 8 pm. For tickets Tanghalang Pilipino at tel 8822-6920 .