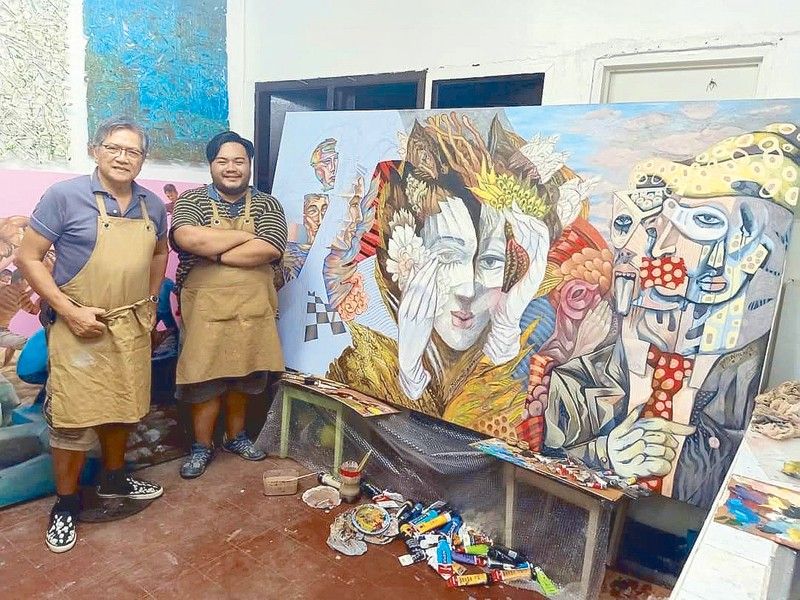 A Christmas wish: home for artist
For weeks now, a multi-awarded group of visual artists are furiously brushing colors and deftly detailing painterly strokes on 12 thematic canvas murals across the islands to fulfill a decades-long dream of owning and building a home for their community of a thousand artists.
A Tahanan Sining – literally, home for the arts – a home to empower fellow artists, to mentor newbies, to motivate creative experiences. A gallery for artists living within and out of the metropolis whose outstanding works have never been exhibited. An office to incentivize networks with acclaimed Filipino and global artists. An educational center to evolve with digital technology and the online business of art teaching and selling. A compass for visual artists.
It will be the "permanent headquarters of the Art Association of the Philippines (AAP)," the oldest and biggest local art organization, whose ambitious mission of raising funds for their "dream home" will hopefully be fulfilled by this Christmas after 71 years of homelessness.
Founded in 1948 by Purita Kalaw Ledesma, its members listed National Artists Vicente Manansala, Jose Joya, Ang Kiukok, Jerry Navarro, Federico Alcuaz, Botong Francisco and more, plus living legends like Bencab.
Resolute to build their dream, the current set of AAP officers struck a deal anew with Sacred Heart School-Ateneo de Cebu Batch 1985 led by Presidential Assistant for the Visayas, Secretary Michael Dino, to stage a fundraising auction and exhibit, "Artabang 3" on Dec. 7 in Cebu City.
"Tabang in Visaya means tulong in Tagalog (help in English), ginamit namin ang Sining sa Pagtulong (we're using Art that helps)," said Fidel Sarmiento, AAP president for the past 16 years.
"This way we aren't subjected to the fickleness of political patronage," he added, referring to the short-lived Kanlungan ng Sining within Rizal Park that was padlocked after an administration change.
The three other AAP officers, all branded artists – Roger Santos, Margarita Lim, Monette Alvarez – and their equally motivated AAP members are monetizing their art for the dream house.
In an alley, on the streets, in a garage, against a block wall, in a living room, artists are interfacing, interacting, blending their creativity on 5 ft by 9 ft and 5 ft by 5 ft canvases. Literally sweating it out, they perch on tables, squat on stools, sit on bare floors, stand on tables, kneel...bending over with their brushes to collaboratively paint their assigned portions of the mural expressions.
"My group of Female Art Addicts are privileged to be invited to this worthy cause," said watercolorist Margarita Lim. "This will be the legacy for future generation of artists. Finally, a permanent home for AAP."
Sam Penaso, an internationally recognized artist, leads a group in his Quezon City studio. The 11 other mural canvases are being rendered in Pampanga, Cebu, Bulacan, Bicol, Rizal, Bohol, Las Piñas, Iloilo... Sarmiento said, "Sa pamamagitan nitong interaction painting, pinapakita ang pagtutulungan ng mga artists. Nagtutulungan makabuo ng isang Obra para isang layunin (The interaction paintings symbolize artists working together for One Canvas, One Goal)."
A realist painter, Sarmiento further explained that the interaction concept was agreed upon by the respective mural groups, followed by studies and sketches before implementation.
Aside from the collaborative muralists, more than 100 bankable artists are individually brushing bristles or sables in oil, acrylics or watercolor for their obra maestra of the year, donating some 200 paintings.
World-renowned artist Romulo Galicano also threw in his brushes along with his squad, PASPI, the Portrait Artists Society of the Philippines, to help achieve the P20-million target.
With brushes in their hands, the dream in their heads, painting with their hearts and praying to the Heavens, the artist community from 25 to 70+ years old are one in their Christmas wish – a "Tahanan Sining" in Metro Manila.