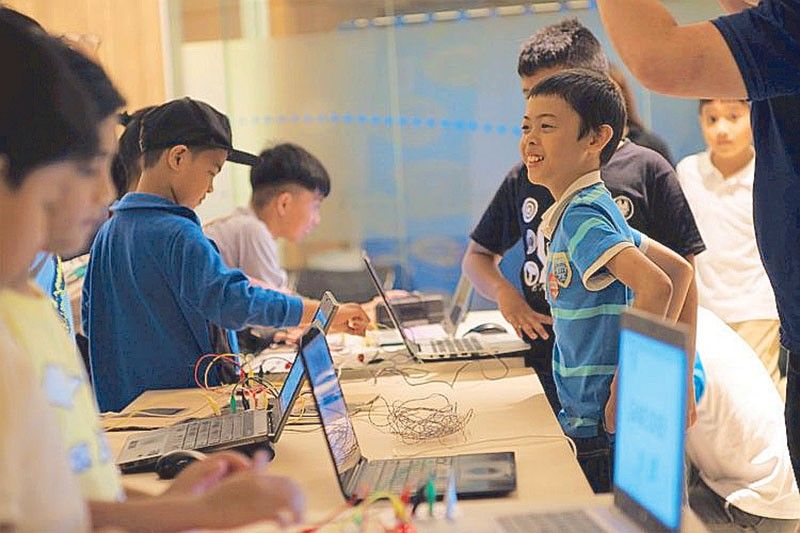 Participants have fun while learning how to code at the Coding for Kids boot camp.
(The Philippine Star) - August 18, 2019 - 12:00am
MANILA, Philippines — About 40 kids aged nine to 14 were taught to co-create and innovate using basic programming tools, through ICT powerhouse Globe and the Junior Academy for Coding Knowledge (JACK) at the first junior coding boot camp. This forms part of Globe's commitment to prepare young Filipinos to take on the future using technology for good.
Coding for Kids is a free three-week boot camp for the children of Globe employees. This event forms part of this year's Globe Innovation Month, where the Globe community gets together with its industry partners and affiliates to push technology adoption as a catalyst for change in the country.
A total of 40 kids have been selected for two categories: Coding Workshop for ages 9 to 11 and Application Development (AppDev) Workshop for ages 12 to 14.
"Here at Globe, we actively support and nurture a culture of innovation. More than enabling our fellow employees with the latest technology and skill sets they need, we also include in the innovation process the people who matter to them like their children. These kids will comprise the workforce of the future, they will be tomorrow's builders, entrepreneurs and innovators," said Globe chief information officer Pebbles Sy-Manalang. "We want to empower them to dream of and co-create a better future, so they can thrive in this increasingly digital world."
The coding workshop introduces kids to the world of coding through Scratch, a visual programming platform, and an invention kit that allows them to develop physical inventions as they learn coding and basic STEM concepts.
While the AppDev workshop establishes a foundation of mobile app development skills using MIT App Inventor, an intuitive and visual programming environment that allows kids to build fully functional applications for smartphones and tablets.
"In today's technology-driven society, JACK believes that every child has to have the opportunity to learn this basic and essential skill. We hope to work hand in hand with Globe, a family-oriented Filipino digital lifestyle brand, in making the younger generation realize that by learning how to code, they can actually produce and control technology instead of technology controlling them," said JACK director Rose Saulog.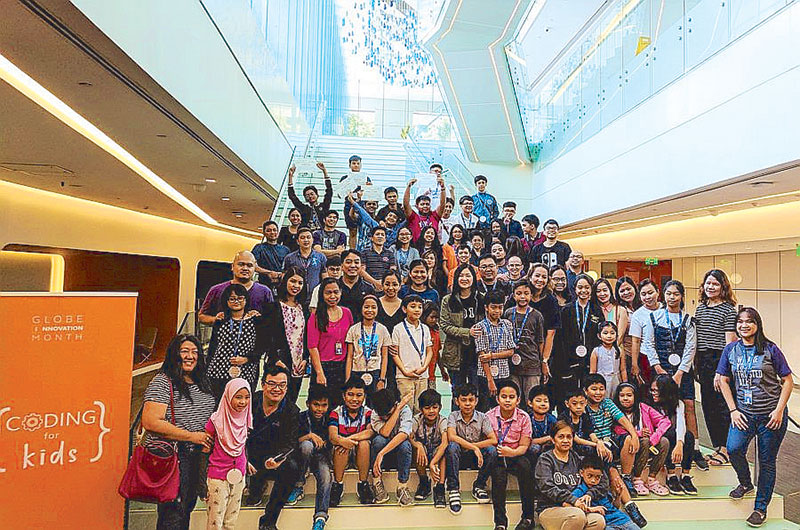 Globe Chief Information Officer Pebbles Sy-Manalang (center) joins the 40 young Filipinos who participated in the first ever Coding for Kids bootcamp of Globe and Jack.
Aside from Coding For Kids, Globe has also partnered with Optus and Singtel to offer free workshops that educate students about their online behavior through the Digital Thumbprint Program. Since 2016, Digital Thumbprint Program has been made accessible to over 1.9 million students across the Philippines. Workshops include online safety, security, etiquette, critical thinking and empowerment.
Another initiative is the Global Filipino Schools program, which aims to uplift the state of public education in the Philippines by providing public schools free internet connectivity, information and communications technology (ICT) tools for teaching and learning, and teacher training.
Since the establishment of the first Global Filipino School in 2012, the program has reached all 17 regions in the Philippines, latest of which were those in the Bangsamoro Autonomous Region in Muslim Mindanao (BARMM).
These initiatives are in line with the commitment of Globe to the UN Sustainable Development Goal No. 4 – ensure inclusive and equitable quality education and promote lifelong learning opportunities for all. - Yoly Crisanto