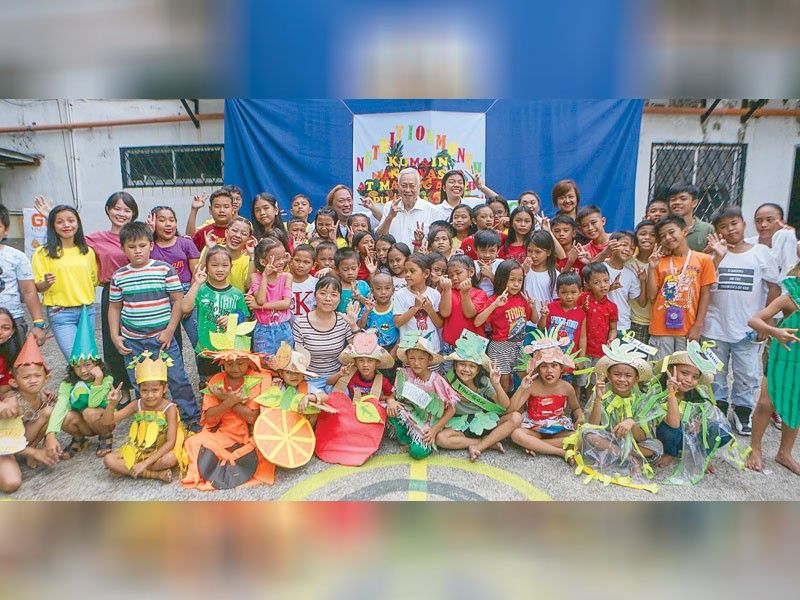 Founder John Go Hoc is joined by the lively volunteers and children of Joy Kiddie Center
STAR photos by Geremy Pintolo
There's joy within these walls
MANILA, Philippines — It was in the summer of 2007 when Tsinoy businessman and philanthropist John Go Hoc opened his almost 2,000-square-meter property in historic Intramuros to informal settler children in Manila. What was supposed to be a week-long Bible study ended up as a full-fledged learning institution after a handful of students returned, "wanting some more."
"We had a summer Bible school then. It ended Saturday and my students, about seven or eight of them, came back on Monday and said they want some more. But the thing was it's already finished, I told them; if you want I can give you some practical lessons in English and Mathematics, something like that, and also drawing," the 80-year-old Go Hoc, founder of Joy Kiddie Center, tells STARweek.
From an initial seven students, the population grew to 50 and to as high as 200 in the past years. That was the time Go Hoc decided to look for more volunteer teachers.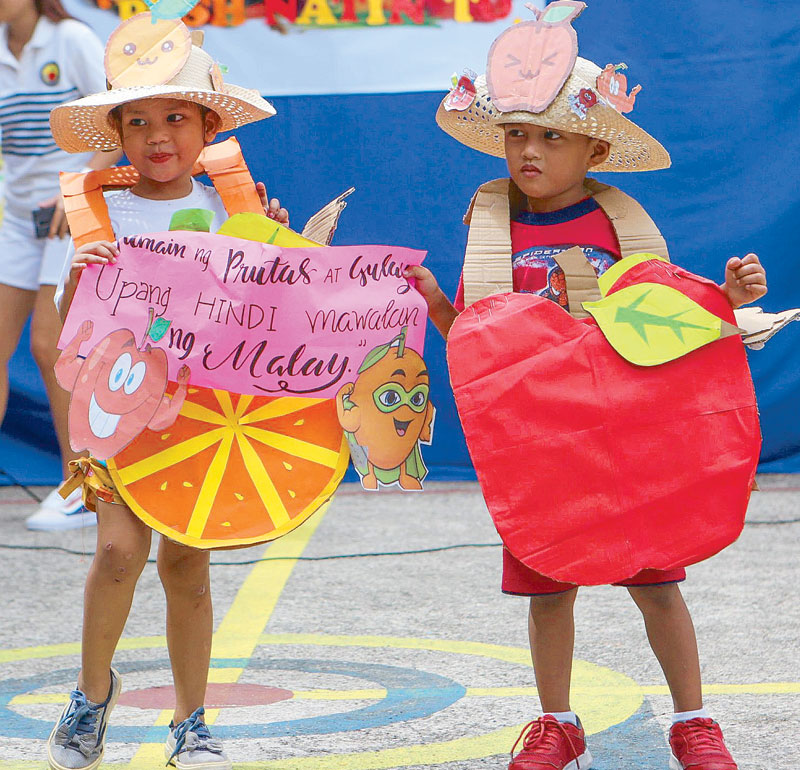 For Nutrition Month, the students learn about fruits and vegetables. STAR photos by GEREMY PINTOLO
"I cannot handle (them) anymore so I asked these college students from the church that I know to come here to help me and they were willing to help. I call them volunteers because they don't receive anything from me. They come to teach the children," he says.
"The children are very good. They are kind, very studious. They want to learn something and it makes me feel good. The children treat me like their lolo (grandfather)," he says.
The Joy Kiddie Center – located on Real corner Magallanes streets – offers free classes in Chinese Mandarin and music to poor students who live in the slums in Intramuros and nearby Quiapo and Port Area, Manila.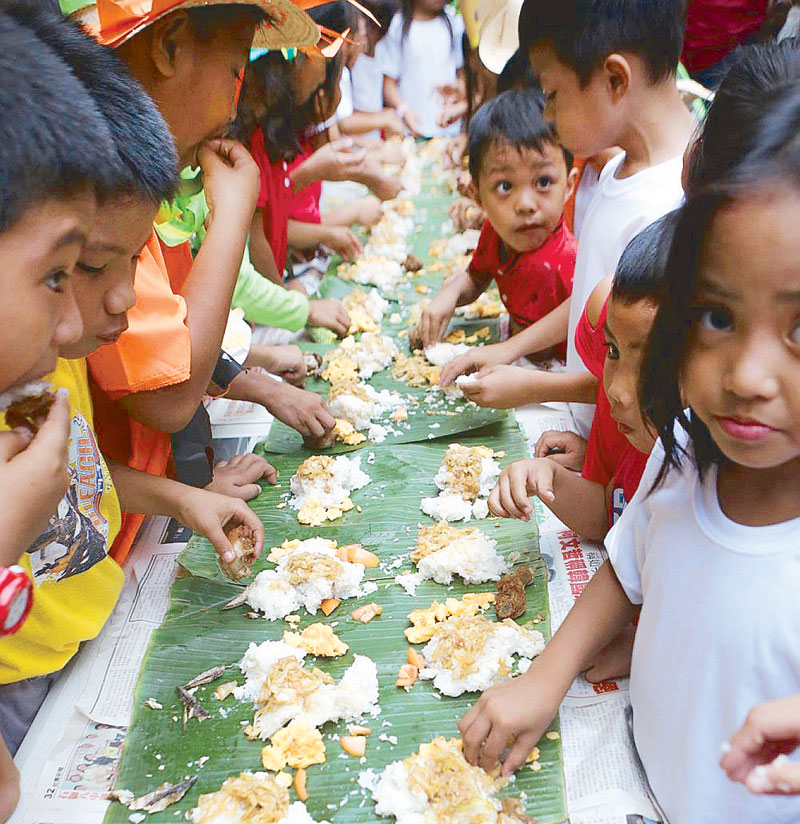 Go Hoc makes sure the students are nourished, physically and mentally
For them to be admitted, the children must be at least five years old and enrolled in formal education. To enter the center's premises, the children must memorize a special password – the Bible verse of the day.
Go Hoc has turned a six-room transient house and a former ice store into classrooms.
The center holds Chinese lessons twice a day to make sure all students who are attending the morning and afternoon classes in public schools will be accommodated. The center holds separate classes for elementary and high school so students can learn the Chinese language based on their level.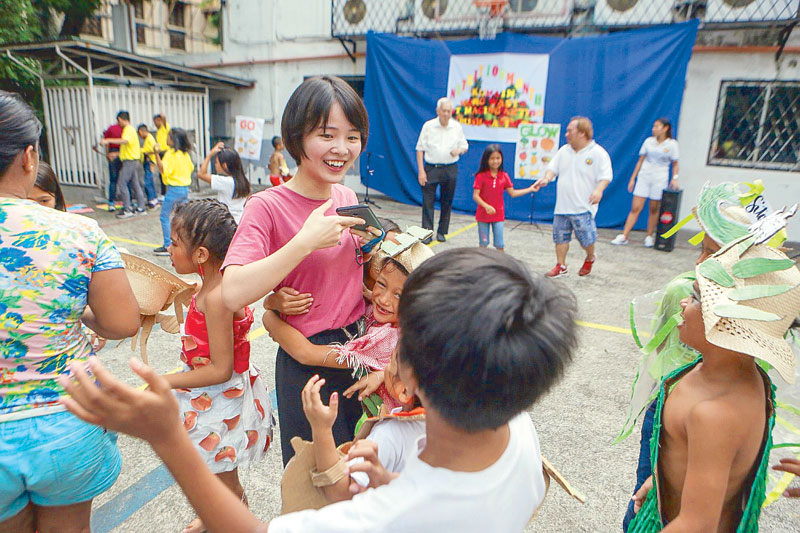 Guests are welcomed warmly at the center
Currently, the Christian-based organization has more than 100 students. Go Hoc has hired five Filipino and two Chinese teachers.
The students do not only speak Mandarin fluently but also sing very well and play various musical instruments such as angklung and rondalla effortlessly.
Go Hoc keeps reminding his students, who he addressed as "my children," to come to his school not to get good grades but to acquire knowledge and discipline.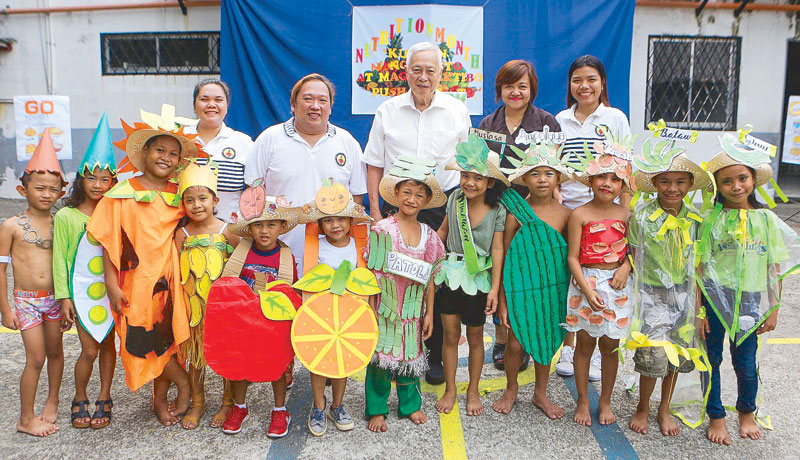 Go Hoc takes a photo with creatively dressed students
"I prayed about it I said, 'Lord give me guidance which way I should go,' and I came to teach these children," he says. "I'm just an instrument for them to be here."
Go Hoc is a close family friend of the late Betty Go-Belmonte, one of the founders of The Philippine STAR, and who also established her own charity program, Operation Damayan.
Inequality
Born and raised in the Philippines to Chinese parents, Go Hoc has seen the growing inequality between the rich and the poor in the country. He also lamented how poverty continues to take its toll on the health of poor Filipino children.
Thus, the businessman-philanthropist does not only nourish the students with the word of God and special skills every day, but with food as well as to calm their empty stomachs.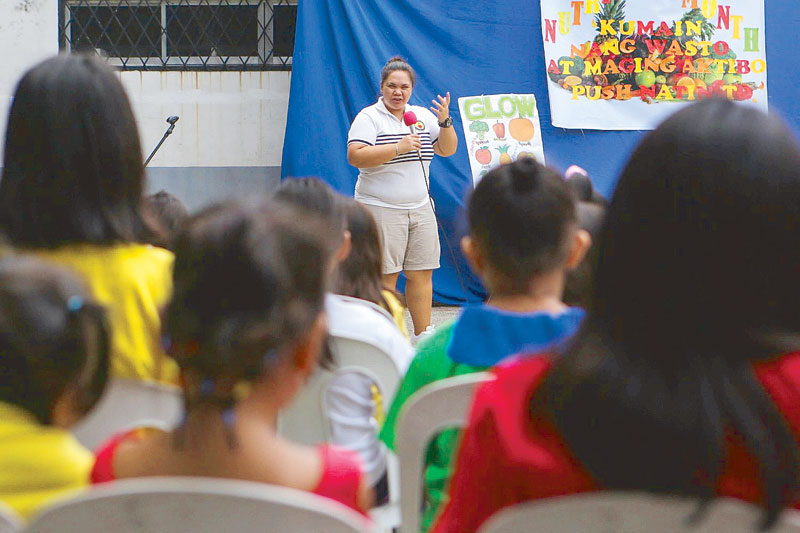 Students learn about go, grow and glow foods.
He rarely accepts donations and supports all the center's daily operations from his own pocket. From a leather business, Go Hoc is now running a real estate company. Even at his age, he personally oversees the center's operations, something that his five children have learned to accept.
"I told my children, 'I gave you a lot of things already. I gave you a good education. I already gave you what you want. This is my money and I want to spend it the way I want, do you agree?' and they agreed and told me 'of course it's your money,'" Go Hoc remembers telling his children about the Joy Kiddie Center.
"God has given me more than enough to set up this foundation," he says.
"Some people donate. I do not go out to solicit," he says. But he does not want to accept donations from entities with "strings attached."
Bounty Chicken donates 300 eggs per month, while a donut company gives its day-old bread for the center's children, according to him.
"The children are very poor, and their health is not good. Some of them are stunted. I decided not to buy milk for them but soya milk so they will not have a loose bowel," Go Hoc says.
Apart from providing them education, he also supports them in buying their medicine. During the interview, Go Hoc pointed to a thin girl, who he said has a lung disease.
"She has trouble with her lungs. Every month, I have somebody with them to buy the antibiotics. Because I had the experience when I gave them money they didn't buy medicine," he says.
The Chinese embassy in Manila recently donated boxes of school supplies to the children after finding out about Go Hoc's foundation through Chinese media.
"During the Chinese New year celebration (this year), I asked my staff to bring the children to a Chinese restaurant. And the children were asked to sing a Chinese song. After singing, the other people in the restaurant clapped and asked how come Filipino students sing Chinese. It so happened that there were two reporters from Chinese m2edia agencies who asked them where they're from and they came to visit the children here and put the thing in the Chinese newspaper. That's how the Chinese embassy took notice (of the center) and told me they want to help," he says.
Go Hoc dreams of turning the Joy Kiddie Center into a formal school.
"One of my ultimate goals is to make it a real school offering free education. But I have to get some people in the same direction," he says.
Asked if he sees one of his children following his footsteps, Go Hoc says, "I do not ask them, maybe when I'm gone one or two will come in to manage or just see to it that it's running. If they don't like it I have people like Tom and other teachers who will take over," he says, referring to Thomas Jefferson Tiong, Joy Kiddie Center's general manager and music teacher.
A Filipino at heart
"Even though I'm not a Filipino by blood, my thinking is Filipino. Most of my friends migrated to the United States and they call me regularly and tell me 'John come here, this is heaven for you, it's so nice here in the States,' and I just tell them 'yes, I've been there so many times."
"Look, I earn money from the Filipinos and then I bring money and spend it for the Americans, I don't have the heart to do it. I want to spend the money for Filipinos," he says.
Go Hoc believes the country's social problems can not be addressed by the government alone.
"It's very hard for anybody who is now in power to alleviate poverty. Sometimes I think the Filipinos are poor but when I go to the mall, especially on Sundays, I cannot look for a parking space in BGC (Bonifacio Global City), in Makati or in Quezon City, they have money," he says.
Go Hoc's heart is full whenever he sees his former students become successful in their respective fields. He says the Joy Kiddie Center, which has been running for more than a decade now, has already produced a pilot, a seaman and a teacher.
"People think they are just dirty, they are nothing. But if I can train them, maybe someday these people who think of these children as germs will find them as a piece of jewel who can help the country," he says.