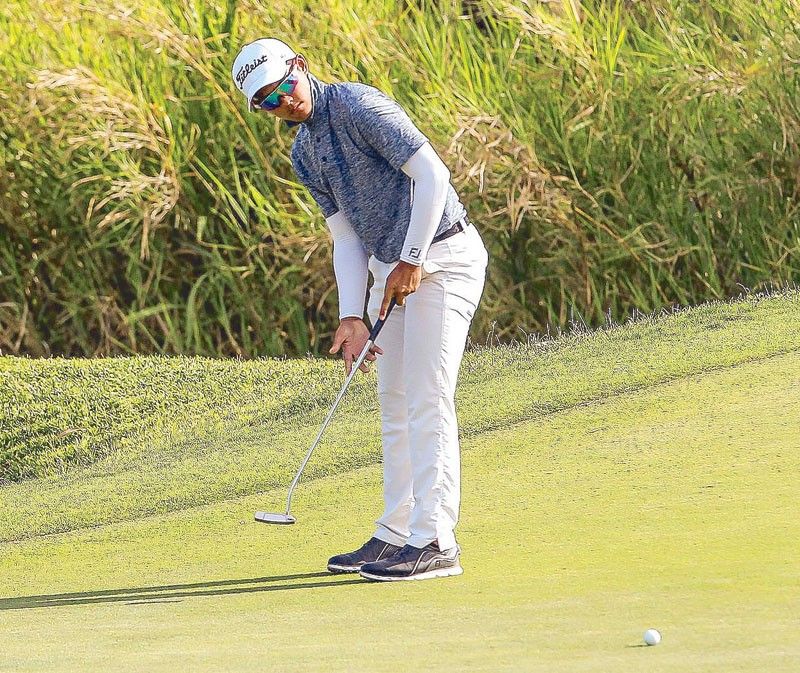 Young golf champion Aidric Chan on the green.
The come- from-behind kid
MANILA, Philippines — One thing that separates Aidric Chan from the best of the rest is that he has taken a positive mindset in dealing with – and overcoming – adversities.
That's what also makes him the hottest player in the ranks today.
Consider these:
After wrapping up his stint in the boys' division with a victory in the Philippine Junior Amateur Open where he battled back from six down and won by two at Sherwood Hills last April, he anchored his partnership with veteran Rey Pagunsan that had them overcoming a two-shot deficit in the final round to reign in the National pro-am at Splendido last May.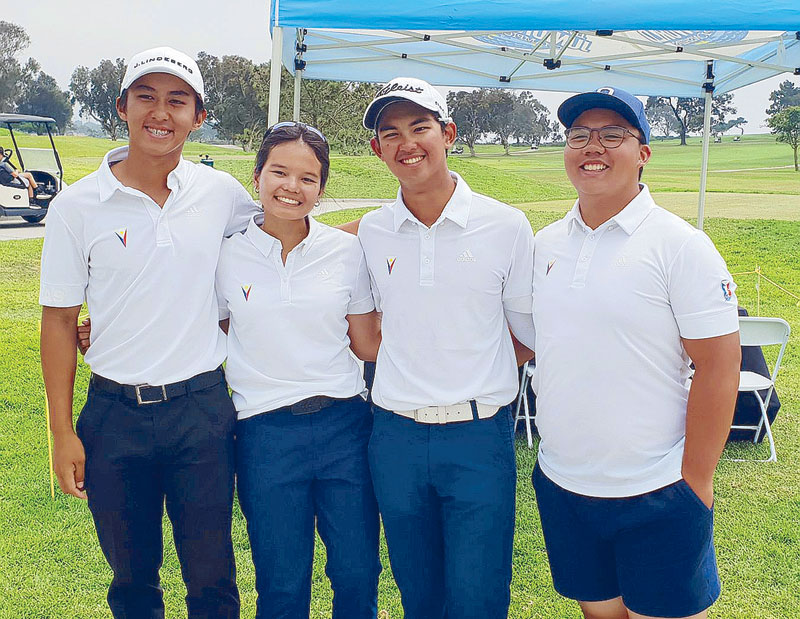 Chan shares a light moment with friends at the IMG Academy Junior World Championships
He also shared top honors with Carl Corpus in the grueling 8-round SEA (Southeast Asian) Games qualifier conducted by the National Golf Association of the Philippines at Luisita last June, with Sean Ramos also earning a slot in the national team gearing up for the regional meet.
He then scrupulously worked his way up to rally from as far back as 26th place and snatch the coveted crown by one over New Zealand's Jimmy Zheng in the premier division of the Junior World Championship at Torrey Pines North just recently.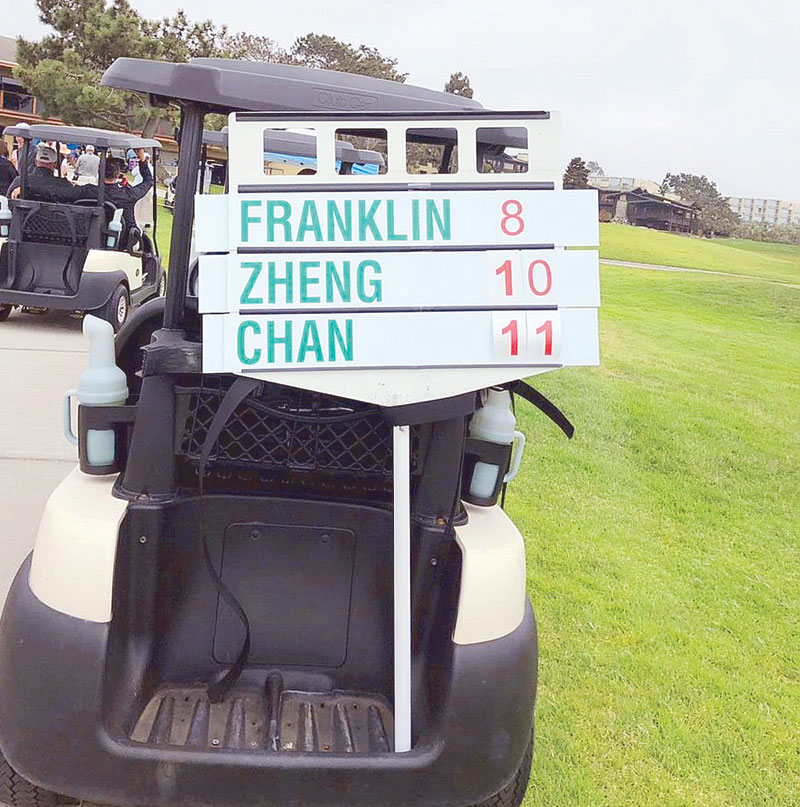 Coming from behind in a closely-fought game, Chan knew his endgame had to be strong
That scintillating feat in San Diego did not only snap a five-year title spell by the Filipinos in the annual gathering of the world's best and brightest junior players and rising stars. More significantly, it ended an excruciating 33-year title wait in the boys' 15-18 category last won by Carito Villaroman, who beat Phil Mickelson, among others, in 1986.
Villaroman actually reigned thrice in Junior World, also winning in 1983 and 1985, while Daniella Uy was the last Filipina to win in what has long been considered as the breeding ground of golf talents in the world in the girls' 15-17 section in 2014.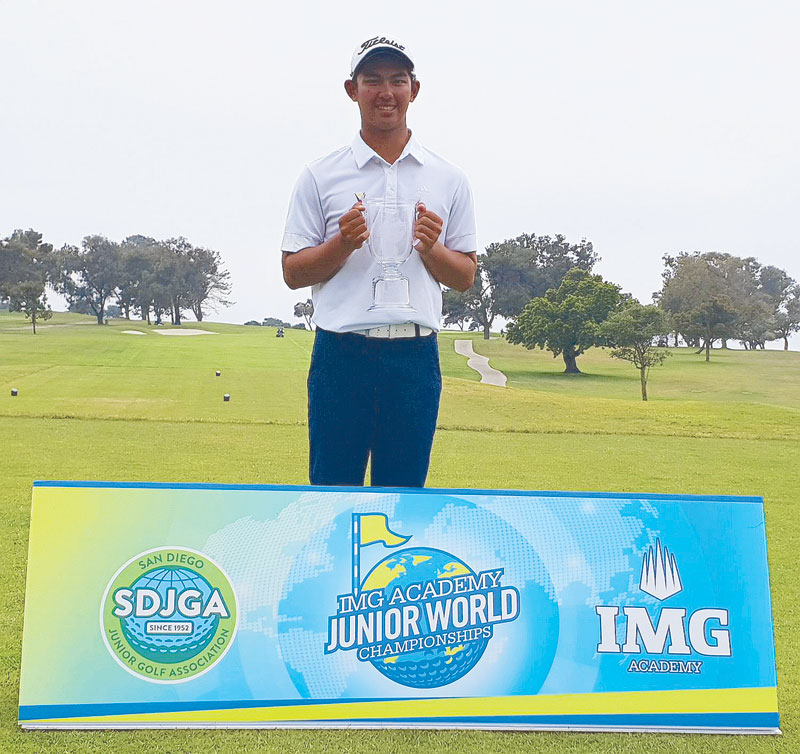 A triumphant Chan with his Junior World trophy.
Through all his triumphs and feats, Chan pointed to hard work as the key to his surge and said he took a lot of positives out of his training and stints on the international stage to be able to reach his full potential.
"I worked hard for the past few months and took some time competing on international soil and trying to finish well," said the 18-year-old former Ateneo stalwart and incoming University of Arizona freshman.
He also leaned on his hot putter in hacking out that stirring Junior World victory.
"My putting has been well for the whole week and I knew I had to make it (birdie on No. 16)," recalled Chan, referring to that clutch putt from 8-10-foot distance that netted him the lead and practically shook Zheng's confidence and poise as the Kiwi flubbed his own birdie bid from shorter range.
"But I knew I still had to buck the pressure and play smart on my last two holes," he said.
He did both, punctuating his triumph with a fist pump that heralded his rise – and the Philippines' return – to Junior World fame.
"My wins have always been like that – from behind. So I really felt confident coming into the fourth (round)," said Chan. "I just wanted to play my game on the last day and if it goes through, it goes through."
Like the rest of the Junior Golf Foundation of the Philippines contingent, Chan struggled a bit in the early going of the 72-hole championship, settling for a three-birdie, three-bogey start to drop six strokes off a hot-starting Andi Xu of California.
Unlike his compatriots, however, he struck back and dished out big games that win big-time championships.
After rebounding with a 69 in the second round, Chan pulled to within two off new leader Walter Franklin, who sizzled with a 67, with a third day 67, then from there he nurtured hopes of winning it all.
"I felt like I had a chance since the end of the third day since I was at striking distance," he said.
And as Franklin wavered and succumbed to final round pressure and hobbled with a closing 74, Zheng took over but with the Filipino in hot pursuit, along with two others, it boiled down to who's got the nerves in the end.
And Chan proved he's up to the task.
He birdied the par-3 12th to tie Zheng in the lead then went up as the Kiwi bogeyed the next, only to let Zheng regain a piece of the lead again with his bogey mishap on No. 14 in the face of mounting pressure.
Then came that decisive birdie on the par-4 16th.
"I did think I could win it but I didn't put that in mind," said Chan, now motivated as ever as he primes up for a rare performance before his fellow Filipinos in the SEA Games the country is hosting on Nov. 30 to Dec. 10.
"It's an honor to help spearhead the country's bid in the SEA Games. To know I could represent the Philippines in the SEAG is my greatest motivation," said Chan. "To be given the chance to play for flag and country is an honor and doing well (in the SEAG) will mean so much to me."
To further boost his confidence for the coming sporting conclave, Chan will try to steer the Philippines to the Putra Cup crown in Vietnam this month even as he aims for a strong finish in the Asia-Pacific Amateur Championship in China in September.
With his streak of victories – in come-from-behind fashions no less – this talented Manila Southwoods product could be in for a couple more feats before the season ends.