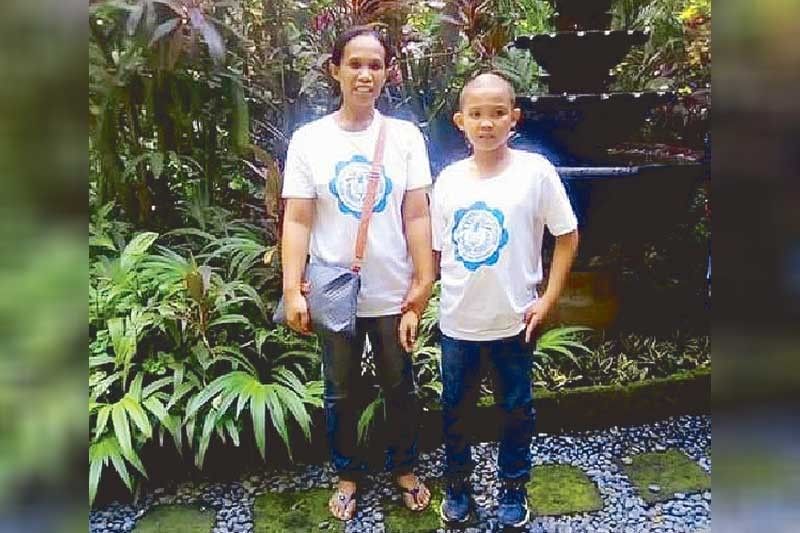 "I'm afraid to die," the 38-year-old mother of two tells STARweek when asked what she is most afraid of regarding her youngest son.
"We need to accept him first before others can accept him."
MANILA, Philippines — Lalaine Castro wants to live long enough to see her 12-year-old son Justine, who was diagnosed with autism, have his own family.
"I'm afraid to die," the 38-year-old mother of two tells STARweek when asked what she is most afraid of regarding her youngest son.
"Even if he gets married, or even if I have siblings who I'm sure will look after him, the mother's care is still the best not just for Justine but also for my eldest son Angelo," she says.
Lalaine and her husband Jessie, 41, learned about Justine's condition after consulting a specialist at the Philippine General Hospital in 2011.
"He was already two years old and yet he could not talk. At first, we thought he was deaf," Lalaine recalls.
Because their financial constraints and the lack of awareness about autism, it took the couple a few more years – when Justine was already four – before finally seeking the help of a physician about their son's case.
Just like any parent, Lalaine also went through the denial stage. "I didn't understand what the doctor told us then because I couldn't accept it," she says.
She says God has been her source of strength in accepting her fate and become the most supportive mother she can be to Justine.
"I told myself the Lord won't give us something we can't handle so I learned to accept it," she says.
"I realized I have to give him 100 percent care, maybe even more," Lalaine adds.
Justine's condition was not Lalaine's first heartbreak. She and Jessie lost their first two children – twins – who were born prematurely.
While there are times she gets tired of taking care of Justine, Lalaine says she never considered him a burden.
"He would throw his toys. Sometimes I get fed up too and spank him. Or sometimes I just leave him alone. Later I would tell him that what he did was wrong but he would not pay attention to me because he's too emotional," she says.
"I would get mad at him, but after a while, I would love him again," she says.
Lalaine says her husband criticizes her for being overprotective of Justine."Even if he goes out to play with other kids I want to be there because I'm afraid he might be bullied by these kids or even by adults because they know he is special. And I'm also worried he might disturb others," she says.
Before she got married, Lalaine's dream was to own a business or work in a big company. She graduated with a management degree from the Rizal State University in Tanay, Rizal. "I still want to work but I'm worried about Justine," she says. Jessie, who did not finish college, serves as a caretaker of a private property in Bataan and works as a part-time electrician.
Lalaine's 15-year-old son Angelo, an incoming Grade 10 student, also helps in taking care of his brother. "Whenever I have to do something I make sure that someone is there to watch over Justine," she says.
In 2014, Justine was enrolled at a public elementary school in Bataan that is offering special education. He will be Level 2 – which is equivalent to Grade 2 – this coming school year. "He speaks a lot now.
But he's still having a hard time constructing a sentence. Sometimes he could only say the last word," Lalaine says.
To make sure Justine remembers his lessons, Lalaine spends time teaching him, keeping in mind that children with autism have short attention span. Despite the hardships, Lalaine is happy that Justine is still living a normal life with the full support of the family and the community.
"We help each other. The doctor told us that we need to accept him first before others can accept him," she says. "I promise that as long as I'm alive I will continue to be a good mother to my boys, I will love them unconditionally, especially Justine."