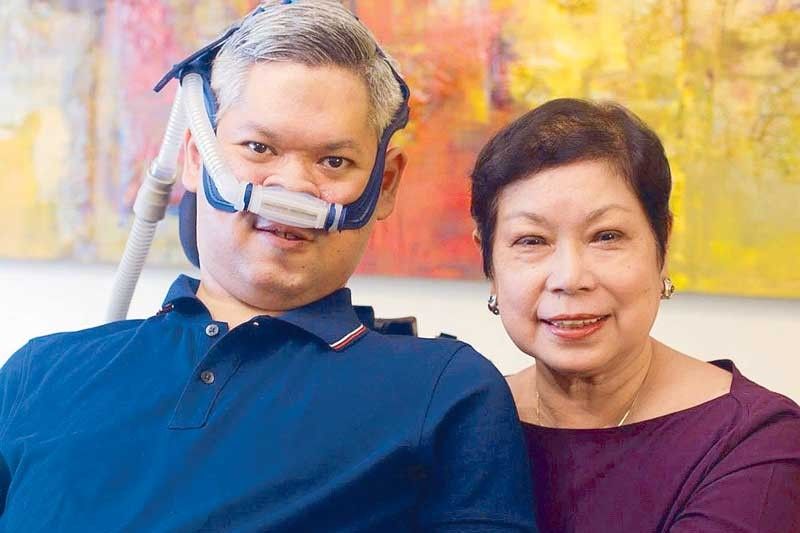 But destiny, it seems, had other plans for her.
Photo courtesy of JUAN BENEDICTO MAGDARAOG
"We just took it a day at a time."
MANILA, Philippines — Like every other mother, all Cynthia Magdaraog ever wanted was to ensure that her family, especially her children, live in a safe and nurturing environment.
But destiny, it seems, had other plans for her.
It was in the late 1980s when her eldest son Juan Benedicto or Dickoy, who was around 10 years old at the time, first exhibited signs of a rare disorder that would forever change the course of their family's lives.
Initially thought to be a muscle disorder, it took six years and a trip to the United States to confirm that Dickoy has Pompe disease, a metabolic disorder that over time would deteriorate his muscles and nerve cells.
With no known treatment at the time, the prognosis was bleak – doctors frankly told the Magdaraog family that patients with such illness only live until between 20 to 30 years.
"How do you deal with that? He was 16 at the time, meaning in four years he could pass away," Cynthia tells STARweek in Filipino. "We were always tense. Every little thing would worry us."
Step by step, she says the family has learned to cope with the situation.
"We went through the process of questioning our faith. There were so many corrupt people and they don't get punished. And here, my husband and I are starting to build a family, and this thing falls upon us and there's nothing much we can do," says Cynthia.
"But then we realized that we have to accept and deal with it," she adds.
Later on, Dickoy was able to secure a slot for a clinical trial of an enzyme that slows down the progression of the disease. Without it, Cynthia says they would not be able to afford treatment, which could go as high as millions of pesos per year.
Fast forward to the present: Dickoy, now 41, was able to finish a degree in industrial design and has already established himself as a successful web designer.
Cynthia, meanwhile, is leading the cause for Filipinos with orphan or rare diseases as president of the Philippine Society for Orphan Disorders (PSOD).
It was a long journey, she recalls. When Dickoy was diagnosed with Pompe disease, joining an organization – more so leading one – was far from her mind.
But things have fallen into place.
From working in corporations and managing family businesses, Cynthia was asked in 2006 if she was interested in joining PSOD, an organization that aims to uphold the primary concerns and welfare of individuals with rare disorders or those that affect less than one in every 20,000 individuals worldwide.
"When I joined PSOD, I realized that we were so lucky because there were other children who could not even go to the Philippine General Hospital for treatment," she says. "This is one way to be able to pay for all the blessings we received, by helping others."
Taking care of Dickoy while he was growing up was not as difficult as with patients with other rare disorders, such as osteogenesis imperfecta or brittle bone disease, says Cynthia.
Now over 40 years old, Dickoy is wheelchair-bound and requiring continuous assistance, including by a machine to help him breathe.
"I think the most difficult thing is when at night, sometimes you think what could happen the next day. What if, for example, we lose him? That would really be devastating," says Cynthia.
However, she says the family, including Dickoy, is prepared for that possibility. "He would always say, 'I am ready anytime.'"
They are hopeful, however, that new research on possible cures such as gene therapy would soon be available.
In the meantime, both Cynthia and Dickoy have been active in supporting others with rare disorders. Recently, Dickoy led the launching of the I Am Rare Scholarship Fund, in partnership with PSOD and his alma mater De La Salle College of St. Benilde (DLS-CSB). It aims to provide financial support to qualified scholars to pursue diploma courses at the academic institution.
"I wanted the same opportunities to other persons with rare disease – to be able to study, to be able to open doors for them, to live productive lives. I can honestly say that if I had not gotten the education that I had, my life would have been harder. And I want others to have that opportunity as well," he said during the launch last March.
"To me, the main difference of what I have right now, of having lived a very happy and productive life, is education… Being able to finish college, having an education, really helped me. It opened opportunities for me in my adult life. And for that I will be forever grateful," he added.
PSOD, under Cynthia's leadership, also signed a memorandum of understanding with the DLS-CSB to collaborate on various programs for people living with rare diseases, including public awareness initiatives, providing access to education for patients and improving the financial capacity of their families.
The organization is also pushing for the full implementation of Republic Act 10747 or the Rare Diseases Act of the Philippines of 2015.
Caring for a person with special needs is more than just a responsibility, says Cynthia. It is also a learning experience. With Dickoy, she notes the many instances she has learned from her son.
"At one point, when I really wanted to give up, he asked me if my problem was more difficult than what he was going through," she recalls. "More than anything, personally, I am very grateful that he gave us lessons to resume our faith, to be accepting, not ask for what is impossible. We just took it a day at a time."
Cynthia urges parents to always support and not limit their children because of their condition, citing her experience with Dickoy who has always found the means to support himself.
"Treat them as normal as possible," she says. "It's really the mindset and attitude that you must be ready to accept things. Yes, you dwell on it for a while, but you have to bounce back."
Dickoy says words will never be enoughto express his love and gratitude for his mother.
"You're the kindest and most loving person I know. You give everything to those you love and even to those you don't. You are loved by all because you love all," he says in his Mother's Day message. "I'm eternally grateful to God that of all the women in the world, he blessed Steve and me to have you as our mom."