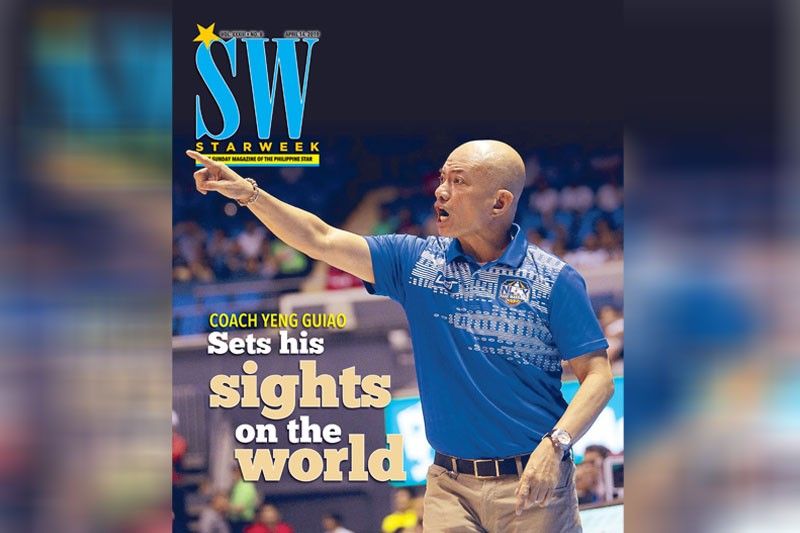 Coach Yeng Guiao:Sets his sights on the world
MANILA, Philippines — After a mediocre showing in his previous stint as national coach, Joseller "Yeng" Guiao had thought he's done calling the shots for the national team.
But he is back, done with the mission for Gilas Pilipinas in the cutthroat competition in the regional qualifier and is now set to embark on a quest to perform well in the 18th FIBA World Cup in China from Aug. 30 to Sept. 15.
The 15-month FIBAWC qualifier was a roller coaster ride for Team Phl, ending with Guiao and his gritty bunch punching a ticket to the world joust for the country only for the fifth time since its inaugural edition in 1950 in Argentina.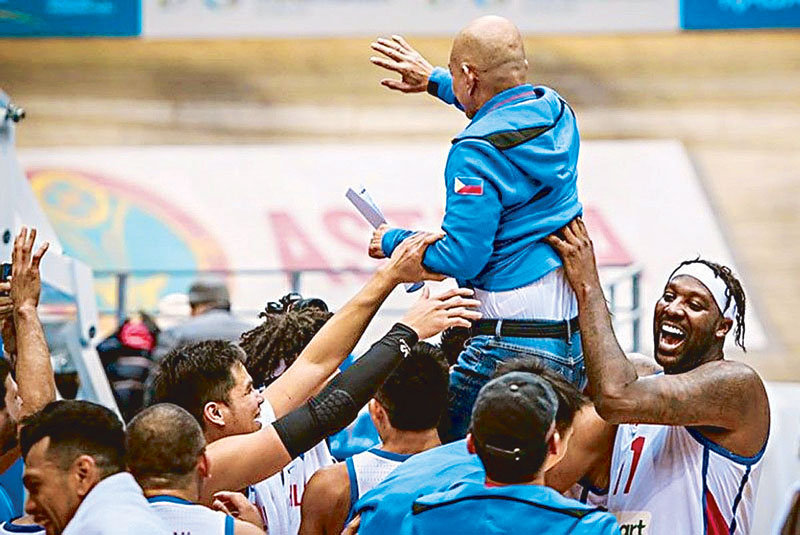 And there was the swelling of pride as the Nationals kept their place among the world's best after the country's return to the FIBA showpiece in Spain in 2014.
In sweeping Qatar and Kazakhstan in the last window of the WC eliminator, Gilas assured the country of three straight World Cup stints since the Philippines is bringing to the region the 2023 edition in a co-hosting collaboration with Japan and Indonesia.
Anything can still happen, but it looks safe to say now that Guiao will be in the saddle all the way through the 2023 conclave.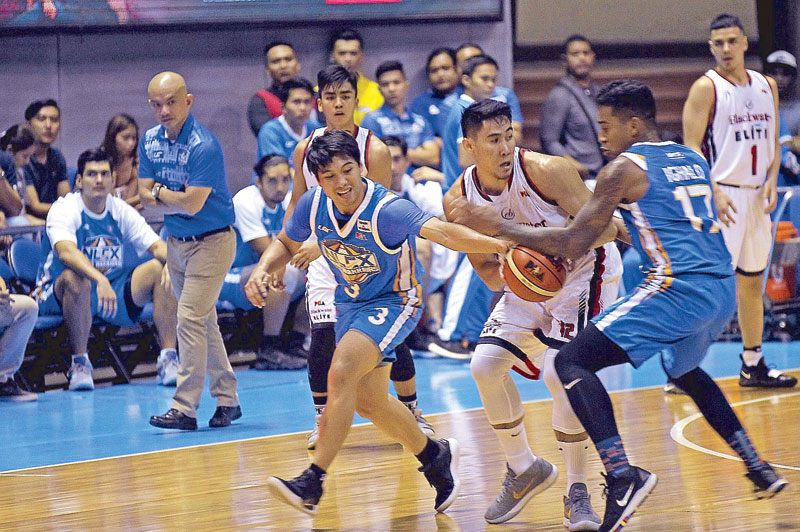 Guiao watches as his NLEX Road Warriors take care of busines on the hard court.
But just his return as a national mentor was a pleasant surprise to Guiao after merely guiding Team Phl to an eighth-place finish in the FIBA Asia Championship in Tianjin, China in 2009. With his team then that included Asi Taulava, James Yap, Willie Miller, Jayjay Helterbrand, Mick Pennisi, Sonny Thoss, Kerby Raymundo, Gabe Norwood, Jared Dillinger, Cyrus Baguio and Japeth Aguilar, they barely made it past the group plays then dropped all their games in the knockout and consolation rounds.
Nine years later, Guiao would get a call to lead a hastily formed team to the Asian Games. And his fate would lead all the way to a World Cup entry.
"It's destiny," says Guiao.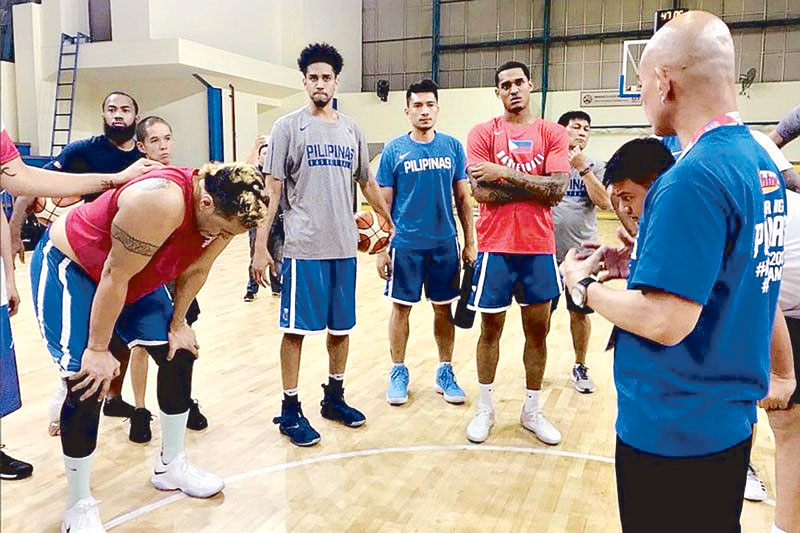 Guiao shows his men that he's still got the moves
"Wala akong kamalay-malay, kaplano-plano (I had no idea, no plan). It all started with the incident with Australia. At that time, I was just an outsider looking in. I never knew I would be in this position when it happened," adds Guiao, referring to the Gilas-Australia brawl that caused severe FIBA sanctions, including the suspensions of coach Chot Reyes, assistant coach Jong Uichico and numerous Gilas players.
That prompted the Samahang Basketbol ng Pilipinas to pull out of the 2018 Asian Games in the Indonesian cities of Jakarta and Palembang before being prevailed upon by a strong clamor to reconsider its decision.
With a few days of preparation, Guiao and his ragtag team performed creditably in the Indonesia meet that, needless to say, became the NLEX bench chieftain's trump card in eventually taking over the Gilas team from Reyes.
"Hindi ko matatanggihan iyon. (I couldn't say no). And it's an honor to serve the national team once again," says Guiao, the fourth to handle the Gilas program after Rajko Toroman, Tab Baldwin and Reyes.
A seven-time PBA champion coach, Guiao then was saying: "I will give it a try. The goal is to make the World Cup. If we fail, I will step down right away."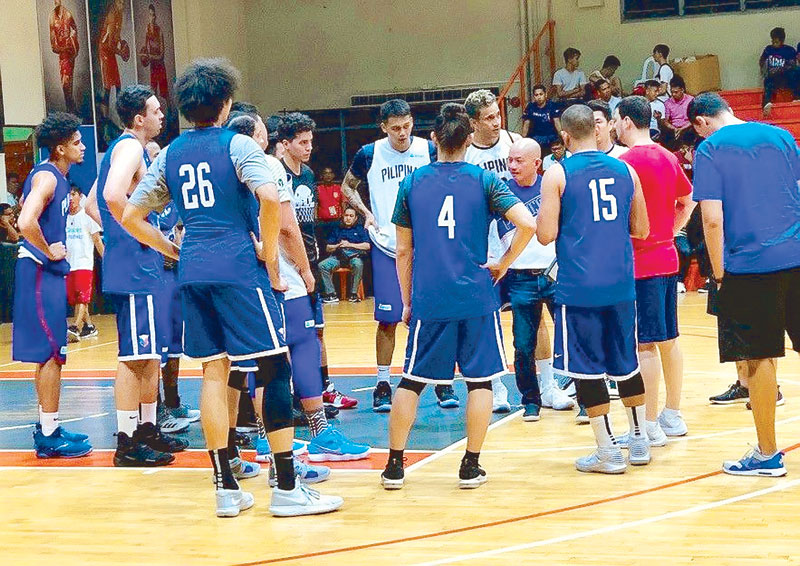 The Gilas coach – and seven-time PBA champion coach – is known for his superb leadership on and off court.
In their success, Guiao credited total team effort – not just from the team but from the people behind it. He expressed his appreciation for the full support of Gilas patron Manny V. Pangilinan, the SBP leadership headed by president Al Panlilio and the Philippine Basketball Association led by its team owners, governors and league commissioner Willie Marcial.
In turn, all these cage officials commended Guiao and his players for a job well done. Guiao was lauded particularly for his great leadership.
"He has his on-court tantrums and notoriety for game ejection every so often, but you can't take away from him his leadership. He brings out the best from his players," says the PBA commissioner.
Ryan Gregorio, himself a PBA champion coach now serving as special assistant to the SBP president, is thankful to be a part of Guiao's team, savoring his experience to be with Guiao in the battle.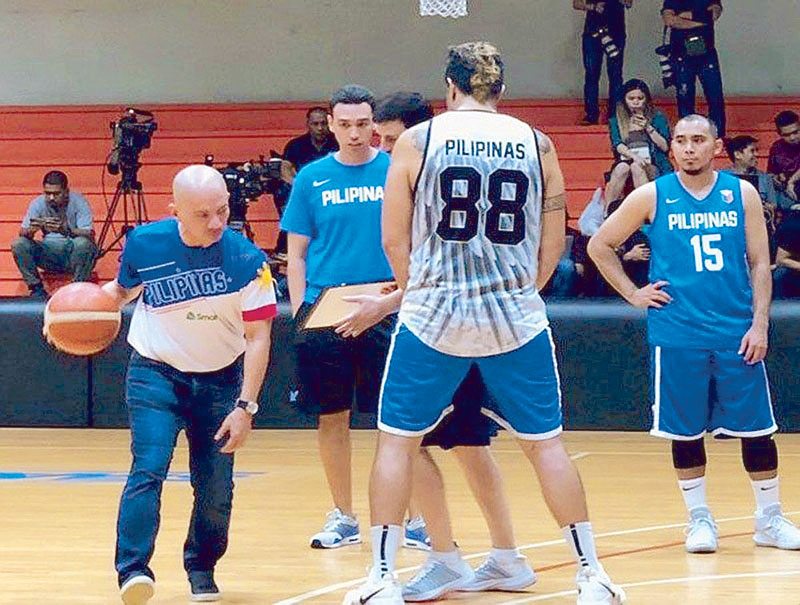 "It goes without saying that his basketball IQ is off the charts. His ability to utilize and bring out the best in his players are things that people rave about. He just knows what buttons to press and unleashes the words that would make the players believe in themselves," says Gregorio, the lead scout in Guiao's coaching staff.
"But what astonishes me the most is his outside the basketball court demeanor. His toughness inside is different from his personality when he steps out. His is an epitome of a servant whose sound bites are consistent with his actions. No pretensions, no discrimination. Members of the coaching staff have a voice in his decision-making," Gregorio also says.
"He takes the pressure off everybody by telling the players and the coaches to just do their best. I remember him saying, 'if things turn out bad, look at me and I will take the blame. If things work out well, I will simply walk away and the credit goes to all of you,'" Gregorio adds.
And everybody says Guiao's humility is worth emulating.
"I will never forget when he said 'I'm just a member of this team and I am not above this team, kung ano ang pagkain niyo, yun din ang kakainin ko (whatever you eat, I'll eat). Kung nasa economy class kayo sa eroplano, nandoon din ako (If you're in economy, that's where I'll be).' Guess what, he walks the talk," says Gregorio.
"We had a trip where one PBA governor missed the flight. We offered the business class seat to the national coach, but he politely declined, saying he'll join his players in economy," says Marcial.
The PBA top honcho says it's also worth mentioning the good rapport of Guiao with the PBA owners and officials, leading to no problem in the release of pro players to the national team.
"He talks to us directly. He discusses things with us, and so we're well aware of his plans and programs. And he accepts the things given him. He accepts the limitations," says Marcial.
Guiao, also a public servant bidding to reclaim the congressional seat in the first district of Pampanga in next month's elections, is admired as an effective leader that builds strong, caring relationships with the team.
"Tatay ko 'yan (He's my father)," one would hear from many of his former players.
"Remember when Rain or Shine offered their team to represent the country in the Asian Games, it came from team owners Terry Que and Raymond Yu that coach Yeng be the one to coach the team even when coach Yeng is already with another team," says Marcial.
Needless to say, Guiao is a winner. He has a knack for developing a new team to a champion squad, doing it with Swift Mighty Meaty, Red Bull and Rain or Shine.
But Guiao humbly plays down all the praises.
Guiao says the synergy between the national federation and the pro league, the effort earlier done by the previous Gilas coaching staff and even the support of the ordinary Filipino basketball fans factored in their successful run.
"I can't take the credit that I brought the team to the World Cup. We just did the finishing touches," says Guiao.
After the Gilas-Australia incident, the Nationals stood with a 4-2 win-loss card as they swept Japan and Chinese Taipei in their home-and-away series, and dropped two matches against Australia.
"Ang laking pabor ang ibinigay sa atin nila coach Chot (coach Chot gave us a big edge), allowing us to commit mistakes. We had a margin of error. We'd been given time to get over the learning curve," Guiao points out.
But Guiao does embrace his Gilas feat as his biggest crowning glory now, bigger than all the championships he has won from his RFM Swift days in the old PABL.
"Hindi kasi isang team lang ang pinaguusapan dito. Buong bansa ang pinaguusapan dito (We're not just talking about one team; it's the whole country). It feels like a championship but probably more than a championship because it brings you to another level," says Guiao.
"At hindi lang NLEX fans o Rain or Shine o Red Bull fans ang napasaya mo, napasaya mo ang buong bansa (And it's not just the fans of NLEX or Rain or Shine or Red Bull, you bring joy to the whole nation)," adds Guiao.
Truly, the nation takes pride in seeing Gilas' glorious moments.