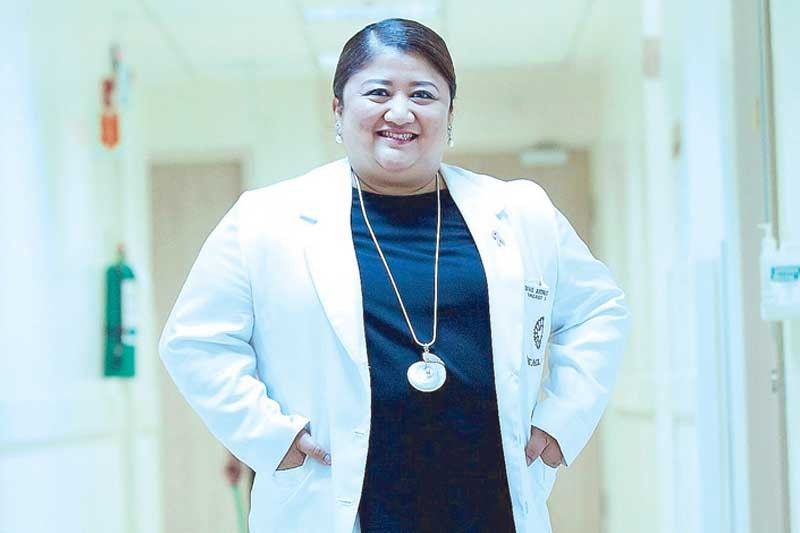 Dr. Aldine Basa established the Breast Centers at The Medical City and the Asian Hospital.
The Breast Center: Making women's health a priority
MANILA, Philippines — With the continuing advances in breast cancer screening and treatment, the illness is no longer the death sentence that it used to be, says Dr. Aldine Basa, who heads the breast centers at two leading hospitals in the country, as she underscores the importance of early detection in saving the lives of women.
Basa established the Breast Center at The Medical City in Pasig City in 2007, and the one at the Asian Hospital and Medical Center in Alabang, Muntinlupa in 2012, focusing on breast cancer screening and encouraging women starting 40 years old to have their mammogram and ultrasound yearly.
"Because we don't know who gets cancer, all of us are at risk. So what we need to do is since we cannot prevent it we want to detect it early," the 47-year-old breast surgeon says in an interview with STARweek.
"Generally if you get diagnosed early, definitely you will not die of that. Early detection really ensures survival," she says.
The Department of Health is encouraging Filipino women to conduct breast self-examination to help detect early stages of breast cancer, the third leading cause of cancer-related deaths, next to lung and liver cancer. "The problem with just relying on self breast exam is you already have a lump before you feel it, so it's already a little bit big and the stage is higher, unlike if you get in on mammogram there's no lump yet so your stage is very, very low so that's the big difference," says Basa, who is married to Dr. Orlando Ocampo, a trauma surgeon.
"That's why a screening program cannot just rely on breast exam, it has to have some imaging," she says. She says it is the responsibility of the government to have mandatory mammogram and ultrasound for women starting at 40 years old.
Based on their annual census, about 90 percent of patients at The Medical City and Asian Hospital are diagnosed with early stage breast cancer. Basa says having a "one-stop shop" which provides all the necessary care and interventions for women with breast cancers increases the number of patients surviving the disease now.
After undergoing the mammogram and ultrasound and the doctors find something in the patient, she can see the doctor right away and be biopsied on the same day. The Medical City and Asian Hospital and Medical Center also follow a treatment plan for the patients. "And that has really changed a lot, and it has changed things for women," Basa says.

It's women power at the Medical City's Breast Center, led by Basa.
"Because of the set up, I've realized that it has made such a big difference in the way women handle the disease and how they have survived. Because now we have seen so many people who have survived the disease," Basa says. "I think so far breast cancer has the best survival rate right now," she adds.
Basa graduated from the University of the Philippines-College of Medicine in 1998 and did her general surgery residency training at the Philippine General Hospital. She attended a fellowship program in breast surgical oncology at the Peter MacCallum Cancer Institute in Melbourne, Australia in 2004.
She completed another fellowship program in breast surgical oncology at the San Raffaele Hospital in Milan, Italy in 2005.
As breast cancer remains the most common cancer among women worldwide, a lot of research has been done in the past several years to increase their chance of surviving the disease, according to Basa.
"The types of surgery have improved. The type of radiation that's been given has improved a lot, and there are so many options now, even the option of doing shorter course radiation," the breast surgeon says. Radiation, which used to last for 32 sessions, has been reduced to 15, she adds.
"In chemotherapy there are lots of new drugs available that are not just given randomly, it's targeted. We do certain tests to find if this tumor of the cancer has certain targets that the drug can specifically hit. Because the treatment becomes more targeted and not just trial and error, more women are surviving," she says.
Basa says patients also have the choice of not having their breast removed, and avail of reconstructive surgery, which can also be done in public hospitals. She says initially, what was done for breast cancer is automatic removal of breasts because of the belief that the disease will recur if not removed.
"Now we have many options available, we now preserve the breasts, that is the standard of care in developed countries ever since. But here the acceptance has been very slow," says Basa.
"You can have the breast removed and it does not mean that your survival is inferior,' she adds. Treatment for all Basa was also part of the anti-cancer coalition, which fought for the passage of the Cancer Control Bill into a law.
On Feb. 14, President Duterte signed Republic Act 11215 or the National Integrated Cancer Control Act, which aims to make cancer treatment and care affordable and accessible. "It's unfair that if you have access to this kind of care you get to live but if you don't, you don't, that is why the cancer bill is such a big deal that we fought for.
Women who don't have money will now get access," Basa underscores."One of the goals of this law is early detection of cancer through screening. So I am happy that it has been passed. Now not just women with insurance or money will be screened, but every woman," she says.
Basa says taking charge of their own health is the first step women can do to empower themselves.
"We all know that women are really the most important part of the family and therefore it is our responsibility to take our health into our own hands. And I don't think it is right that we say that we're too busy with our children, our husbands, with our work, and we make health the last priority, it should be our number one priority – precisely because our family needs us," Basa says.