Putting The W In Tech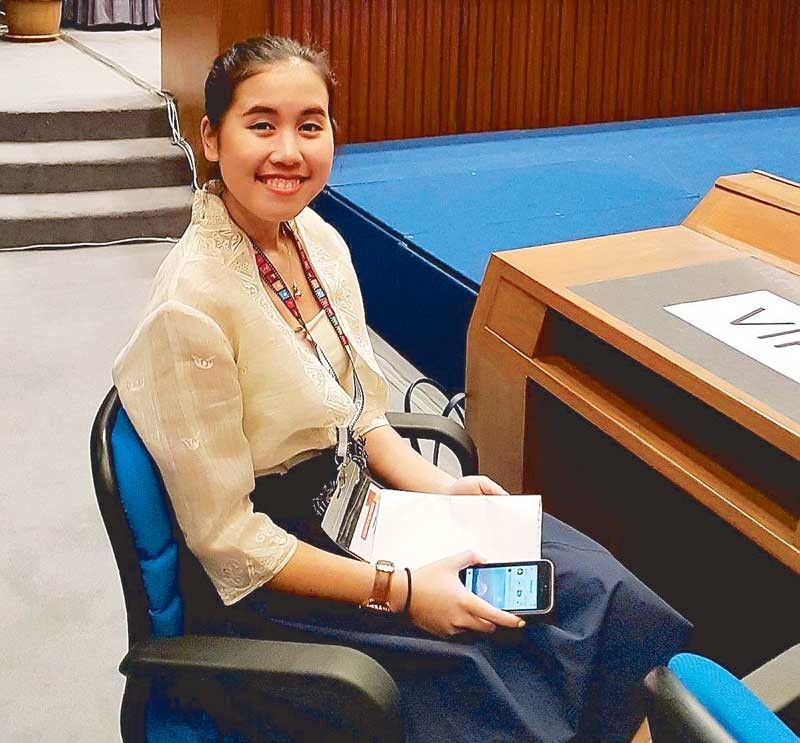 MANILA, Philippines — Traveling as far as to war-torn Marawi City bearing donated laptops, these young girls came not only to teach kids how to code but also help them become productive citizens while breaking gender barriers through technology.
"Unlike other organizations, we acted upon the inequality that lies in Philippine youth living in marginalized areas not having access to tech, therefore not being able to consider it as a viable field," 17-year-old Audrey Isabel Pe, founder and executive director of Women in Tech (WiTech), tells STARweek.
It all started with her love for coding, says Pe, who founded WiTech two years ago when she was a sophomore in high school.
The lack of women in the tech industry also pushed her to start the initiative, instead of waiting for the gender gap to be narrowed.
"I founded it at 15 when I encountered a lack of support in pursuing a career in technology," Pe says.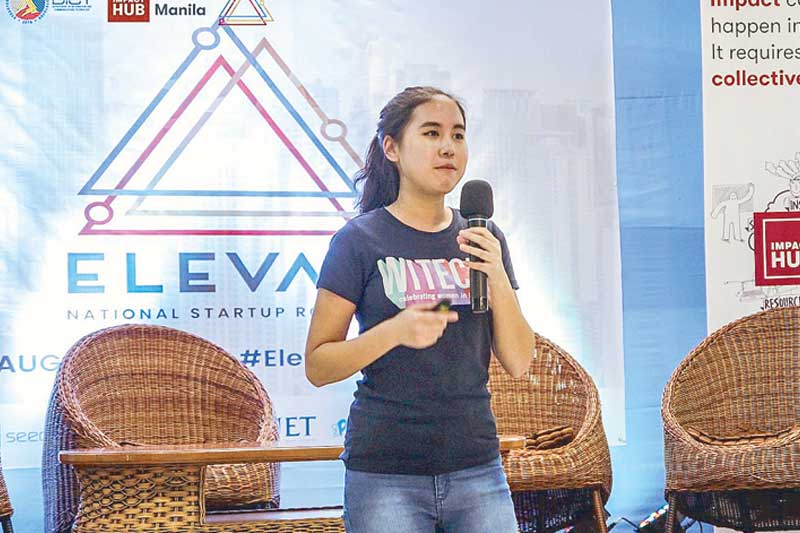 She presents WiTech at the Elevate National Startup Roadshow.
Citing a study conducted by IT organization ISACA (Information Systems Audit and Control Association), Pe notes that only one in four tech workers are women.
The Grade 12 student at the British School Manila was also inspired by Reshma Saujani, founder and CEO of Girls Will Code, a non-profit organization in the US that organizes summer programs for teen girls who want to learn how to program.
She says Saujani's book, "Women Who Don't Wait in Line," taught her the value of being "unapologetically ambitious" in pursuing goals in and out of the tech industry.
She was also motivated by young achievers Nadya Okamoto and Ann Makosinski, who were able to make valuable contributions in their respective countries.
"I was motivated by a lot of TED talks online by teens who started their own organizations or pursued their interests from an early age," Pe says.
TED talks refer to short, influential videos from expert speakers on education, business, science, tech and creativity.
"Besides them, I was really inspired by this need that I felt to do something – anything, really – to help close the gender gap now instead of waiting for adults to take action on a problem that affected me and other aspiring women in tech personally," she says.
"Tech is the future. It's an ever-growing industry that isn't going to slow down any time soon," Pe points out.
"By equipping young women with the tools necessary to code and create, we are broadening their horizons and encouraging them to use tech to make the world better. This could be through pursuing projects like apps or websites and targeting them towards solving world issues. Or, this could be through simply instilling the duty to think and create innovation responsibly," she adds.
In the past two years, WiTech grew from a blog that highlighted women's achievements in technology to a community organization. The team also now includes boys as members and officers.
Apart from Pe, the other members of the WiTech executive team are Marla Abao and Lance Ang, both are freshmen at the University of the Philippines-Diliman; Dominique Trinidad, a Grade 10 student at the Philippine Science High School Main Campus; and Annika Gozum and Cailyn Ong, both Grade 11 students also at the PSHS-MC.
To date, WiTech has more than 40 members from over 10 high schools and colleges across the country.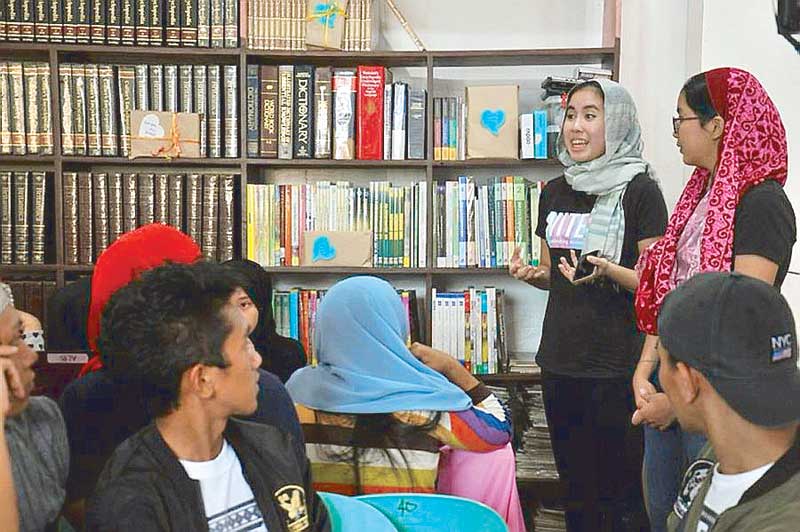 Audrey and her team interact with young people from Marawi and teach them basic programing skills.
Since WiTech's mission is to encourage the youth, particularly girls, to venture into the field of technology, the organization conducts conferences and visits schools to speak about youth empowerment and inspiring stories of women in the male-dominated field.
In March last year, WiTech organized the first women in tech conference for students in the Philippines, which exposed students to workshops hosted by women in fields ranging from food technology to geographic data. The conference was co-presented by Accenture Philippines.
Recently, the WiTech team traveled to battle-ravaged Marawi City to teach high school students of the Mindanao State University basic programming and Microsoft Office.
They donated second hand laptops from a corporate sponsor and created three modules for teachers and students to use to be able to further their programming skills independently and use Microsoft Office for teaching.
"As we fight for equality in tech, we were compelled to travel to the Southern Philippines to bring tech education to students who had never heard of coding. During workshops, we made sure that boys and girls were all learning in a supportive environment," she says.
Through its project WiTalks, the group also publishes videos of women using technology to solve sustainable development goals.
WiTech has received more than $1,000 grant from international women's group Zonta for its projects when Pe won the Young Women in Public Affairs Award – an international award – in her district.
They also get funding from the sale of merchandise made by WiTech's creative department members during their events.
Balancing work and school
Pe acknowledges the importance of her parents' support to the growth of the organization.
"My parents give their full support in that they drive me through heavy Manila traffic and keep me grounded. I can never remember them not supporting my aspirations, no matter how crazy or big they may be," Pe says of her parents Aileen and Oliver, who both work in real estate business.
Asked how she effectively manages school and work, Pe answers, "Because I genuinely love learning and managing WiTech, nothing really feels tedious."
In the next 10 years, Pe aspires WiTech to grow into a global movement with the goals of establishing communities that provide resources for anyone, regardless of gender or background, to learn to code, as well as create platforms to celebrate the achievements of women using technology to make a difference in the world.
"So much of where I am now comes from sending out emails to women I admire, asking questions during talks with hundreds of people and reaching out to people around me for help. The best learning comes from taking risks and putting yourself out there – know that that, along with hard work and determination, will pay off. Lastly, when you anchor your purpose in a cause that is bigger than yourself, you'll find a community of people that will provide endless inspiration for you," she says.