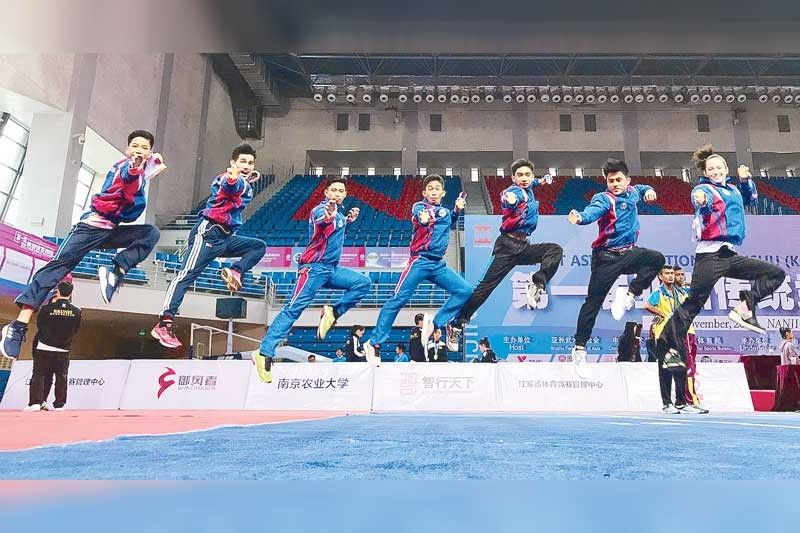 The Philippine team goes aerial at the Traditional Championships in China.
Edu Jarque
(The Philippine Star) - February 3, 2019 - 12:00am
MANILA, Philippines — Agatha Chrystenzen Wong had no escape. Born to former athletes – father was a swimmer, mother played basketball as a hobby – she breathed sports as a child. At the age of three, she got into karate, swimming, ice skating and ballet.
One day, at her grandmother's insistence, she was introduced to wushu. "She saw a poster plastered outside the Philippine Sports Commission's gates that promoted a sports clinic. With never-ending energy and youth on our side, she signed my brother and me up. I was also swimming competitively and doing ballet, so I was juggling several sports in addition to my classes," she shares.
She found her niche in this particular Chinese martial art, and eventually made it to the national team.
Wushu is divided into Taolu – the performance aspect – and Sanda – the contact encounter; and can either be an individual or a team sport.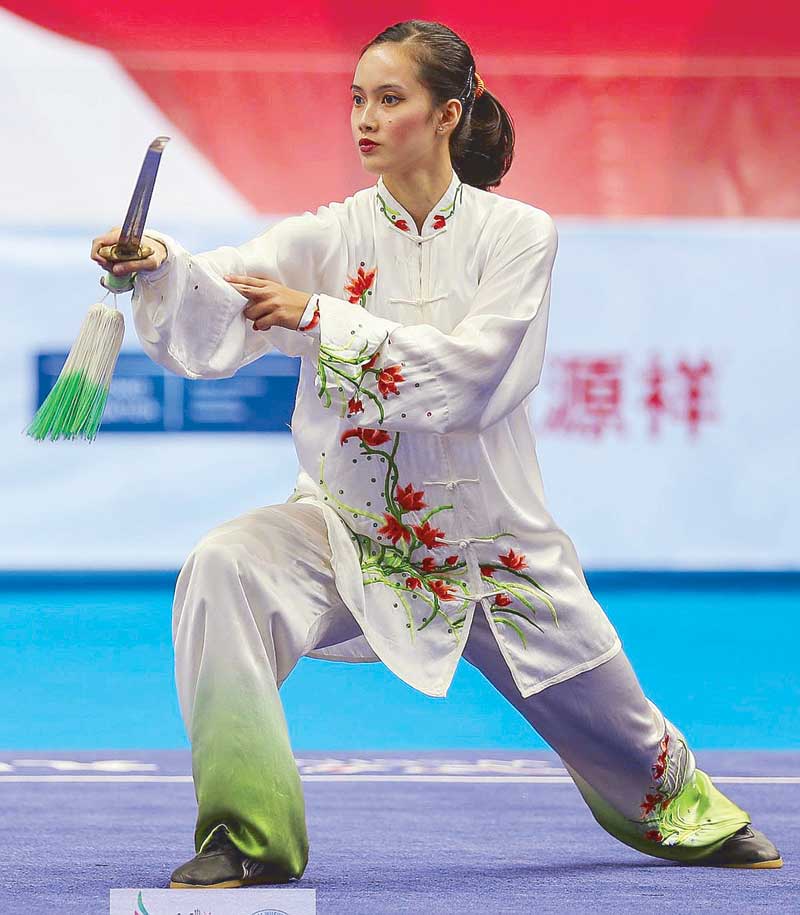 Agatha performs at the World Championships in Kazan, Russia last October 2017.
"I specialize in Taolu, which is further subdivided into the following disciplines: Changquan, Nanquan and Taijiquan. In a typical competition, each contestant positions himself inside the ring and performs his routine with a sword or bare hands, with or without music."
"Scores are based on demerits, brought about by errors under the watchful eyes of judges, who give deductions for each mistake committed. The athlete with excellent balance and foundation, the most polished, well-performed execution, takes top place," she explains.
Ideally, the physique required for this sport is a lean, toned body. To have the necessary strength to jump, punch and kick, one can't be too flexible or too stiff.
"We possess the desired combination of the flexibility of gymnasts and the stamina of swimmers. Wushu shapes a person with perfect harmony, so that as an athlete, the balance manifests both internally and externally," she says.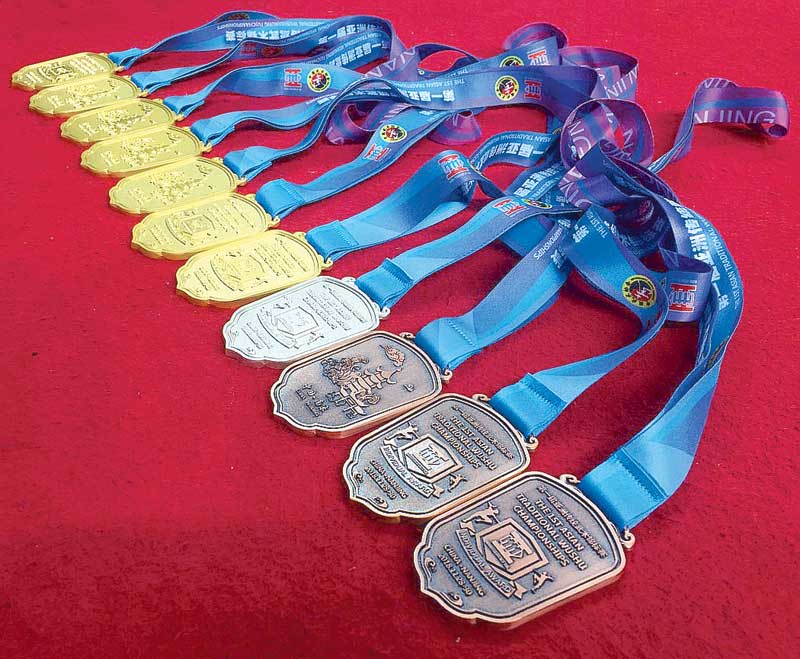 A plentiful harvest for the Philippines at the Asian Traditional Wushu Championships: 7 golds, 1 silver and 3 bronzes.
Agatha was never a big eater; she was, in fact, rather picky. But all that changed when she went to college. Her friends loved food, so she quickly started to catch on.
"I would eat whatever I wanted, and eventually, gained undesired weight. Luckily, as I grew older, I started to learn and see food as fuel. Presently, my diet consists of whole foods. Lots of vegetables, lean meats, healthy fats such as cheese and nuts, as well as complex carbs like brown rice, oatmeal, quinoa – a healthy food py-ramid. At times, I would swap for other alternatives – cow's milk for almond milk."
She admits oatmeal is a favorite. "I could eat it everyday if I could! Creamy oatmeal with fruits and coconut yogurt!" she exclaims.
"As for my essential water intake, I make it a habit to drink exactly 12 glasses on my days off, and more when in training," she adds.
Agatha maintains intensive training all-year-round, even during holidays, six days a week, Mondays to Saturdays, two sessions per day – a total of at least 300 days regardless of whether there is a competition or not.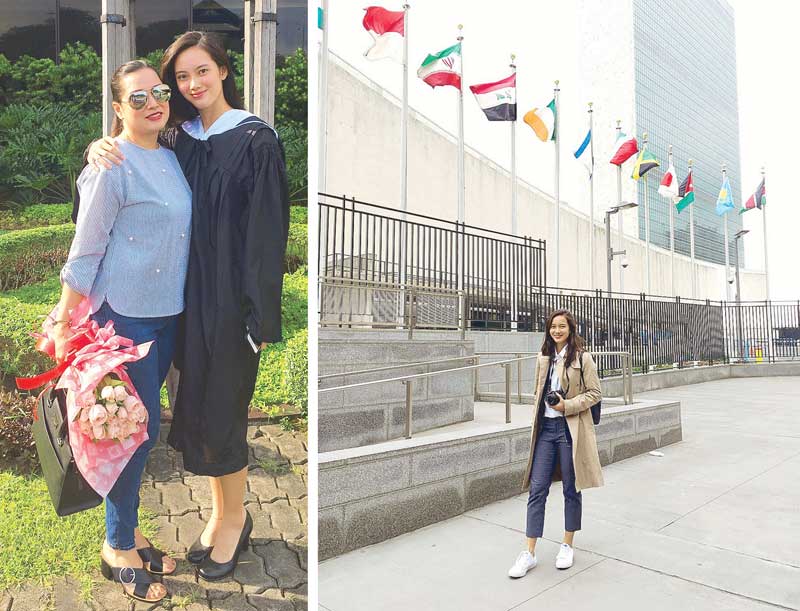 (Left) The graduate and her mother Richie during commencement exercises at the De La Salle-College of Saint Benilde last June. (Right) Agatha at the United Nations headquarters in New York for the 2017 National Model UN Conference.
Despite all the preparation, she confesses each competition is nerve-wracking, but she keeps herself calm and composed by maintaining a healthy mental state.
One of her rituals includes a daily "talk" with herself, even months before the tournament. "I continuously prepare for future pressures mentally. On the all-important day, even when I feel the pressures and the gazes of the audience, they are just like background noise to me."
Each training session starts off with the often-ignored warm up – be it sipa, soccer, or simply jogging – followed by all-important stretching.
"We move on to the basics, kicks and jumps for an hour, and eventually earn a five-minute break for water, before we move on to the form. We perform two to eight whole routines, guided by the coach. We end by conditioning, which starts with push ups, followed by planks, duck walks, frog jumps, using resistance bands – basically anything that strengthens our muscles and maintains stamina," she says.
"We finally cool down by stretching once again to release and prevent the unnecessary buildup of toxins that could potentially form within the muscle fibers. The entire session lasts three to four hours."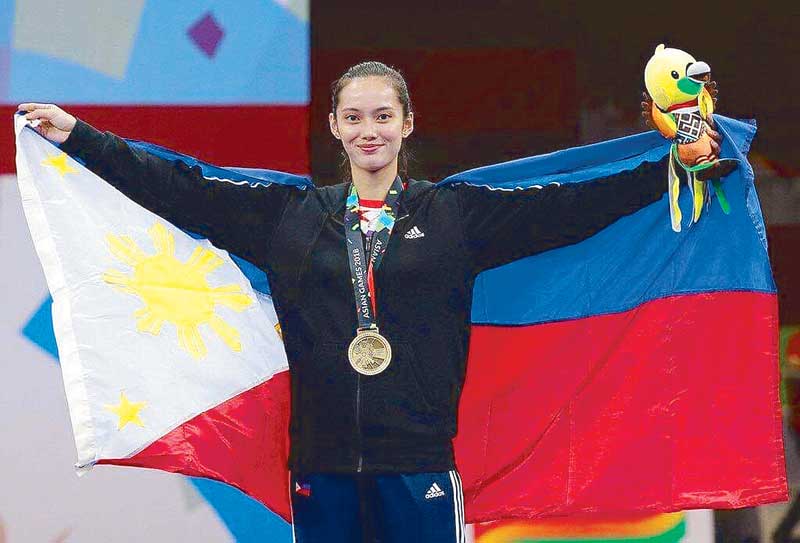 Agatha and her veted medal at the Asian Games 2018 awarding ceremony.
She's blessed with ever-present family support. Agatha gets dropped off by her mom at the venue, while her dad picks her up after practice. "At times my mom would take time to observe me until I'm done."
Sports brings the family together, as her younger brother is currently team captain of the De La Salle-College of Saint Benilde (DLS-CSB) swim team and her baby sister takes up ballet.
And it does not end there. For competitions here and abroad, her father accompanies her. However, both parents share their physical presence when it comes to the prime events.
This journey brought about gold and silver medals at the 2017 Southeast Asian Games, and a bronze distinction at the 2018 Asian Games.
Despite the successes, she still has doubts of not being good enough, not training hard enough and being lazy when she can't afford to be.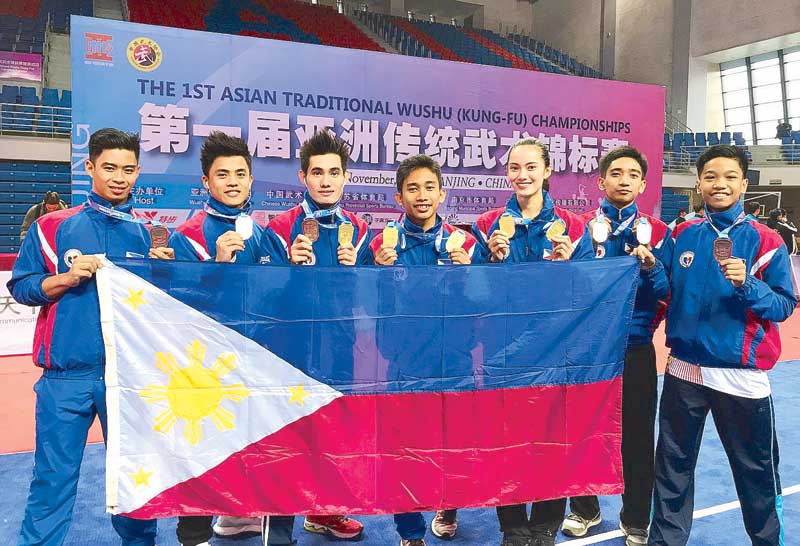 Agatha (third from right) and the Philippine wushu team proudly display the flag and their medals at the conclusion of the Asian championships in Nanjing, China last November.
The athlete relaxes by being alone. "It's actually a form of self-nourishment. I find it quite exhausting when I'm with someone and need to entertain the person, so being by myself is the best way to go."
Agatha likewise enjoys reading on topics such as nutrition, health, self-care and wellness. Otherwise, she enjoys watching Youtube videos that expand her knowledge outside the world of sports.
As for her future career, the fresh graduate stressed that DLS-CSB offered the Consular and Diplomatic Affairs course which is well suited for her, since she travels and meets athletes from different countries.
"The program also gave way to many other opportunities, such as to pursue law, psychology, nutrition, social sciences and others."
Agatha then weighs in with her thoughts on the popularity of wushu – or lack of it – in the country.
"I'm so surprised that most Filipinos have never even heard of such a sport. Taichi, classified under wushu, is one of the most practiced disciplines in the world.
"It's a non-Olympic sport, but the media should focus on individual sports – wushu included – for it takes so much passion and dedication to shine in such a sport. I'm so grateful the Philippine media has begun to focus on individual sports," she notes.
"Hopefully, wushu can flourish within this decade. It won't be long until almost everyone becomes familiar with the sport. And I simply cannot wait for its future to be as bright as it should be," she says with conviction.