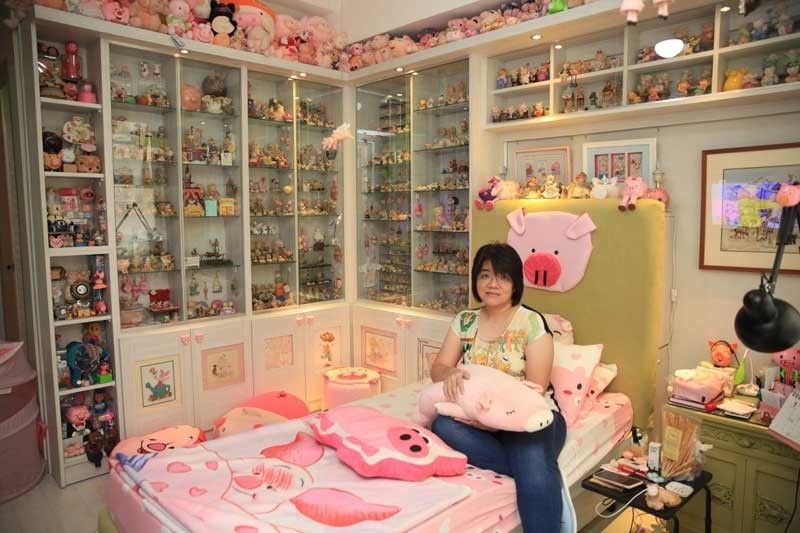 Jean Gosingco in her bedroom, surrounded by just a fraction of her pigs.
STAR photos by BERNARDO BATUIGAS
MANILA, Philippines — Outside Jean Gosingco's condominium unit, a doormat with a pig design is a hint of what's inside. However, nothing can prepare visitors for what is in store when they step into her home – Jean's 3,500-piece (and counting!) collection of all things pig.
The collection is not just limited to a few display shelves, not even one room. Rather, it spans Jean's entire condo unit.
The walls are lined with glass shelves displaying every imaginable pig figurine, from tiny porcelain piglets to hefty wooden ones. There are cabinets and bins shaped like pigs, with more pig items – bags, shoes, slippers – inside, creating pig-ception.
Jean's bed is covered in a pig bedspread; the windows are covered in pig window stickers; the hamper is topped by a pig head, ready to gobble up used clothes – pig-themed, too, of course.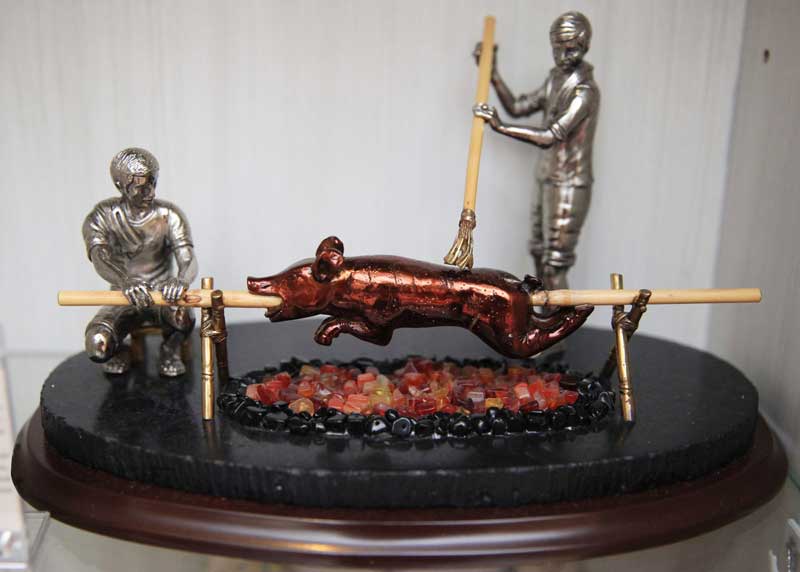 The sculpure Ang Maglelechon is one of the most expensive pieces in her collection.
Her bathroom has a pig shower curtain, obviously, but it does not end there. The shelves are full of pig-shaped soaps. Even the shower head has pig ears.
The condominium's living room proudly displays some of Jean's favorite pieces. "I wanted my favorites here so everyone can see them," she says, though she finds it very difficult to choose which one is her most favorite.
The living room is also filled with various seating options – a sofa with pig throw pillows that Jean changes depending on the occasion; there are two cushioned stools, one pink pig and one blue, that Jean had custom-made; there are heavy wooden bench piglets as well. Her landline phone is pig-shaped and oinks instead of ringing.
Another room is filled with more figurines. Jean has children's toys from the nostalgic Porky Pig and Miss Piggy to their modern-day counterparts, Peppa Pig and even a complete set of the green pigs from Angry Birds. She also has items that are more geared towards adults like novelty underwear and condoms, still with the pig theme.
Even her household help's room and bathroom are decorated with pigs. "Nakakaaliw (amusing)," Ate Inday says when asked what she thinks of Jean's collection.
The kitchen displays everything pig from mugs to toothpick holders, plates and kitchen utensils. Most of them are unused, Jean says, since they are all part of her collection.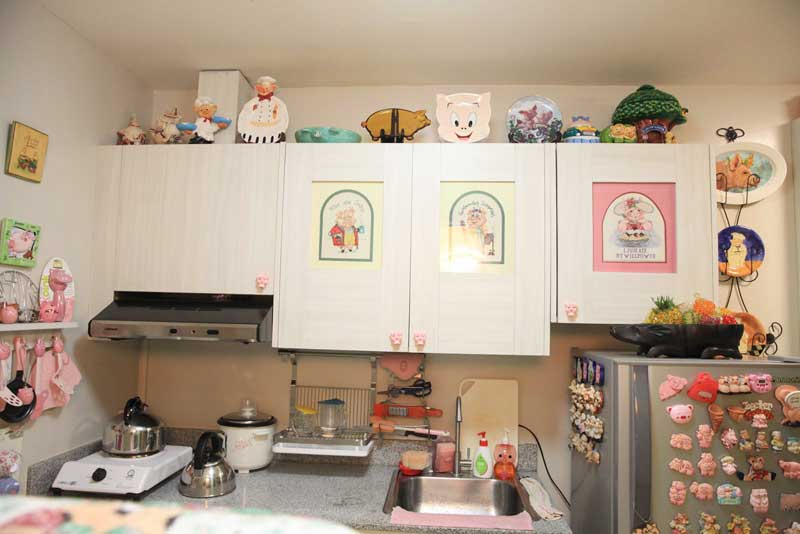 Pigs are displayed everywhere you look: from refrigerator magnets and kitchen utensils to sofas, stools and benches, even the bathmat and shower curtain.
On the day that STARweek visited, Jean had just come from Starbucks, where she bought their newly-released Year of the Pig merchandise.
Naturally, the refrigerator is covered with pig magnets. If you are curious about what's inside the fridge, Jean admits that she does eat pork. One can say, she loves every part of the pig – both inside and out.
"This is 36 years in the making," says Jean. Her fascination – or obsession – with pigs started when she was in high school. She can't really remember which among the thousands of pigs was the first, but the collection started with a gift from a friend. She found the pig so cute – and the rest is history.
Over the years, more friends have added to Jean's collection. She has pieces from every place she or her friends have visited, including the US, India, Budpest, China, Japan, Korea and more.
As a student, Jean would save up her allowance to buy two things – pig items and Martin Nievera albums (she is his biggest fan, she says). She notes with delight that this coming Chinese New Year on Feb. 5 is also Martin Nievera's birthday, making the day extra-auspicious.
Everywhere she goes, Jean is on the look out for her beloved pigs. "They have a way of finding me," she adds with a laugh.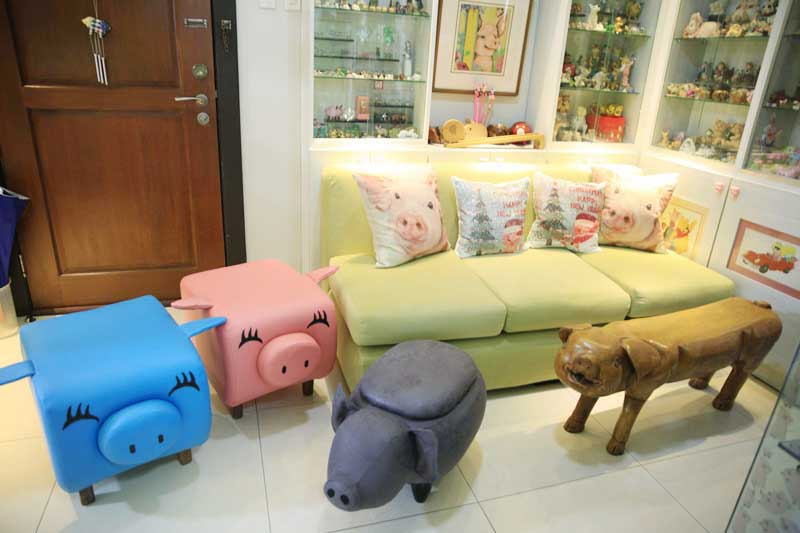 If she can't find a certain piece, Jean makes her own. She is an award-winning crafter and has made pig pieces in cross-stitch, paper tole and beading, among others. "When I learn a new craft I start with a pig design so I'm motivated to finish it," she says.
Jean moved to her pig-themed home only in September last year. She decided to move out of her family home after her parents passed away and the house felt too big for her to be living there alone.
Jean had stopped working in 2013 to take care of her mother who had breast cancer. She also took care of her father who became sick with liver disease and passed away in 2015. Her mother passed away in 2017.
As she points out various pieces in the room, Jean spots one that she realizes is a favorite. It is a solid wood carved pig given to her by her father. He was not the type to give gifts, she recalls, and he was not fond of traveling. But when her father made a trip to China, he brought back the very heavy figurine for Jean's collection. Marveling at how difficult it must have been to bring it home, Jean holds this particular pig dear among the 3,500 others.
With her new home, Jean has created her well-deserved happy place. Her main goal was to create a space where all her pigs could be displayed. It was a challenge for the interior designer, she says. They had to come up with creative ways to house the massive collection. One innovation is cutting rectangular holes into the cabinet doors to frame Jean's many pig cross-stitch works.
Unpacking the collection five boxes at a time, Jean says it took her and the designer almost a month just to sort out the pieces for display. Already, she is thinking of having more shelves installed for the growing collection.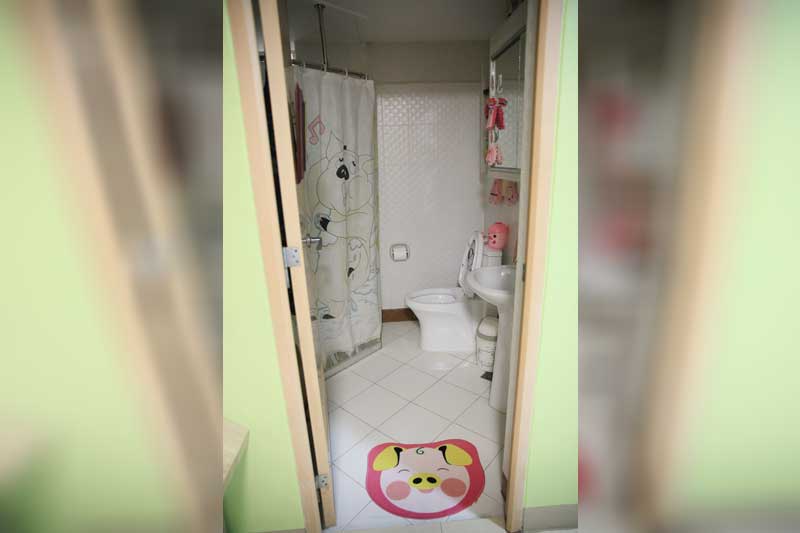 Her new condo unit is definitely not a pig sty. One thing pig-related that Jean refuses to do, though, is to take care of a real pig. "I just like looking at them," she says with a laugh.
"This is my happy place," she says, adding that if she wakes up on the wrong side of bed or comes home tired after a long day, seeing her pigs puts a smile back on her face. "Surround yourself with what makes you happy."
As the Year of the Pig approaches, Jean clarifies that her fascination with pigs is not related to any superstition or belief, nor feng shui. It simply makes her happy.
For Jean, pigs stand for prosperity and contentment. When asked for her New Year's wish, she answers immediately, without hesitation: "Of course, more unique pigs for my collection."