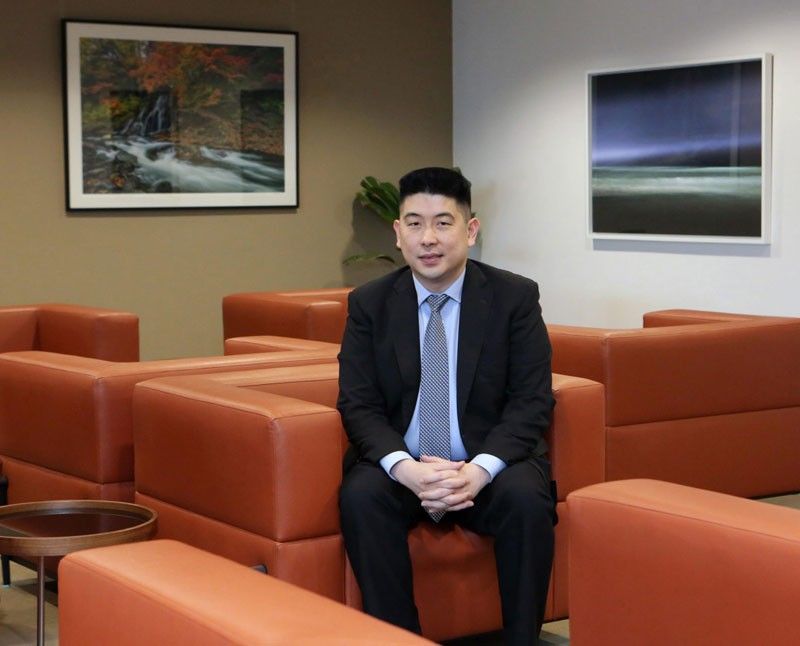 Edgar "Injap" Sia II founded Mang Inasal when he was 26 years old. He later sold it to Jollibee Foods Corp., making him the country's youngest dollar billionaire.
Ernie Peñaredondo/STAR
Iris Gonzales
(The Philippine Star) - September 16, 2018 - 12:00am
Burgers, pizzas, pastas – there were already more than enough choices in the fast food landscape. Giant malls, hulking cinemas and five-star hotels were also aplenty, as first- and second-generation tycoons have long established their respective empires around the country.
But this did not deter a man named Edgar "Injap" Sia II from dreaming of making it big, too. The key was to think of how to navigate through industries that already had established players.
It's almost like when one's favorite circus comes to town. The people love it and they've become used to it. And then here comes the newcomer with his own circus – not necessarily grander and bigger, but with performances and magical acts unique enough to get the crowd to watch him, too.
Injap – this nickname comes from his being instik (Chinese) but looking like a Japanese – is the legendary businessman who put up the iconic Mang Inasal chicken barbecue chain. He later sold it to Jollibee Foods Corp., a move that would earn him a place in business history as the country's youngest dollar billionaire. He is now 41 years old but he was 26 when he started Mang Inasal.
After Mang Inasal, he founded DoubleDragon Properties Inc., a partnership with Jollibee founder Tony Tan Caktiong.
And the rest, as they say, is history.
"I look for gaps and fill that," he tells STARweek in his sprawling new office in Pasay City, a stone's throw from the Mall of Asia arena.
It started 15 years ago in 2003. Injap was a young man from an entrepreneurial family of Chinese descent.
"I was 26 years old then and I was scouting for a business that I can start. The criteria is that I had to do it myself and that it should be something that can be expanded nationwide," Injap says.
He started to examine various industries and tried to find gaping holes.
It was then he realized that the fast food industry then had no Filipino chicken barbecue chain and it was also something that would not entail big start up capital, as franchising could be a possible route to expand.
Fast food was the comfort food of the masses and Injap wanted to ride on that business.
But it wasn't easy.
He didn't think he could do something nationwide. But he thought that if others could do it, maybe he could do it too and build a business that would be present all over the country.
"I got the confidence from a text challenge. At the start, you feel you don't have what it takes to excel nationally, but that's not true," he said.
In 2002, he came across a Nestlé's newspaper ad announcing a nationwide contest where a brand new Honda Civic sedan would be awarded to the participant who would submit the most number of replies via mobile phone text messages to a number of survey questions.
Injap sought the help of a friend who agreed to help him win the contest in exchange for a fee and a bonus of an upscale Nokia phone, then worth around P10,000, if they win.
His friend helped him with the text entries, especially at night when there was a lull as most participants were texting during the day.
With the strategy and the hard work, Injap won the contest.
Winning the contest was an important turning point for him. It gave him the confidence to compete on a nationwide scale.
"If I hadn't joined the contest, I don't think I'd be able to gain the confidence I needed to even try to compete against the whole country," Injap wrote in his book "Life Principles."
Why Mang Inasal?
Inasal is barbeque in Ilonggo; Injap was born in Iloilo.
"We just wanted a simple name that would sound very Pinoy and something that would sound OK and that would possibly have good recall. Mang Inasal means Mr. Barbeque," Injap explains.
He had a good concept. The next step was to have a logo.
"The logo of Mang Inasal was just done by a local printer one afternoon in 2003. I went to their shop in Iloilo and sat beside the graphic designer for a few hours as we tried to work on the logo. After about two hours the logo was ready. I think the design fee for that logo then was P500," Injap says.
He borrowed P2.4 million from his father who agreed after he explained his plan and unique concept. He repaid the loan in less than a year.
In 2010, Mang Inasal caught the attention of JFC due to its fast growing business and the food giant acquired a 70-percent stake of the barbecue fast-food chain operator as part of continuing efforts to beef up its business portfolio.
In 2016, JFC acquired the remaining 30 percent stake. JFC paid P5 billion in total, catapulting Injap to his place in business as the youngest billionaire.
Now, Mang Inasal has grown by leaps and bounds with some 500 outlets across the country. He does not wax sentimental that the company is no longer his. It was envisioned to outlive him, he says, like a child whom your raise and nurture to be able to conquer the world.
Injap is now focused on DoubleDragon, a property company he founded with Tan Caktiong, and how it should navigate the property industry dominated by giants. It has community malls, hotels, office towers and industrial leasing sites.
In all, the company has a target to complete a leasable portfolio of 1.2 million square meters by 2020.
This will comprise 700,000 square meters from 100 CityMalls; 300,000 sqm from its Metro Manila office projects such as the DD Meridian Park and Jollibee Tower; 100,000 sqm from the planned 5,000 hotel rooms of Hotel 101 and JinJiang Inn Philippines and another 100,000 sqm industrial space from eight CentralHub sites or the industrial business segment across Luzon, the Visayas and Mindanao.
These segments fill gaps that existing giants either failed to see or deliberately ignored because they were already too big.
These days, Injap is enjoying the fruits of his hard work. He is contented with what he has but intends to continue growing his empire so that, like Mang Inasal, it can also outlive him and make a positive impact on the lives of others.
There were many lessons along the way. Tenacity and grit are just among these life lessons.
Grit, he says, is the stamina to sustain continuous sacrifice in the face of continuous difficulty.
And hard work and discipline should always be present, Injap adds.
As a child, he knew the value of hard work. He and his siblings often spent weekends and summers working – like the rest of the employees – in the small grocery his father put up in Roxas City.
And when one is ready, it is important to dream big dreams but at the same time learn to be content with less so that one can reach contentment before one can even achieve one's dream, he says.
Injap's life principles are nothing unique but the difference is that he walks the talk and abides by these values.
And that, clearly, is what brought him to where he is now. The young boy born in Iloilo 41 years ago has grown to become a fire-spewing dragon that has taken on giants in this country. But he does not forget his roots and also believes in helping others along the way.
That's Injap, a benevolent dragon and a tour de force.