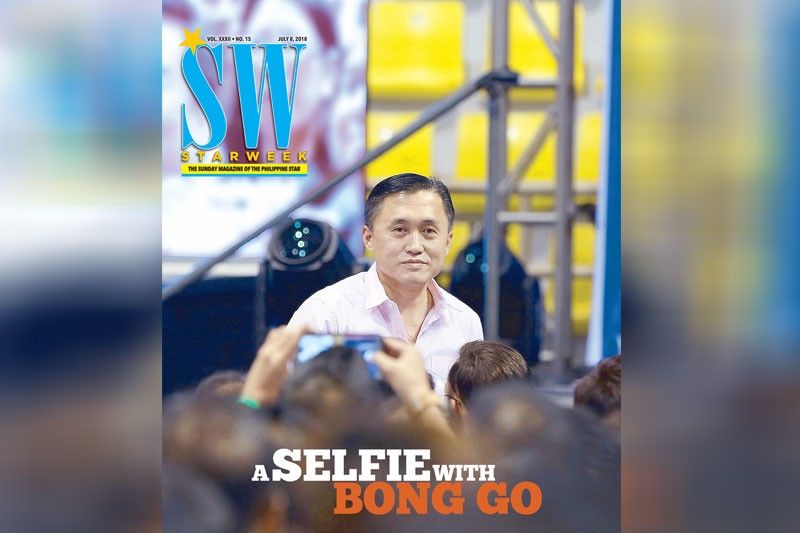 MANILA, Philippines — Before anything else, we had to ask: Is he running for the Senate next year?
"Papasa Diyos ko ang lahat (I'll leave everything to God)," he tells STARweek.
Special Assistant to the President Christopher "Bong" Go is an enigma. The perception is that he has the most glamorous of jobs, being at the center of power, always just a step away from the President – earning him the title pambansang (national) photobomber – and meeting world leaders, even having selfies with them.
And there is also the idea that Go has the power of a little president, being unarguably the one closest to President Duterte. Nobody goes to the President without passing through Bong Go.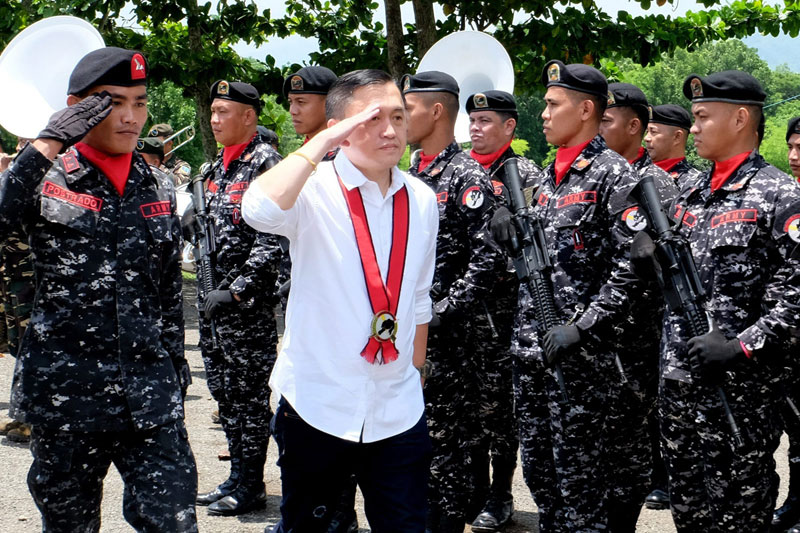 Special Assistant to the President Bong Go at the Joint Closing Ceremony of Scout Ranger Course Class 204-2017 and Scout Sniper Course Class 24-2017 where he was presented with the Scout Ranger honorary badge. Malacañang photo
But being the so-called "gateway" to the highest official of the land is not an easy task, requiring very special skills, skills that Go has perfected through nearly three decades of working with the mayor, vice mayor, congressman and now President.
Go admits that he does not own his time anymore, especially since Duterte assumed office as President last June 30, 2016.
"My breakfast, lunch and dinner are all work. My priority is work and the day depends on where our schedule would take us, meaning where the President would be for the day," he tells STARweek.
Go stresses that what is important is to make sure that wherever the President goes, everything will already be in place, including concerns with the Presidential Security Group, protocol and all other details.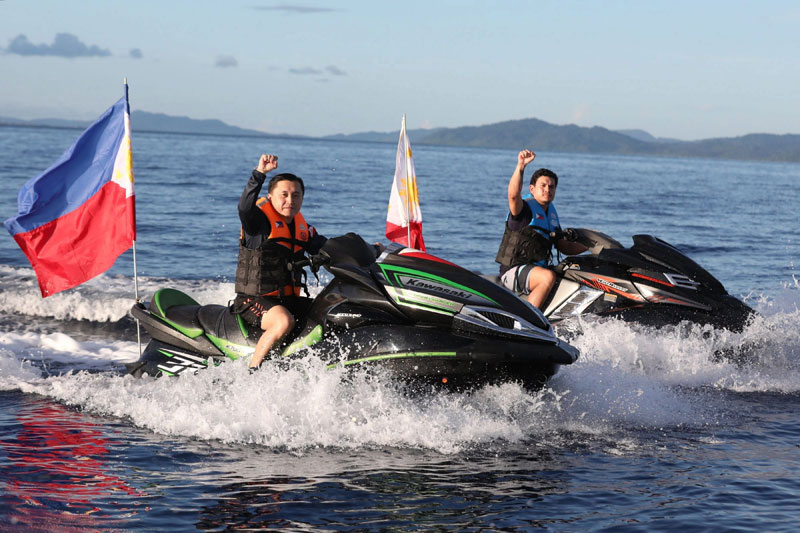 Go jetskis with Baste Duterte in Casiguran, Aurora
"Ito ang pinaka-importante – ako naman kasi ang gusto ko pagpunta namin ni Presidente sa isang lugar, parang plantsado na, wala na siyang ibang gawin kundi magsalita na siya, lahat ng kailangan sa lugar na iyon prepared ko na (The most important thing for me is that when the President goes to a place, everything is prepared, all he has to do is speak)," he explains. "For example, noong mayor pa siya, kung ano yung serbisyo na gusto niyang dalhin doon, ready na at magsalita na lang siya (when he was mayor, whatever service he is bringing to an area, it's ready and he just has to speak)."
"That is what I do even now that he is already President. It's a wider coverage now with many staff and with all the resources, but I really make sure that everything is in place," he says.
Go admits to being a perfectionist when it comes to his work, and he likewise requires perfection from his staff. "Perfectionist ako because I do not want to fail in my job. Sumasama ang loob ko pag nagkaroon ako ng failure sa trabaho (I feel bad when I fail)," he explains.
He notes that he has been going about his job without fanfare, away from the limelight. "I just do my job, without publicity, without media."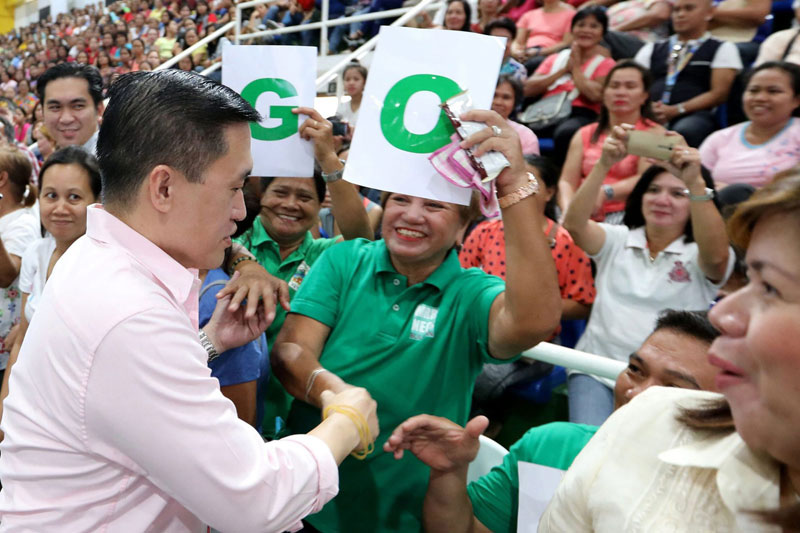 He greets the crowd during the oath-taking of newly-elected barangay captains of Region IV-A in Sta. Rosa, Laguna
But all that has changed, especially since he has lately had to go places and attend events representing the President.
"Etong nakikita nila sa akin ngayon nagkakaroon ng publicity kasi naninibago sila sa akin, na ako na mismo ang lumalabas, ako na mismo ang gumagawa, so yon ang pinagkaiba. Besides, hindi na rin kaya ng Pangulo puntahan lahat, kaya (What I'm doing now gets publicity because they are surprised that I am the one handling these things personally, that's what's different. Besides, the President can't attend everything, so) now they see he sends me to represent him," Go explains.
What most people do not know is that Go is the President's memory bank. "I am the kind who remembers things and I remind my staff of even the smallest details," he says. "Grabe ang memory ko, kaya nga kahit si Boss kung magtatanong siya, 'O ano nga ang nangyari noon?' (My memory is sharp so when Boss asks me, 'what happened then?') I have to backtrack."
Thus Go keeps tab of the President's activities and every other detail that comes along.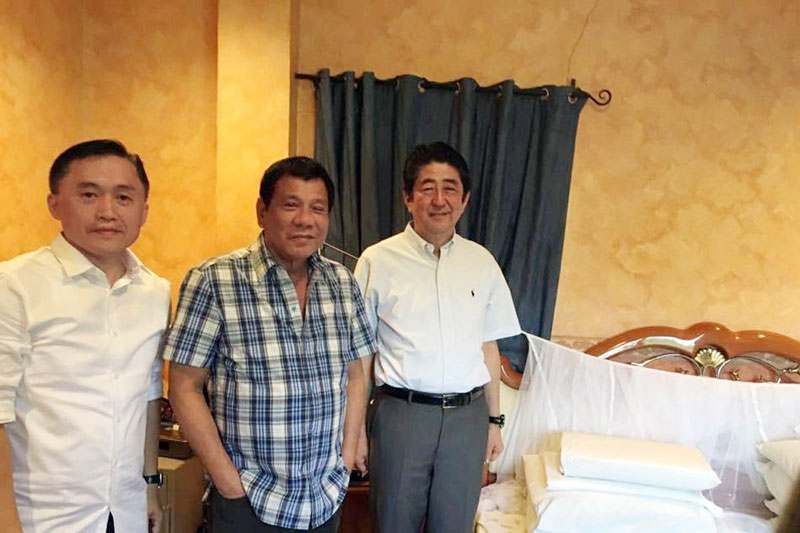 SELFIE MUNA : Go with Japanese Prime Minister Shinzo Abe and the President at the latter's home in Davao;
"Ako yung pinaka memory storage talaga ni Boss in terms of his work and even his personal life. So, what I do for him, about 50 percent sa office, the other 50 percent is his personal, day-to-day life," the Palace official further says.
Go says there is really no need to ask the President everything, especially small things, so people usually seek his advice. "Even now at Malacañang, with Executive Secretary (Salvador Medialdea) and others, kasi ako yung nakakaalam kung ano 'yung ayaw niya at alam ko kung ano ang gusto niya (since I know what the President likes and does not like)."
And that extends to Duterte's personal staff. "So, even sa katulong, sa nurse niya, security niya, even the drivers, they really ask me. Even the caregivers of his grandchildren, they really ask me," he shares.
All that because he simply does not want to further stress Duterte. "Alam ko ang tama at mali para kay (I know what's right and wrong for the) Boss. Ayaw ko lang ma-stress pa si Boss sa mga bagay-bagay na maliliit so ginagawa ko na lang (I don't want to stress the Boss with small things, so i just take care of them). I don't want to burden him to think of such small things, small details," Go adds.
Surprisingly – or maybe not so – Go has not missed a single day of work. "I have never been absent in my work with him. I never called in sick, like saying that I have fever or diarrhea. Wala talaga, not even once, wala talaga. Even when I'm limping I do not show it to him. There was a time that I was limping as a result of my getting injured in a basketball game, but still I did not show it to the Boss," Go tells STARweek.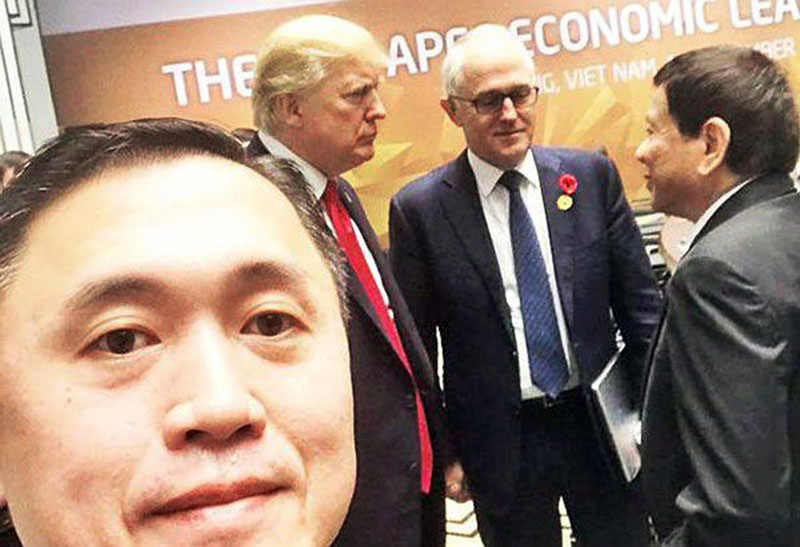 A selfie photo- bombed by US President Donald Trump
But he admits he does gets sick, but he still shows up for work. "I have never used the term 'I am not feeling well' in the years that I have been with the Boss," saying he is "overtaken by shame" to excuse himself and be absent.
He does, however, take special note of the President's health, especially the frequent trips that he takes. "Lipad kami dito, alam ko medyo kaya pa ng katawan niya (We fly here and there. I know his body can take it). Aside from his immediate family, ako yung the only other person aside from his physician na inaalam ko talaga (who takes note of) his health." Thus he keeps that in mind when he manages the President's schedule.
Go reveals he wakes up ahead of the President and sleeps later than the President, who is known to be a nocturnal creature whose days usually start at 2 p.m.
"I am used to it already, I am adjusted to it and for the past 20 years, adjusted na ako diyan, with his body clock, his working time. Ako dapat ang mag-adjust sa kanya (I should be the one to adjust) because he is the Boss," Go says.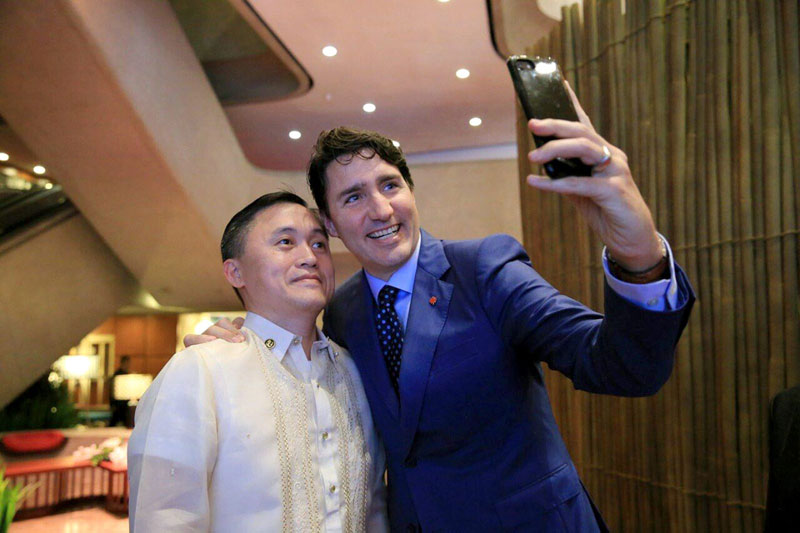 Taking a selfie with Canadian Prime Minister Justin Trudeau.
It isn't all work though for Go, who manages to take time to play basketball every now and then. Go says his fondness for basketball started as early as when he was seven years old, and now he is still very much into the game.
Go remembers in the early 1980s frequenting Araneta Coliseum to watch Philippine Basketball Association players like Atoy Co. Whenever he was in Manila he would also go to Ultra, bringing pomelo from Davao City for his friend, the late Wally, who always gave him complimentary tickets.
"But what was funny was every time I watched basketball games at the Ultra, I would be seated at ringside at the start of the game. But when it was already nearing the end of the game, by 9 p.m., I would already be seated in the highest part of the bleachers, since I would be asked to transfer at least five times because my ticket was only complimentary and no seat was alloted," Go shares.
Another stress reliever – although very rare these days – is for him to go to the beach so he could breathe some fresh air. He also jetskis, and reveals that because of this he was able to save the family of Agriculture Secretary Manny Piñol from the floods, as well as other families in Juliville 2006 and another incident in Jade Valley, Dec. 22, 2017.
Go took up management at De La Salle University – high school was spent at La Salle Greenhills – then got a BS degree in marketing from Ateneo de Davao University.
If he were not working for the President, Go muses he would be in his family business and farming.
He joined Duterte's staff in 1989 after the mayor's aide Jimboy Halili died of a heart attack at age 39. Go admits he took note of that age, wondering if what happened to Halili would also happen to him.
But thankfully, now 44, Go is still at the side of the President. He has two children but admits, "we seldom see each other." He says they are busy with their studies – one of them is a valedictorian and dean's lister – "Pag visit ko sa anak ko, nagaaral naman parati at nagmamadali (When I visit my kids they're always studying and in a hurry)." Besides, "they understand my work na for the past 20 years."
Not surprisingly, Go considers Duterte his mentor, and his inspiration. "Marami akong natutunan sa kanya. He really is my mentor. He is more experienced than me, kaya kung ano yong sinabi niya, kung ano yong wisdom niya, yon ang sinusunod ko (that's why what ever he says, what wisdom he shares, that's what I follow)," he says.
If there is one thing he learned from his Boss, it is interest in public service. "Ang natutunan ko lang talaga sa kanya ay ang interest in public service and his love for the Filipino people. The most important thing is love for your fellowmen and love for the Filipino people, serving the Filipino people and his interest always for the Filipino people. And that is also what I follow now."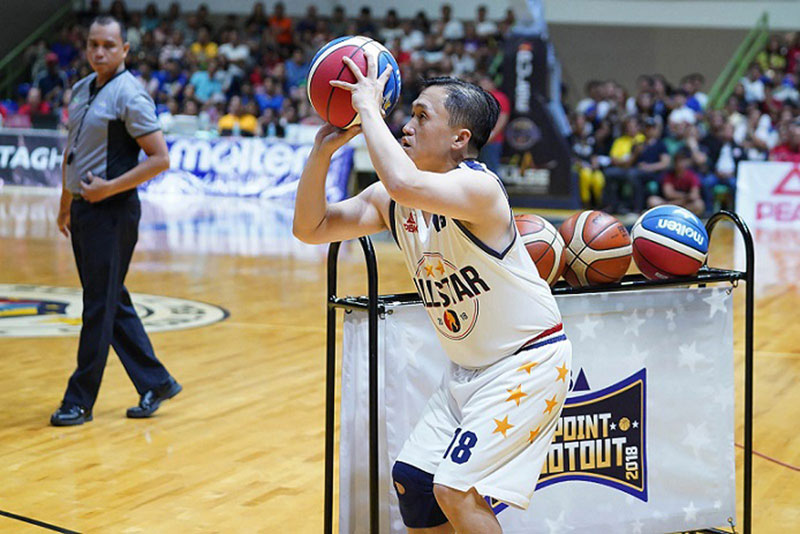 Basketball is Go's go-to sport when he has some rare free time.
"My inspiration really is the President, his sincerity in serving the people. Whenever he says something, he really does it. Pagsinabi niya, talagang ginagawa niya," Go tells STARweek.
It's not just the work and matters of state that Go shares with the President; there are light moments too.
"When he starts talking about the past, I know that is already his light moment. The President is fond of telling stories about his past experiences, especially when he meets new friends. The President usually shares his past experiences and then he asks me to corroborate his story and then we laugh. That is the time that the President is more relaxed – when he talks about his past and not the present."
Past and present, from Davao to Manila and the capitals of the world, Bong Go has been by Rodrigo Duterte's side.