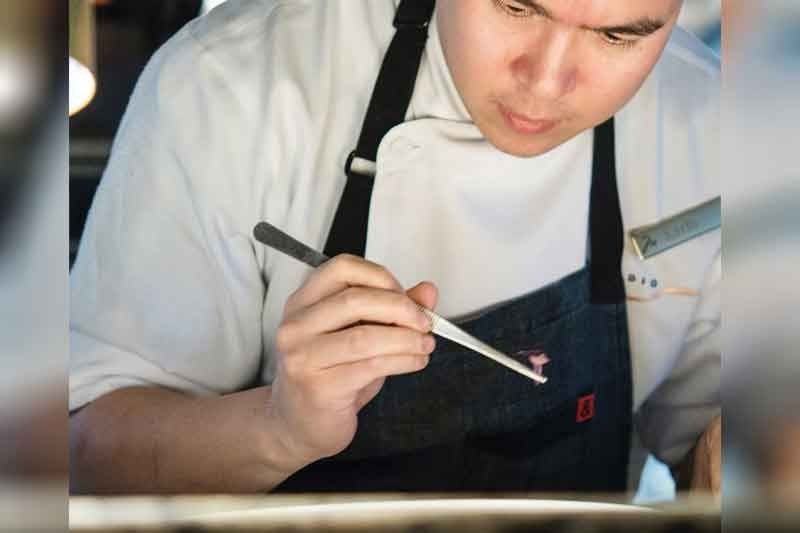 Chef Karlo Evaristo adds the finishing touches to his platter.
Edu Jarque
(The Philippine Star) - July 1, 2018 - 12:00am
MANILA, Philippines — For every plate that comes out from the kitchens of Studio, an innovative fine dining restaurant serving Californian-French cuisine in Laguna Beach, we are never sure whether to eat it or just look at it, simply because it is picture perfect and definitely looks too good to even be touched.
The talented gentleman behind these masterpieces is the rising social media sensation Karlo Evaristo.
Chef Karlo has carved a name for himself through his impressive collection of photographs on delicate plating on Instagram account @karloevaristo, which currently has over 47,000 followers.
Originally from Manila, his parents moved to Bacolod City, where he was born and raised as the second of four siblings.
In the '90s, his family opened Aboy's Restaurant, a simple yet everyone's-favorite bistro of traditional household recipes. Locals brag that Aboy's is synonymous with Bacolod, claiming that you haven't been to their city if you haven't dined at Aboy's.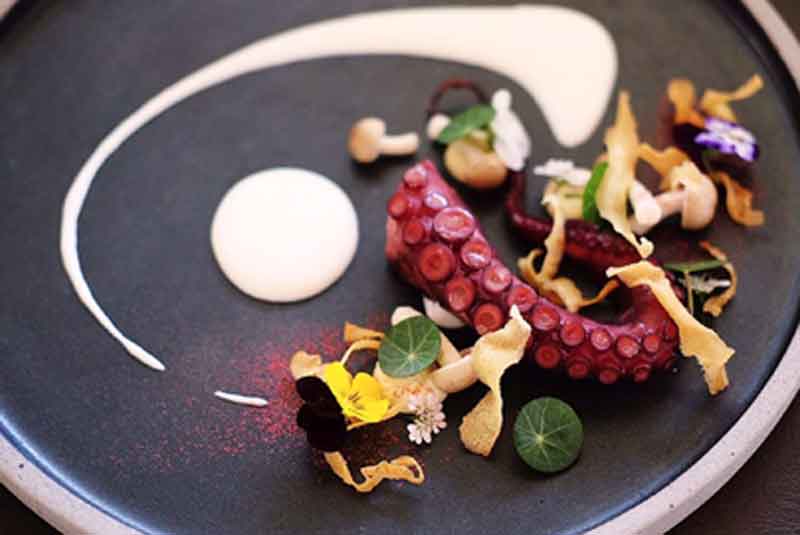 Chef Karlo's dishes are a feast for the eyes and the stomach. The chef's artistic plating has garnered him over 47,000 followers on Instagram. Photos from Karlo Evaristo's Instagram
Growing up in this milieu of cooks and pots and pans, the budding Instagram star gladly succumbed to his daily environment and pursued continuous education in the culinary field, graduating with a Bachelor of Science in Hotel, Restaurant and Institution Management from the De La Salle-College of Saint Benilde in 2006, a diploma course at the International School for Culinary Arts and Hotel Management in Quezon City in 2007 and then the accelerated culinary course at the Culinary Institute of America at Greystone in California.
Though he has been surrounded by gastronomic experiences almost all his life, Karlo discloses that it was only recently that he finally discovered his true calling.
"I do love eating, but it's not til recently that I found the beauty and fulfillment in cooking, and making people happy through food," he shares.
"I wasn't really into fine dining until I landed a job at Studio. It's all about exposing yourself with the right nurturing mentors. And here, my advisers uncovered something in me that even I didn't know existed. They encouraged me to venture out to do what I really love," he continues.
Chef Craig Strong, one of his guiding lights, successfully trained him not only to become a better cook, but to be a better person, who seriously values staff organization and sanitation in the pursuit of his icon's battlecry: harmony.
Karlo's cooking style is largely spontaneous. He does not keep or follow recipes, and finds appeal in the evolution and balance of flavors in the dishes that he prepares.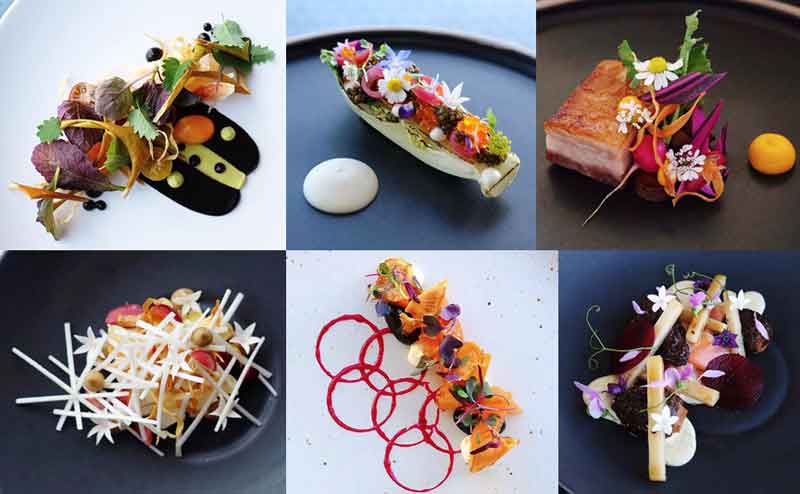 "Tasting while cooking will give you an idea of how much or how little you need of a certain ingredient," he says.
In time, he has learned to keep records of his creations via pictures – and this is where his interest in photography started.
"Capturing snapshots indoors with my phone camera during dinnertime just did not yield excellent results. So I began practicing my shoots outdoors with the shining sun," he narrates. "I then explored the idea of getting an actual camera – a DSLR – and never looked back."
Soon, his hobby was integrated into his workplace due to another serendipitous event.
"It happened one day. I snapped one of my dishes, and the chefs and sous chefs all noticed and commented on the composition, contrast and framing," he recalls.
This gave him the push to continue his craft. "That inspired and encouraged me to continue to improve, which meant practicing and trying almost daily, even during my breaks. I'm at the point of loving it so much that I would rather plate something up than do a meal."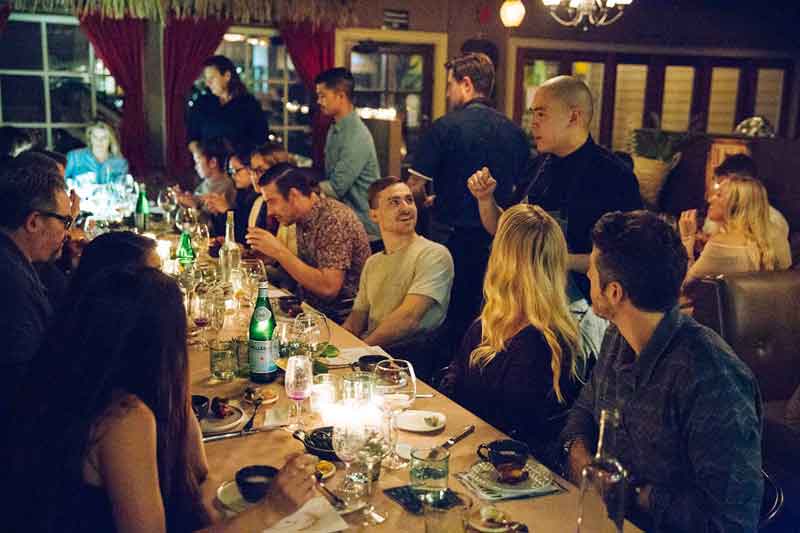 The master chef explains his creations to the diners.
The IG influencer believes that in this day and age, the presentation through plating is an essential and integral part of the entire dining experience.
"It is definitely not as important as the taste, but social media has blown all this out of proportion – instant sharing of your menu choices is almost a ritual now for a lot of diners. And as cooks, I deem it's our duty to share our best, to present our dishes as visually appealing as possible. The saying 'you eat with your eyes first' has never been truer."
For each individual element on the platter – whether they are edible or not – Karlo says each component is meant to add a unique effect to each meal, in addition to being savored and enjoyed.
For influencers, he is gratefully to chef Strong and his former sous chef Scott Livingston."They saw the passion in me and assisted in developing my skills. That I will cherish for the rest of my life." he admits.
His idols include culinary industry top dogs such as Rene Redzepi, Thomas Keller, Daniel Humm, Christian Puglisi, Corey Lee, David Kinch and Andre Chiang, to name a few. "It takes a whole lot to get up there and, most importantly, to remain at the top. It involves drive, dedication and tons and tons of hard work."
Thus, Karlo – who looks forward to puttering around the kitchen with his currently two-year-old son Lorenzo – wishes his chef heroes could taste his inventions. "When I see them admiring my creations, I would probably cry my eyes out. It will confirm that I am capable of nearing their accomplishments. And that's an incredible feeling."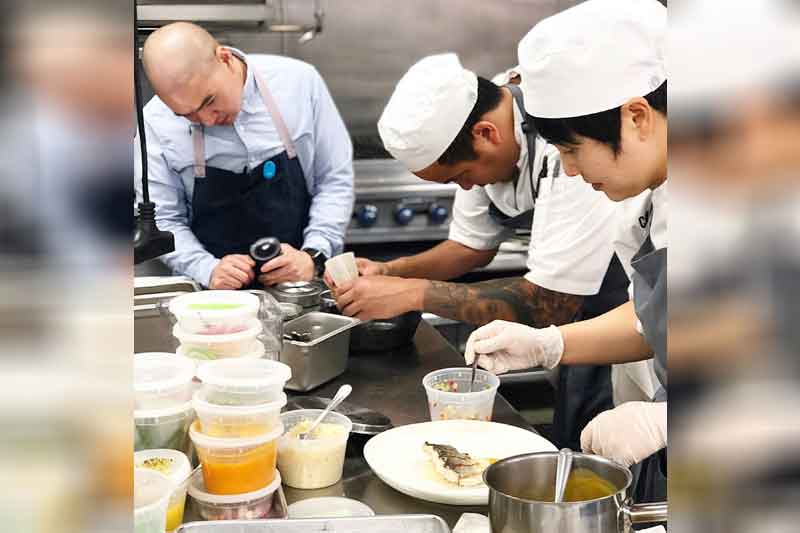 Karlo (left) gives a class at a culinary school in Orange County, California.
The common table salt is his favorite ingredient, for it makes everything taste better. His preferred plates are products of Humble Ceramics, and Felt and Fat Ceramics, both US-based artisanal earthenware producers. Meanwhile, he has a small obsession with handmade kitchen knives, arguably the most important tool in his kitchen. "The beauty of having a blade specifically made for you just appeals to me."
He has grown to love the delicious, comforting and affordable Mexican food, for it is always prepared with pride and love. "That's something I revere with my whole heart," he enthuses.
In addition, he has a soft spot for Korean barbeque. "It's fun, it's inexpensive, and you can eat loads of it."
With the inspiring motto "Always get better, never settle," Karlo has this advice to all who wish to pursue a similar career path.
"Be aware of the realities of working in a kitchen. It's pretty intense. It's stressful and can be very brutal at times. Before you decide on this profession, be reminded that it will, without a doubt, become a lifestyle – cooks don't have much free time outside the kitchen. We work laboriously long hours, and we have shifts during weekends and holidays," he warns.
If he did not pursue a culinary career, he would probably have become a musician, for music was his first love.
"I've been playing the drums since I was in Grade 6, and was active in bands throughout college. I think I could have been good at it, if I only had the resources that musicians have today. It was difficult to find good teachers and informative books. But now you can just go on Youtube and have free drum lessons within seconds. You can even pause, rewind and repeat. It's very convenient. I didn't have that luxury before," he regrets.
Come August, Karlo together with chef Jared Ventura and bar director Brad Fry will open and operate ADIA (Instagram: @restaurant_adia), a never-before-done pop-up restaurant concept in the Orange County and Los Angeles area in California, which aims to spoil discerning taste buds with mouthwatering treats in strategic sites of note.