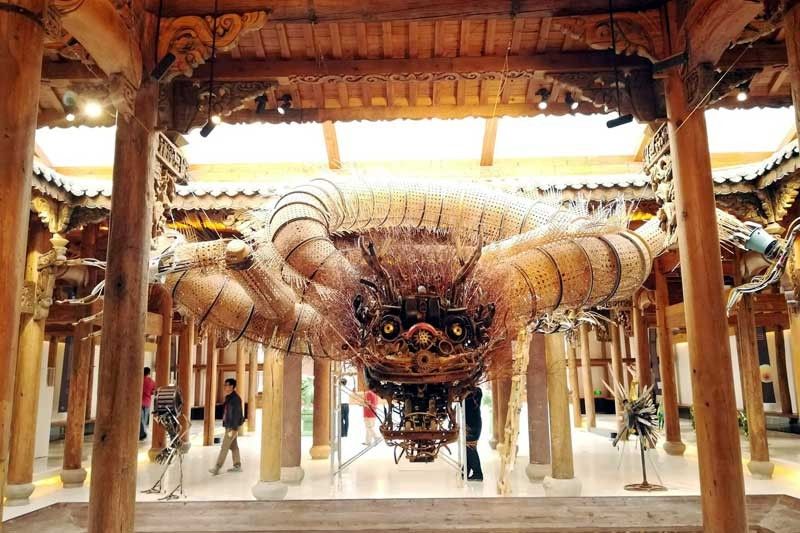 Artist Lin Xudong's "Teng Long" which uses junk from past movies of Chinese superstar Jackie Chan, on display at the Longzi River Cultural Industry Quarter.
Ghio Ong
(The Philippine Star) - June 10, 2018 - 12:00am
MANILA, Philippines — Advanced technologies are driving companies in Anhui province in eastern China to take the "smart" path, updating and upgrading manufacturing processes and at the same time being mindful of their impact on the environment.
Anhui province – with a total land area of 140,200 square kilometers, it is the country's 22nd largest province – is located in the Yangtze River Delta, beside the more developed provinces of Zhejiang (where the city of Shanghai is found) and Jiangsu (its capital Nanjing was the national capital during part of the Ming Dynasty).
Some of the cities in Anhui had been established as far back as 7,300 years ago, making history an important part of the province's journey to prosperity.
Coal primarily drives Anhui's economy, with the presence of numerous plants that use coal to produce electricity.
At first glance, Anhui can be considered a developing rural province. In cities, traffic jams are non-existent, as only a handful of cars pass by, even on major roads. Residents till the land and dry their produce right on the lightly traversed road.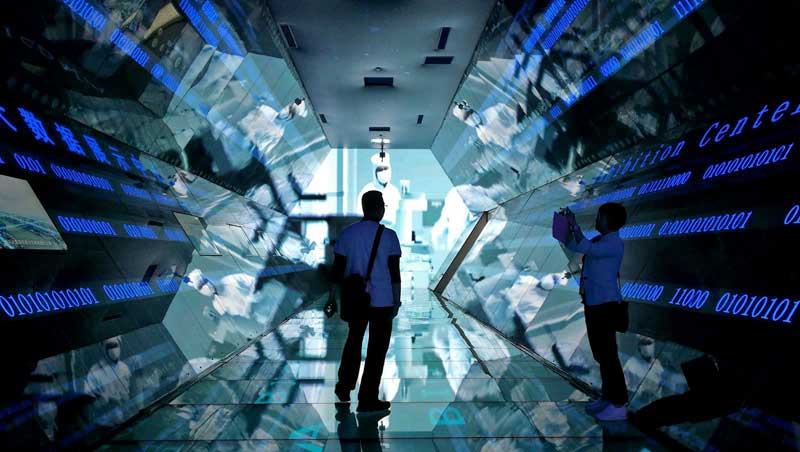 A hall full of LED screens inside the Big Data Exhibition Center in Huainan City, Anhui province.
But it is fast catching up with urbanization. Construction of buildings is is at a frenzied pace everywhere. Six of the province's 16 cities – the capital Hefei, Lu'an, Huainan, Bengbu, Suzhou and Huaibei – are cradling manufacturing sites owned by some of China's top companies.
These cities have established their own industrial parks covering huge tracts of land and are investing hundreds of millions of renminbi in infrastructure and facilities.
Most of the companies utilize advanced technology in their manufacturing processes, making them "smart" enterprises that also aim to promote environmental protection. With support from both the local and national governments, these companies continue to strive to be at the forefront of science and technology research and development. By promoting such innovations, they are hoping to attract more investors and create more business partnerships.
Media organizations from the ten member-states of the Association of Southeast Asian Nations (ASEAN) – including STARweek – witnessed how these companies make their production more efficient by using "smart" technology, including robots.
Anhui Haofang Electromechanics Co., Ltd. located in the city of Bengbu is using around a hundred robots to produce and clean the electromagnetic clutch for vehicles, its main product. With these robots, the company can produce up to 1.2 million pieces of clutches a year, supplying car brands like Mercedes Benz, BMW, Cadillac and Nissan.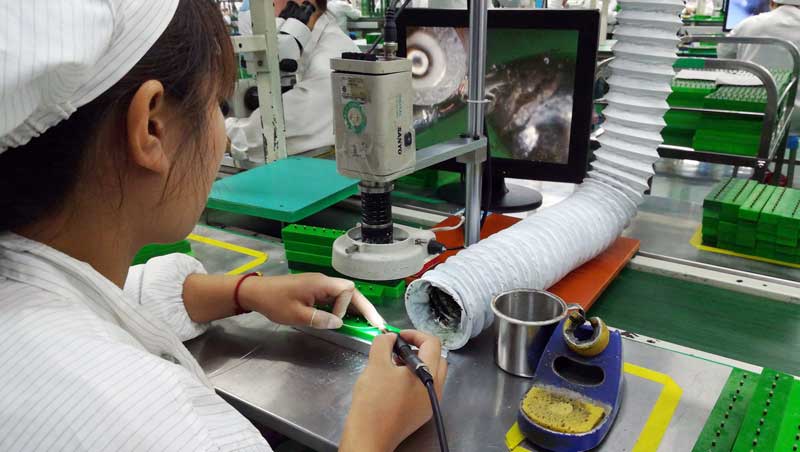 A viewing machine aids a worker in cleaning up micro-motors in K'OTL factory in Huaibei
Belle Footwear (Suzhou) Co., Ltd. – with 35 semi-finished product lines and 17 finished product lines – is using scanners that can measure foot size which would be used as basis for the custom-made shoes the company manufactures. The shoe-making process could take up to six hours, with the entire process – from cutting the leather to testing durability of all parts of the shoes – being run by computer-controlled machines.
The company put up its research and development center in the city of Suzhou in early 2016 to conduct research on the following fields: human foot data base; using radio frequency identification technology for its products; leather cutting; 3-D printing technology, among others.
In addition to its thousands-strong manpower, Jinlong Machinery and electronics Co., Ltd. – with its factory found in the city of Huaibei – also utilizes computer-controlled machines for even the most meticulous parts of their work, like assembly of small parts.
This mechanism makes them the top supplier of 4 mm x 10 mm micro motors – commonly used for the cellphone's vibration function – for well-known Chinese cellphone companies like Huawei, Vivo, Oppo and Xiaomi.
On the other hand, some companies have set the goal of promoting environmental protection and preserving cultural heritage as well. JEE Automation Equipment Co., Ltd. – through its 500-strong employees – is doing research on technologies to produce lighter car bodies and parts using aluminium alloy, magnesium alloy, carbon fiber and other lightweight materials.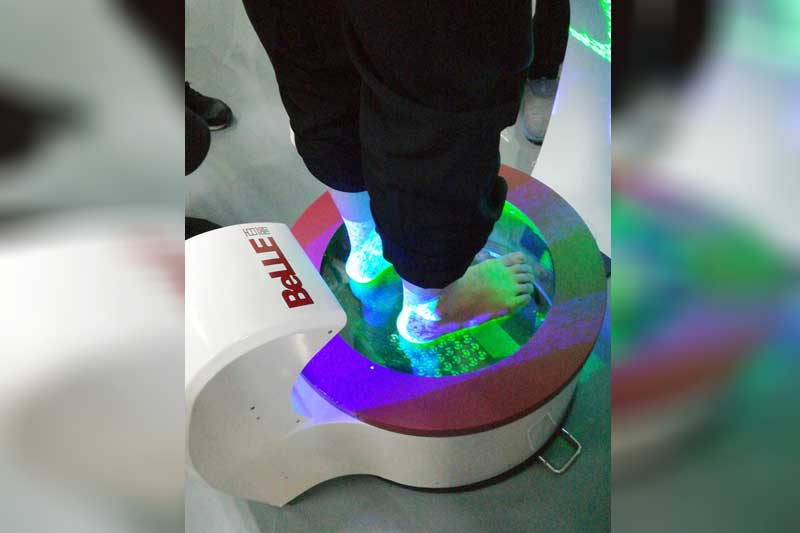 Scanners are used to measure the feet at Belle Footwear's research and development center in Suzhou.
JEE's goal is to produce lightweight and environment-friendly cars, said JEE's assistant general manager Tang Wei. "If the weight of the car is lessened by 10 percent, emission of carbon dioxide can be reduced by five or six percent," he pointed out.
The company would reduce the size of the components and also change the materials used in car body production, he said. Meanwhile, in the city of Bengbu, the Anhui Tiansheng Industries Development Ltd. Corp. is currently in charge of the construction of the Longzi Lake Cultural Industry Quarter, a project that rescued about 450 ancient Chinese houses and temples, mostly Hui-style, which had been around for hundreds of years.
The project would also see the creation of six man-made lakes, all to be finished in three years.
The project aims to become a cultural and commercial center in the city with the heritage houses to be used as museums, hotels and bars. This includes a museum dedicated to artworks made of junk previously used in the movies of Chinese superstar Jackie Chan. Its centerpiece is "Teng Long," a massive art piece of a dragon made of used reels, chains, lights, bicycle bodies and bamboo mats made by artist Lin Xudong.
Moreover, another park is planned to be built in the city of Huaibei – the Green Gold Central Lake Project.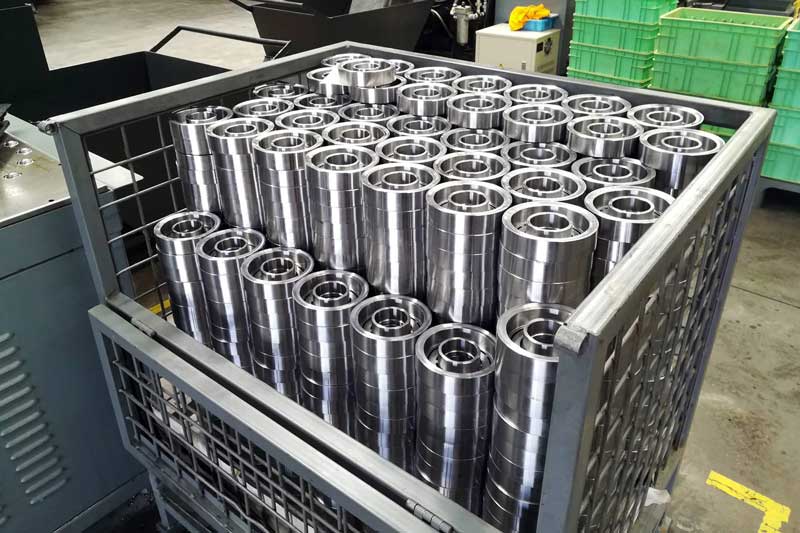 Machines used to produce electromagnetic clutches by HOFO.
It aims to transform 36,000 square meters of land – primarily used for coal mining – into an industrial park that ensures protection of the natural environment, as the people behind it realize the destruction to the environment resulting from coal mining.24,000 square meters of land would be used to build recreational parks and other infrastructure, while the remaining would be used to build artificial lakes.
With these kinds of development, Anhui is positioning itself as a "smart" province that builds units past as it forges its path to the future.