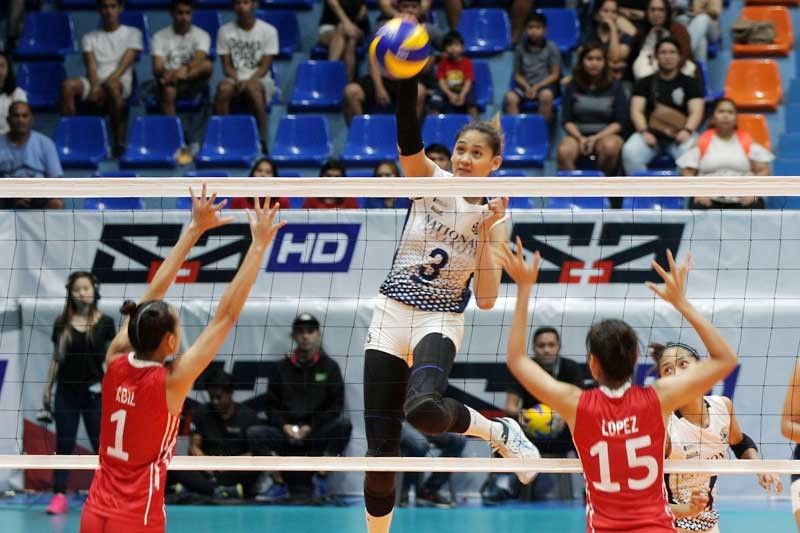 MANILA, Philippines — As Jaja Santiago hoisted her UAAP season 80 women's volleyball Most Valuable Player trophy at center court at the Smart Araneta Coliseum, her thoughts were far off – to the memory of a person who believed she was worthy of the plum more than anybody else did.
If the National University Lady Bulldogs star had a biggest fan, it would be her grandfather who knew that she would one day bring home the top individual honor in the collegiate league.
And indeed the 6-foot-5 Santiago did, as she was handed the MVP award in her final year after lording it over the spiking department and coming in second in scoring and in blocking.
She was also feted her fourth straight Best Spiker accolade to add to the slew of individual recognitions she amassed in her five-year collegiate career.
She was named Rookie of the Year in 2014 and bagged the Best Scorer and Best Blocker honors last year.
As her grandmother cheered from the audience, the absence of her grandfather was palpably felt.
Santiago's lolo succumbed to colon cancer last February.
"When I received the award, I remembered my grandfather. Last year, before he passed away, he always told me, 'You will be the MVP.' When my lola knew I was the MVP, she cried so hard. She told me that my lolo is now happy," said Santiago.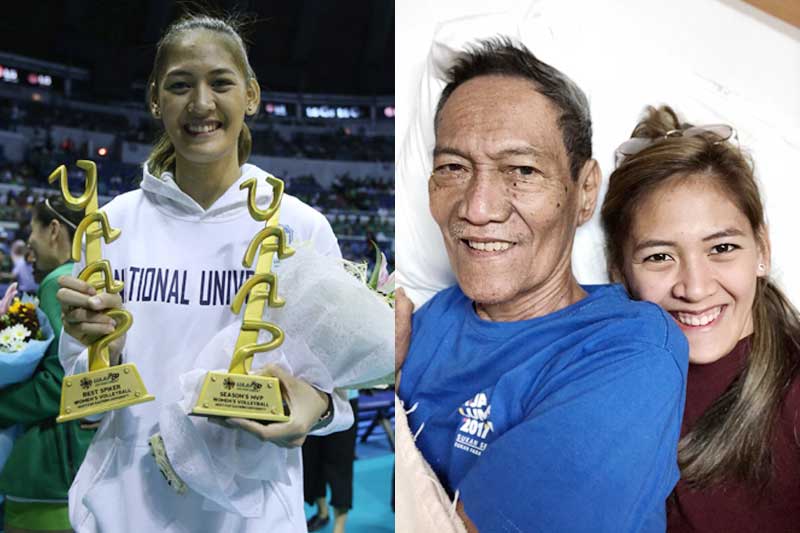 Inspired by her grandpa, Jaja Santiago claims the MVP award on her final year in the UAAP.
"My lolo always supported me. I told my lola that if my lolo was still with us, he could have joined my lola in attending the awarding. It could have been the first and last since my lolo and lola did not attend the previous ones. My lola and I really became emotional because this was my lolo's dream for me," added Santiago.
The road to making her grandfather's dream come true entailed a lot of sacrifices for the dutiful granddaughter. Wanting to attend to her ailing grandfather despite a taxing UAAP season, Santiago juggled her time between her studies, training and games, and going home to Cavite to take care of her lolo.
"When he was in the hospital, I really made an effort to go home to Cavite after training to take care of him and to encourage him. Then he passed away. When a person loses a loved one, one might opt not to train. But I still chose to. I would head to training and to our games then head back to Cavite afterwards," said Santiago.
It was thus not surprising that she offered her MVP trophy to her grandfather, as well as to her teammates, coaches and the NU community.
It had not been an easy journey for Santiago in the UAAP either. As a rookie, Santiago dreamed of helping NU reach great heights in volleyball and clinch the elusive UAAP diadem.
NU did not win a single title and never made it to the finals in all the five years that Santiago played for the team in the league. Off-season success did not translate to championship trophies in the UAAP as the Lady Bulldogs reached the semifinals thrice, in Santiago's first two years (2014-15) and now on her final year, when they crumbled against eventual champion De La Salle.
"I am a bit disappointed because I wasn't able to bring my team the championship. That has been my main goal. I shared that goal with my Ate Dindin (Santiago) when we first entered NU. It's painful but as a player, that's how it is. You win sometimes, you lose sometimes. If there's one thing I can say I have achieved, that is I was able to help my team. I trust that they will be able to make it next season," said Santiago.
Throughout the Lady Bulldogs' ordeal, from their strong 6-1 start in the eliminations to their second round struggle when they racked up more losses at 1-6, Santiago chose to be the steady force, the glue that kept her teammates together.
"My mindset at the start of the season was to give my all. Whether we win or lose, I will support my teammates. I will motivate them and I won't show them that I feel down. During our second round, the team became emotional. We all felt tired and discouraged. But I told myself, that should not be the case. Every time we lost, I would talk to my teammates and encourage them," said Santiago.
It is this imprint that she leaves with people she encounters that matters most to Santiago. More than any individual recognition, the legacy that she wants to leave behind is the goodness she has shown to people.
"When they say Jaja Santiago, probably what they would recall is my height," said Santiago in jest. "But what I would want to leave in the UAAP is the goodness I have shown to people, how I was able to help them as a person and how I was able to inspire them. The awards will be gone, but it is how you are to others that will be remembered."
Santiago may have taken her final bow in her collegiate career, but she will continue doing what she does best, with plans of bringing her volleyball prowess to the international arena this time.
Santiago, who also loves to travel (she considered taking up tourism, aside from engineering and physical therapy, before finally deciding on psychology), will take some time for much deserved rest and relaxation.
"I will try out with a team in Japan later this month. I also plan to have an out-of-the-country vacation. I want to enjoy this time that I have to tour around the world," said Santiago.