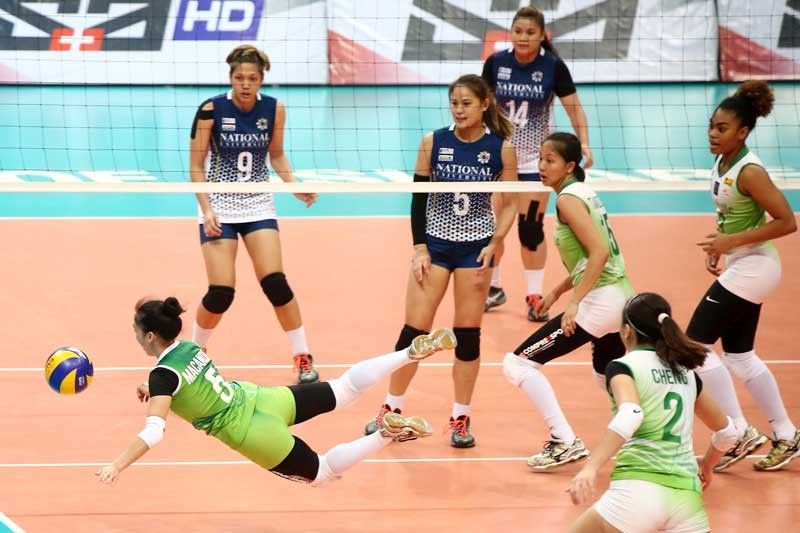 For La Salle, big things come in small packages as diminutive libero Dawn Macandili claims the coveted Finals MVP trophy after helping anchor the Lady Spikers' green-feat in UAAP women's volleyball.
MANILA, Philippines — For the first time in a long while, Dawn Macandili could head to bed worry-free, the sweet taste of victory lulling her to sleep.
Hours before, the De La Salle Lady Spikers collared their third three-peat via a masterful dispatching of the Far Eastern University Lady Tamaraws, 26-24, 25-20, 26-24, in an emphatic sweep of their best-of-three championship series in the UAAP season 80 women's volleyball tournament in a packed Smart Araneta Coliseum.
The five-foot heady libero Macandili, playing in the last game of her collegiate career, deftly manned the floor and was awarded the Finals Most Valuable Player.
The 21-year-old pride of Tanauan, Batangas could thus heave a sigh of relief. She woke up the next day refreshed, knowing that the championship was not just a dream.
"Every after game, even if I'm so tired and nursing cramps, I could not sleep. I keep thinking about the game, what happened. Yes, I woke up the next day feeling light. I won't look back and regret that we were not champions, especially I'm on my last year," recalled Macandili, a few days after their May 2 victory.
"It has sunk in already. I don't want to think that it was just a dream because it might have a different result!" added Macandili.
It was indeed a magical five-year run for Macandili, who started her Lady Spiker journey with modest dreams.
"Coming to college, what I just had with me was my passion for the sport. I just allowed it to lead me," recalled Macandili, who also played volleyball in high school for De La Salle-Zobel.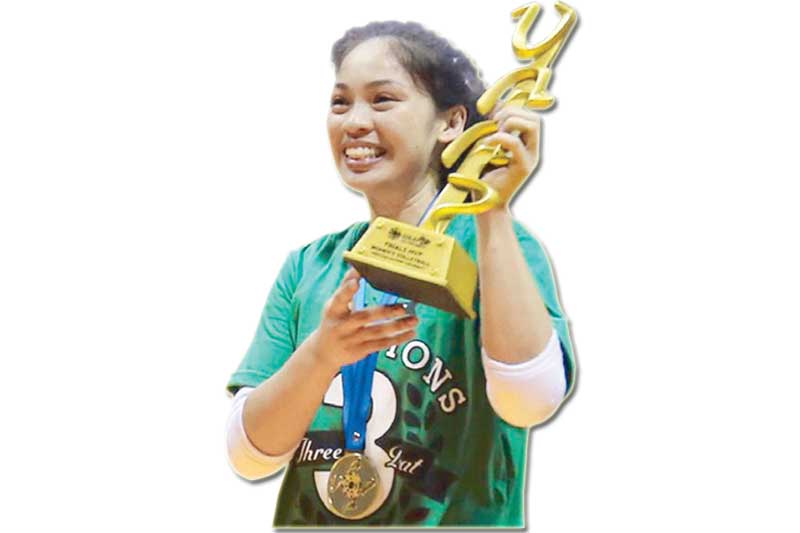 "In my rookie year, I didn't even think that I would be included in the lineup as my seniors were still there. I just played for the sake of improvement and to gain knowledge," said Macandili.
She was not even the most gifted of the bunch, she confessed. DLSU head coach Ramil de Jesus classifies players into two – the talented and the hardworking. Macandili shared that she falls into the latter.
"Hindi naman ako ganoon kagaling. Talagang sipag at tiyaga lang ang pinairal ko (I'm not really that good. It's just hard work and perseverance)," said Macandili.
Macandili rose from a sophomore who mulled quitting – she thought she was a jinx as DLSU settled for runner-up finishes in her first two years after scoring a three-peat in 2011-13 – to one of the finest liberos not just in the UAAP but in Asia.
With newfound resolve to press on in her collegiate volleyball journey, Macandili was rewarded with Best Receiver and Best Digger recognitions in her third year as well as a championship trophy, the first of three straight titles for DLSU. She was recognized as the Best Receiver anew in her fourth year before capping her collegiate career in her fifth and final year with the Finals MVP plum.
"When I was in my second year, I contemplated quitting and to just study because I felt I was a jinx. We really felt down because of our two silver finishes," said Macandili.
"I told my teammates about it, not coach Ramil, and some of them agreed to do the same. I was a scholar but even if I lose the scholarship, we still have the means for me to continue studying so maybe that's why I was able to think that way. But when I looked at the athletic scholars, who had no choice but to press on as they solely depend on their scholarship, I realized the same opportunity I was given. What right do I have to quit just because I felt like giving up? I got inspired by them.
"I just lifted my concerns to the Lord and told myself that I'll work hard in the same way that I did for the past two years," said Macandili.
Aside from the UAAP, Macandili also netted the Most Valuable Player honors in the 2016 Philippine Superliga All-Filipino Conference as well as Second Best Libero in the AVC Asian Senior Women's Volleyball Championship in 2017.
The Philippine Sportswriters Association also bestowed on her the 2017 Ms. Volleyball title.
As she closed her collegiate career with her latest award, the Finals MVP, only one message resounded in her heart – nothing is impossible.
"I realized that it was possible even for a non-scorer to be an MVP. It's a first for us liberos who do not get much recognition or gratitude for what we do on the court," said Macandili.
"Most of the players, sometimes even those who tried out with us, when they are tested in the setter or libero roles, they somehow do not like it because they want to become spikers as these are the scorers. I think every role is important. What is needed is for you to embrace that role because there is no I in team. That saying is true. Even if you are inside or outside the court, the champions are not just those who are fielded in the court but even those who are outside it. Everyone involved is a champion. It's not about the role. It's about how you contribute to the team," said Macandili.
Though Macandili admitted to sometimes wondering how she would fare had she been a little taller and wound up getting a different role in the team.
"During training, I admire my teammates who are tall and could jump high. I sometimes wonder how blocking and scoring a crisp kill feels. It also crosses my mind at times that I wish I was tall because it's fun to see a player celebrate each point they make. But now, if I make a good dig that led to a good set and to a kill, I feel that I am also the one who scored. That's the best feeling," said Macandili.
"And I have also accepted that I would not grow taller anymore!" Macandili laughed.
Basking on the rising appreciation for liberos in the sport, Macandili looks to maximize all the opportunities given her. She plays for F2 Logistics in the Philippine Superliga and has tried out for the Ramil de Jesus-mentored national team.
A fifth year psychology student, she still has at least a term before graduation to decide whether to practice her degree or continue playing. But for now, volleyball is top priority.
"For now, I am just going to play," said Macandili.