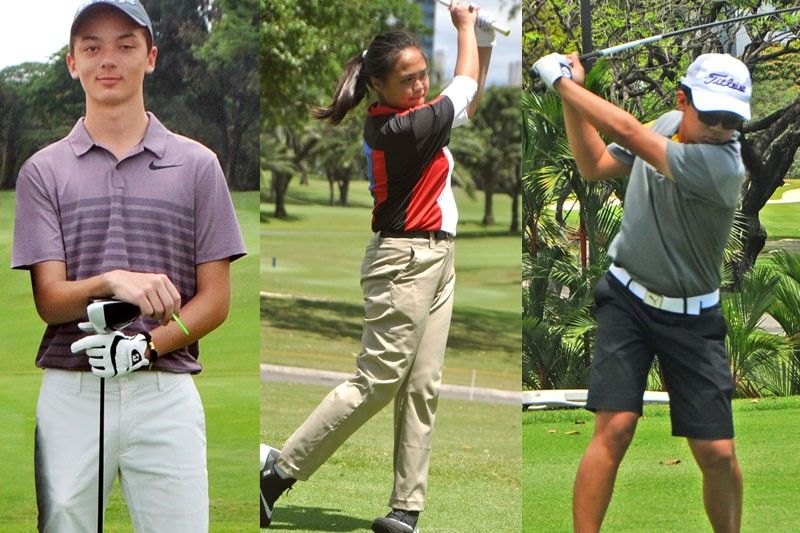 Fore kids making a difference
MANILA, Philippines — There are few junior golfers at the Manila Golf Club and Country Club (MGCC), according to Liam Ramos, a regular at the club since he was three years old. Now 15, Liam has been hanging out on the fairways for a good 12 years.
Beyond practicing his golf swing or playing a mean game with friends, he can see other things, with the expansive greens and clear blue skies as backdrop.
"There are so few of us so there are few tournaments here to join. So we play outside," adds Vincent Tiu, another young golfer at MGCC who started playing golf as a kid.
"I started at eight, so right now it's been around six years. I've competed outside the Philippines as well," he says.
But perhaps the tightly knit community was a good thing, too. Early this summer, Liam and Vincent, along with two other friends – Andre Yuchengco and Sabrina Dy – formed a group called G4K or Golf Fore Kids and raised P500,000 to start the MGCC Caddy Scholarship Fund.
"Since we've been golfing all our lives we thought of giving something back to the community that has given so much to us, especially since I've competed not just here but also internationally," Liam says. He and Andre have represented the country at the Junior World Championship in San Diego, California.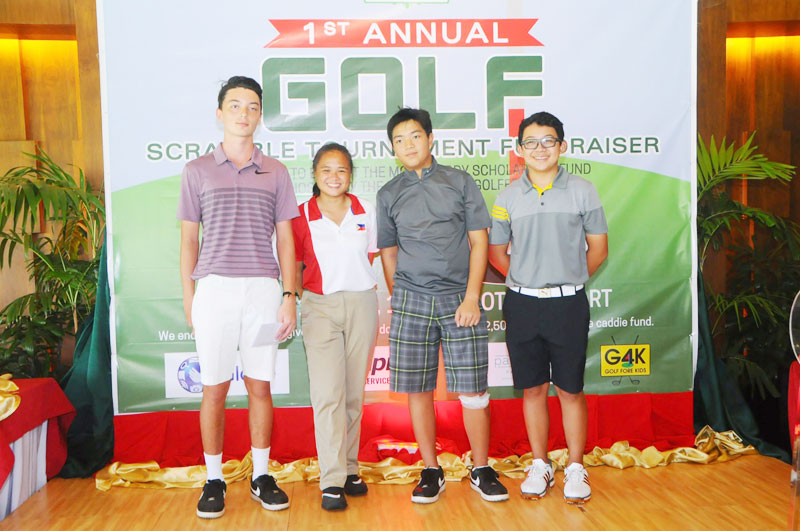 G4K founders (from left) Andre Yuchengco, Sabrina Dy, Vincent Tiu and Liam Ramos at the group's initial fundraising tournament held recently at the Manila Golf & Country Club. G4K will provide stipends to 24 high school-aged children of caddies
The three boys play for their school team and have competed in regional tournaments around Asia. Sabrina took up golf just recently, no doubt influenced by younger brother Jed, a four-time world junior champion.
"I want to make a change since this is my home club. I thought this was the best place to start," Liam adds.
Funds raised from the 1st Annual Golf Scramble Tournament Fundraiser will benefit 24 high school-aged children of MGCC caddies in the form of a monthly stipend of at least P800 to help them with school expenses, especially meals.
"It is supposed to be for high school kids only but we expanded it to include Grade 8 pupils," Stephanie Yu, G4K's coach, explains.
Liam reveals that they thought of the children of the caddies as beneficiaries because they are a big help in their game.
"When we asked the Club, they said they already have a lot of systems in place (for the caddies), but they really didn't have much for education. So that's where we focused," he says.
The young golfers are now eyeing to host the tournament every year to make the program sustainable, says Vincent.
"I've seen a lot of different golf environments and it really makes me think of how we can help the people who have been helping us throughout our golfing journey," he shares.
While the number of caddies won't change that much in the next few years and the number of high school kids G4K is supporting would more or less stay the same, Liam says they may be able to expand the coverage not just through high school if they could raise more funds.
The inaugural tournament had 60 players participating but G4K believes they can still expand it.
"I guess we want more people to join the tournament. We already have a significant number this year but we believe we can still raise more awareness about these children of caddies and how we will help support their education. And therefore have more people possibly donate to the children as well," Vincent says.
The friends reveal that they have a good relationship with their regular caddies. "If you have a regular caddie you get to know her a lot more and they also know you and your playing style a lot more," Liam explains.
Nora Santiago, who is Vincent's regular caddy, for example, or the past 22 years.
"I learned about the opening here from a friend. I applied for the job and was accepted," she says. Over the years, she says she has seen more lady caddies hired not only at MGCC but at many other golf courses throughout the country.
Santiago's colleagues – Jackielou Buchan, Beverly Besa and Jona Ojeda – have been with MGCC for two to 10 years. All of them were referred to the job by friends or relatives. "The caddie assists the player in his game," they say proudly.
Like any other job, it is one which has a lot of challenges, including walking on the course for four to five hours per game, but they all agree that it is a decent job.
Still in their mid-teens and early in their golfing careers, this may be only the start of what the G4K kids can do for their sporting community.