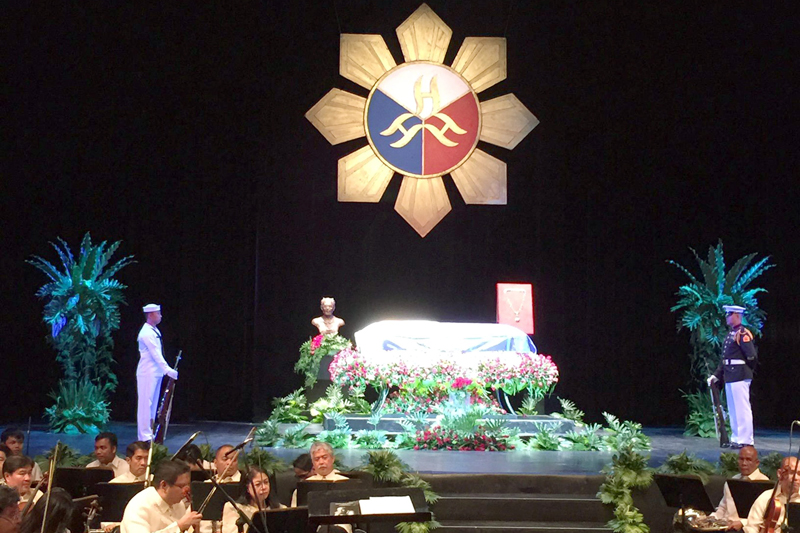 The Pagdadalamhati ng Bayan for National Artist Napoleon Abueva atthe CCP.
We lost two eminent persons late last month, National Scientist Bienvenido Juliano and National Artist Napoleon Abueva. They were both well into their 80s – Juliano was 81 and Abueva was 88 – and their life's work brought and continues to bring honor to the Philippines, touching people near and far.
Not many people outside the science community, myself included, know about Juliano and the very significant work he had been doing with rice as part of the IRRI (International Rice Research Institute) in Los Baños for over three decades. He was considered a world authority on rice grain quality, and the National Academy of Science and Technology said his work, including 370 scientific papers, "had produced socio-economic impact among the rice-eating countries of the world."
Juliano was named National Scientist in 2000, and had received numerous international honors and awards, hailed by fellow scientists and academicians.
Among those of us who work in culture and the arts, Billy Abueva was one of a kind, both as an artist and as a person. He coaxed forms and images out of all kinds of native wood – from narra to santol – usually with an unexpected, often a mischievous, twist to what may be just a seat or a table; he once made a bench that opened up to become what he said would be his coffin. He worked as well in cement and metal and bronze, much of the materials found or salvaged (Jorge Consunji shares that Abueva so enjoyed rummaging through the discards of their construction projects, picking up pieces that concealed beauty only his eye could see).
At the National Artist honors held the other Saturday at the Cultural Center, a bronze bust was placed on stage behind his casket. Abueva had so rendered his thinning hair that it looked like there were two little horns sticking out – he must've been having quite a laugh as the solemn ceremonies were going on.
But that was Billy Abueva – Billy, by the way, obviously has nothing to do with Napoleon; according to his daughter Amihan, it comes from Esabelio, the name on his birth certificate, after the younger sister of his paternal grandmother, Isabel.
Six National Artists paid tribute by offering a red rose each, a most appropriate symbol because a red rose was what Abueva often surprised his women friends with. He'd show up at their home, office or some occasion and hand them a single red rose. A friend relates that the guard at her office building once called her in quite a panic: "May isang matanda dito, gusto daw umakyat sa 'yo, may dala pang rose…Papasukin ko ba (There's an old man here who wants to see you, he even has a rose, should I let him in)?"
Sometimes the rose came with a poem scribbled on a crumpled piece of paper. His poems were as inimitable as the little ditties he'd come up with, or his jokes. And true enough, as his long-time apprentice Junyee (a notable sculptor in his own right) said at the CCP necrological ceremony, there would be an unmistakable twinkle in his eyes when he was about to deliver the punchline of a joke or launch into song.
Our life as a nation has been greatly enriched by the work of these two great minds. For the many who knew them and worked with them, the loss is personal as well, but there is profound gratitude for having had the privilege of witnessing, sharing their greatness.