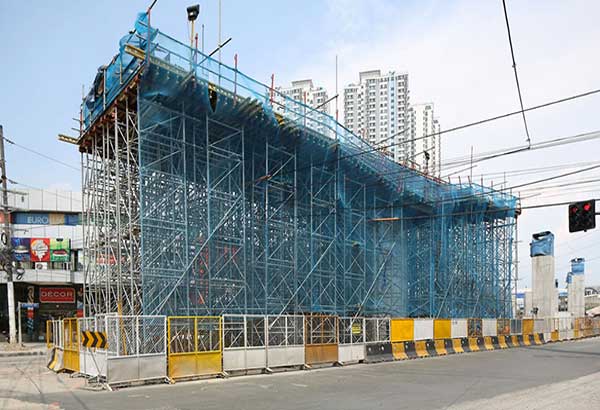 The Metro Manila Skyway Stage 3 project will link the South Luzon Expressway with the North Luzon Expressway. www.peri.com.ph
Is traffic in Metro Manila solvable?
MANILA, Philippines — Going through horrible traffic every single day has become a norm for folks in Metro Manila.
While such may be the case, Transport Secretary Arthur Tugade is of the view that all is not lost and there are ways to solve Metro Manila's traffic woes.
"I've said it before. Yes, it (Metro Manila traffic) can be solved. But we all have to work together. Not one solution will solve the problem. It's got to be a basket of solutions," he told STARweek.
He said part of the basket of solutions to address the traffic problem in Metro Manila is to build infrastructure.
The Duterte administration has identified infrastructure as among its top priorities, with public spending on projects targeted to reach P8 trillion to P9 trillion from this year until 2022.
Thomas Orbos, undersecretary at the Department of Transportation (DOTr) for the road sector, said among the ambitious projects being pursued under the current administration is the $4.4-billion Mega Manila Subway, which is a 25-kilometer underground mass transportation system connecting major business districts and government centers.
The Mega Manila Subway's original alignment has 13 stations starting from Mindanao Avenue in Quezon City until FTI in Taguig City. Last Monday, a spur line up to the Ninoy Aquino International Airport was approved, raising the project cost to $7 billion.
Once completed, the subway would cut travel time from Quezon City to Taguig to just 31 minutes.
It is expected to serve around 370,000 passengers per day in its opening year.
Orbos said the government is also building a dedicated roadway for buses on EDSA and Quezon Avenue which would occupy one lane, as opposed to two.
"Under the Bus Rapid Transit system, buses will be high-capacity, safe and convenient. They will operate on schedule, departure and arrival schedules will be predictable," he said.
He said integrated transport terminals are also being constructed to reduce the number of vehicles entering EDSA and other major thoroughfares of the metropolis.
Apart from infrastructure, Tugade said enforcement of rules is also among the solutions to Metro Manila traffic, as enforcement of rules is the way to instill discipline and to be responsible in the use and sharing of the road.
Last year, an interagency committee composed of the DOTr, Metropolitan Manila Development Authority and the Philippine National Police Highway Patrol Group was formed to work together on traffic enforcement as part of efforts to decongest Metro Manila.
Tugade said another solution to Metro Manila traffic would be through education for motorists.
Last August, the DOTr through the Land Transportation Franchising and Regulatory Board launched the nationwide Public Utility Vehicle (PUV) Drivers' Academy.
Under the program, PUV drivers nationwide will be given free training seminars with the help of experts from the country's top universities such as University of the Philippines, Ateneo de Manila University and De La Salle University.
The training would cover anger management, road courtesy, terms and conditions of certificates of public convenience, and traffic rules and regulations.
After the training, participants would take an exam and, if they pass the test, they would be given an ID to indicate they are fit to drive a PUV.
The ID would also be placed on a conspicuous or prominent area of the vehicle.
The DOTr believes education will allow motorists, commuters and pedestrians to understand the role they play in solving traffic.
"With more drivers properly educated of traffic rules and regulations, there would be a higher probability that more of them would be able to abide by the traffic laws," Orbos said.
Earlier, the Japan International Cooperation Agency (JICA) said traffic congestion in Metro Manila is costing the economy at least P2.4 billion a day.
If left unaddressed, the JICA said the costs could grow to P6 billion per day by 2030.