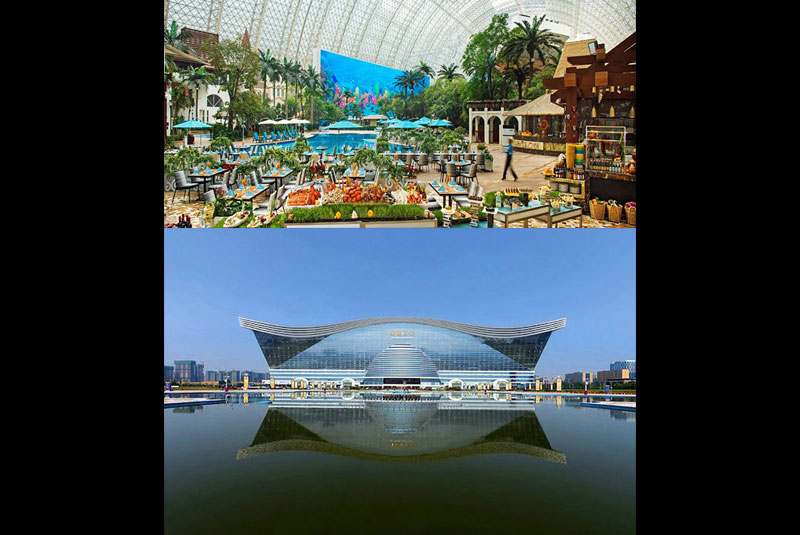 The New Century Global Center (above) is the world's largest building by floor area. Breakfast at the Intercontinental Hotel by the pool and further, the water park with its massive screen as backdrop (top)
CHENGDU – China continues its quest for superlatives, as frenzied construction all over the country seeks to build the biggest, the tallest and the most of everything. The latest of this unabated boom is the New Century Global Center in the Tianfu new area of this city, the capital of Sichuan province, which boasts of being the largest building in the world in terms of floor area.
Here are the numbers: The New Century Global Center is 100 meters tall, 500 x 400 meters in size with 1.7 million square meters of floor space, 400,000 square meters of which are devoted to shopping. While it is not the largest mall in the world in terms of leasable retail space (that honor goes to the New South China Mall in Guangdong and the Dubai Mall), it undoubtedly offers some really serious shopping.
But the mammoth structure is not just about shopping. The multipurpose building has offices, conference facilities, a university complex, an IMAX cinema, a pirate ship, a Mediterranean village, numerous dining and drinking options, a skating rink and – its crown jewel – the Paradise Island Water Park, which has a 5,000-square meter artificial beach with a humongous (150 x 40 meters) screen as backdrop to provide sunrises and sunsets for the beachgoers. A stage can extend out over the "indoor sea" for concerts and performances.
The New Century Global Center opened in September 2013 amid some controversy, as its developer, Deng Hong, was being investigated for corruption, along with some high government officials (the then Communist Party secretary is now serving a 13-year prison sentence). According to reports at the time, no one could tell where Deng was – in custody, in hiding or otherwise – and there has been no updated reports about him since then.
The Intercontinental Hotel located within the premises likewise operates on the same superlative scale. The hotel consists of six 8-story buildings with over 1,000 rooms spread around the edge of the complex. From the time our bus rounded a corner and entered the complex, it took over 15 minutes for us to go around and get to the hotel entrance.
Having come from a full day climbing Mount Ermei (that's about 3,000 steps to reach the Golden Summit), imagine our chagrin when we were told by the well-meaning guest relations officer in the lobby that we would have to take a bus to get to our rooms! It turned out to be a matter of "lost in translation," as it was not a bus but an extended golf cart – the hotel has a fleet of about six of these buggies, painted bright blue with water paradise-themed drawings of fishes and seashells – that took us from the lobby to the block where our rooms were, past the mall and the water park and lush gardens. One thing a few of us in the China Panorama tour group enjoyed immensely was having a long and very leisurely breakfast from the sumptuous and really delicious spread laid out around the free-form hotel pool; that is, those of us who were not rushing off to the mall when it opened at 10 a.m.
While the mall at the New Century Global Center is awesome enough, Chengdu has in the last few years been on a mall-building binge, completing nearly 3 million square meters of mall space, according to one report. And it's not just malls they're building in quite a frenzy, as the city of 15 million plays catch-up with the traditional hubs of Beijing, Shanghai and Guangzhou.
Thanks to the "One Belt, One Road" or OBOR strategy that Chinese President Xi Jinping has introduced, under-developed cities in China's west like Chengdu are now the focus of investment and infrastructure. OBOR harks back to the ancient Silk Road leading to trading enters in Central Asia, Europe and Russia. President Duterte is, in fact, in Beijing today to attend the OBOR forum for international cooperation hosted by Xi.
Devastating as the 2008 Sichuan earthquake was (see Singkit, May 7 issue of STARweek), it led to a stimulus package from the national government that turned on the tap for cash to rebuild. Chengdu today is a city gleaming with glass and steel skyscrapers and a road network that will make Manilans weep. Public transportation too is a dream, with buses, subways and trains a-plenty, plus the Mobike, an app-based bicycle rental system that many residents use to get around. Luxury cars seem to be big business here, evidenced by the busy showrooms of every car brand you can name. Even customized cars outfitted with gold accessories and other ostentatious detailing fly out of showrooms as China's growing number of über-rich seek the lifestyle of the rich and (in)famous.
What some analysts say is over-building may be why rent in Chengdu is still relatively cheap (although locals like our guide rue the prohibitive rent for residential properties in what they refer to as the "new" Chengdu, in contrast to decreasing property values in the old part of the city). That and relatively low wages and a highly educated workforce have attracted global companies to set up shop here. More than half of the Fortune 500 companies are present in Chengdu. A Financial Times report said the city government last year claimed that half of the world's iPads are made in Chengdu, as well as half of Intel's laptop computer chips.
While the panda and spicy hot pot are still big attractions, Chengdu is a city rushing to claim top-tier status and a place at the table among China's traditional major big cities. While Chengdu's traditional mahjongg and tea house cultures are still very much alive, there is no mistaking it is a 21st century city. It is currently the fourth largest international hub in China (after the "Big Three" of Beijing, Shanghai and Guangzhou), with the current two-runway Shuangliu International Airport servicing about 40 million passengers a year. And guess what? Construction has begun on a second international airport, which will have three runways. With direct flights between Manila and Chengdu now available (Philippine Airlines and China Eastern have three flights a week each), this is a good time to visit Chengdu and the many attractions of Sichuan province. You'll find that the chillies and peppercorns are not the only hot items around.