Fyling High
August 10, 2014 | 12:00am
MANILA, Philippines - Since 2012, the Filipino American Youth Leadership program (FYLPro) has been giving outstanding young Filipino-Americans the opportunity to interact with the highest officials and policymakers, leaders of industry, innovators, media, artists and cultural experts in the Philippines.
An advocacy of Philippine Ambassador to the United States, Jose Cuisia Jr., the immersive program, now on its third year, was held in Manila from July 24 to 28.
"As a FYLPro delegate for Batch 3, I had the opportunity to get a glimpse of contemporary Philippines from both ends of the spectrum," Edward Aparis says. "From one end is the new and confident Philippines, a youthful and energetic country where economic growth is surpassing international expectations and global presumptions… On the other end are the masses of poor and poverty stricken families that are dwarfed by large high-rise development and mega malls. They toil and labor under the shadows of these buildings and manage to sustain a living," he shares of his interaction with informal settlers in Cavite.
Based in San Diego, Aparis served on the organizing committee for the Filipino-American Arts and Culture Festival and later co-founded the Civic Education and Policy Advocacy Network that raises civic awareness and engagement in the Filipino-American and larger Asian-American communities.
"I have been an active Fil-Am community volunteer promoting our culture in America. I see the overwhelming compassion for those that are in poverty in the Philippines," says Jan Paul Ferrer, who also counts the visit to the informal settlement in Cavite as an eye-opening experience. "Upon my immersion in the Philippines through FYLPro, it is evident that the Fil-Am community has its heart in the right place. However, the passion to make an impact must be truly partnered with those affected to find out what they want."
Ferrer is an associate vice president at Morgan Stanley. He also serves as president of the Tinley Park Frankfort Rotary Club.
Joining Aparis and Ferrer in the 2014 FYLPro batch are eight other Filipino-American achievers.
Ryyn Chua is the founder and CEO of Double Y Entertainment, an events management firm. He graduated magna cum laude with a Bachelor of Arts in Psychology from California State University in Long Beach and is currently pursuing his MBA, with a focus on Entrepreneurship, at Pepperdine University.
Another magna cum laude graduate in the batch, with a Bachelor's degree in Business Administration, double major in International Business and Marketing, and a double minor in Spanish and Fine Arts, Bernadette Contreras is the creative director at Saatchi & Saatchi and a co-founder and partner at Tinsel & Twine, a design shop.
Yet another magna cum laude graduate, Rommel Clemente studied at the University of Washington taking up a double major in Accounting and Philosphy and a minor in Applied Mathematics. He is a supervising senior associate for the Connor Group, an IPO, M&A and technical accounting consulting firm in the Bay Area.
"We care about coming back to the Philippines because being Filipino is part of our identity," says Clemente. "Building up the Filipino-American community in the States will not only mean greater remittances back to the Philippines, it also helps solidify the pride we have in being able to call ourselves Filipino, hyphenated or not."
Jason Tengco is currently a senior advisor at the White House Initiative on Asian Americans and Pacific Islanders and community affairs director of Jeepney Hub, a non-profit website dedicated to helping Filipino-American youth with career development.
Based in Hawaii, Michael Dahilig, on the other hand, is the director of the Department of Planning at the County of Kauai. He served on the Board of Regents of the University of Hawai'i, where he graduated with a Master's in Urban and Regional Planning and a B.S. with honors in Geology and Geophysics, minor in Political Science.
Rafael Jose Diokno serves as project lead at SGT, Inc., a Maryland-based company that provides support in the areas of engineering, science, project management and information technology. He is also vice president of the Filipino Young Professions in Washington DC, a board member of the Philippine American Chamber of Commerce in DC and Strategic Communications Chair for the Philippine Humanitarian Coalition.
"I have been always proud to be a Filipino-American and have enjoyed working with the Filipino-American community throughout the Chicago area on civic engagement," says Abbeygail Eusebio, who is grateful to have been included as a delegate in this year's FYLPro.
"The program was a life-changing experience for me," she adds. "I know it was a personal journey for my fellow delegates as we connected to our roots and better understood what it means to be Filipino."
Eusebio is a constituent advocate at the Office of US Representative Jan Schakowsky, directly assisting constituents of the 9th Congressional District with issues they have with various federal agencies.
Ryan Letada is the CEO and co-founder of NextDayBetter Inc., a media platform that connects and activates the Filipino diaspora to create a better future. He was also awarded a Fulbright Fellowship to explore sustainable city design and mass eviction and relocation of urban poor communities in the Philippines.
"FYLPro is about action," Letada says. "I learned so much about the challenges and opportunities in growing the tech and creative economy and industry in the Philippines – and its promise to create jobs and position the Philippines as a hub for innovation and world-changing ideas and products. My call to action is to be a bridge between the innovation communities in the United States and the Philippines, and help grow this sector in a meaningful and collaborative way."
FYLPro delegates have gone on to undertake, among others, political advocacy initiatives, cultural and tourism promotion programs, social entrepreneurship activities, education innovations, Filipino American heritage projects, voter awareness and education and have even launched political campaigns of their own. This year, FYLPro delegates took the initiative to organize the Filipino Young Leaders' Summit in Waipahu, Hawaii. The one-day summit, which was held last May 3, brought young leaders together to empower, inspire and discuss solutions on how to advance Filipino-American advocacies in similar communities across the nation.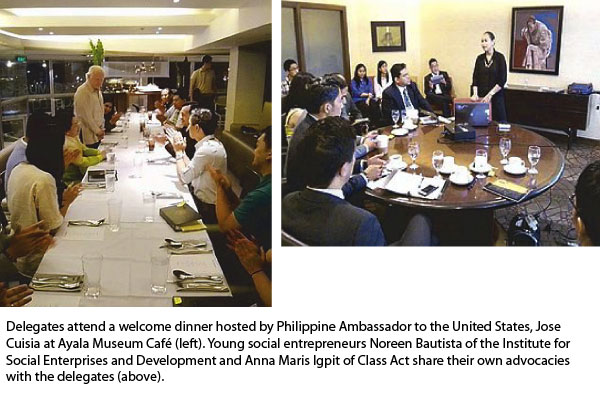 To know about FYLPro, visit their Facebook page www.facebook.com/FYLPro.