Hamburgers and high notes
MANILA, Philippines - With some 380 stores and 27,000 employees nationwide, McDonald's Philippines is one of the most popular fast food franchises in the country and one of the top brands worldwide. At the helm of this empire is George Yang who, despite his success, says rather self-effacingly, "I'm not sure why you're featuring me… Frankly, there are many more interesting people."
Nevertheless, Yang humors us with an interview and tells STARweek about the beginnings of the golden arches in the Philippines decades ago, and his new passion – singing.
Yang brought McDonald's to the country in 1981. "I was pretty confident that McDonald's would be widely accepted, but we did have a lot of difficulties in the beginning," Yang shares. External factors such as political unrest and the fluctuation and devaluation of the peso were some of the hurdles that the businessman had to overcome.
Yang is particularly proud of the new standards that McDonald's set in the food industry during that time. "McDonald's employees are trained well," he says "We put their work to a higher standard. They learn the importance of good service and good work habits."
Obviously, things worked out for him, but the first few years of Yang's business gave him the lessons he needed to learn to succeed: "You have to be persistent and focused," he says. "Do not be discouraged. Everybody has their failures, but if you work hard and stay focused, and be optimistic, you'll make it in the end. You need luck. But, if you work hard, the luck will come."
With plans of increasing to 500 stores in the next few years, luck indeed came to Yang, who still enjoys his favorites at the food chain – the Big and Tasty and the Fillet o' Fish. "It's very delicious," he says.
Always focused on school and business, music was never in the forefront of Yang's endeavors. In fact, he stumbled upon his singing voice while doing business. "My focus was not on music, but making a living, doing business," he says. "Music came accidentally, as a result of a business venture – we had guests who wanted to do karaoke."
From there, friends told him his voice was suitable for classical music. "You can say I could carry a tune," he says. When he started to really pursue his interest in music, Yang produced a personal CD with the help of his friend, singer Jose Mari Chan.
"First, I tried to sing on my own, then I heard Rachelle Gerodias. She took me on as a student," Yang says of deciding to take formal lessons with the well-known soprano.
"It's a challenge. I wanted to know how far I could go… if I could really sing opera," he adds. Aside from opera, he also enjoys singing Broadway and standards.
"I was already an old man when I started music. It's a challenge. I went farther than I thought I would," he admits.
For a late bloomer in the music scene, Yang has been able to do more than most – perform in all of the major concert halls in the country and appear in two musicals – the first was in the US production of Something to Crow About, an adaptation of a Filipino sarswela, and the second more recently in Marco Polo, where he played Genghis Khan.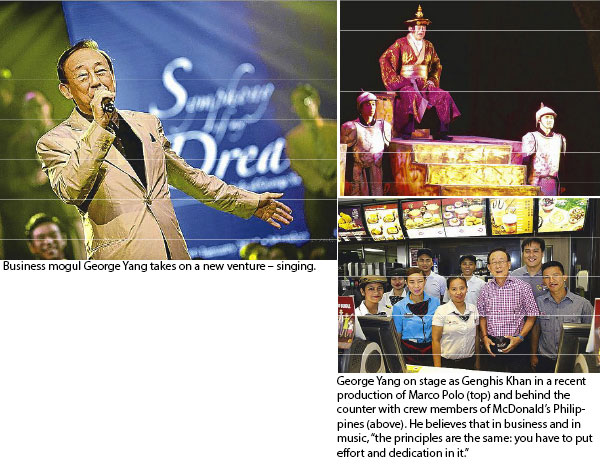 "It's nice to be appreciated when people like your singing," says Yang of performing, though he is quick to add, "They probably forgive me more because they know I'm not a professional."
Through his performances and interactions with those in the local music scene, Yang saw how dedicated the musicians are and how many of them have to struggle to pay their tuition. A businessman at heart, Yang easily recognized that it was very difficult to make a living out of music.
"I wanted to promote classical music in the Philippines. I want more people to appreciate it. To do that, you need good musicians," he says.
Thus, Klassikal Music Foundation (KMF) was born. Since its inception in 2007, KMF has supported 44 scholars who go through a rigorous audition process.
Yang shares, some of the most renowned names in the classical music scene have sat on the audition panel, including Raul Sunico, Rachelle Gerodias, Lemuel dela Cruz, Andrew Fernando, Olivier Ochanine and Arthur Espiritu.
"I leave it to the panel to choose the scholars," says Yang. "Sometimes I give my comments, but they are more technically competent than me."
So far, Yang has mounted two concerts with his scholars. "Some have gone abroad and many are music teachers," he reports.
Music is very important for your own personal development. It is for the soul, for the spiritual well-being of a person. Music can make you appreciate life more," says Yang.
As a businessman, he adds, "Music helps with alleviating the stress that goes with being in business."
He reflects further that the worlds of music and business are not so different after all. "Pursuing music and pursuing business are the same. You have to learn more to be good at it. You have to put an effort and dedication in it. The principles are the same."
With his accomplishments in business and his newfound success in music, when asked what he considers his greatest achievement so far, Yang answers: "I'm proud of all my children. They are all responsible. They have all been successful and hard working. I've never had a problem with any of my children."
He adds, "I'm happy with my grandchildren. They're all doing very well in school. Three of them are already in college in the States – Stanford, Berkley, New York University."
One of Yang's sons has taken over the reigns of McDonald's, while his other children all have businesses of their own. And who will continue Yang's love for music? One of his young grandchildren, five-year-old Seth, is taking violin lessons.
Yang says, "There is no secret. Just hard work, focus, and belief in yourself" is all you need to achieve success in business, music, or any other field.